The Lost Stars series
by
Jack Campbell
Goodreads
This is part of the Lost Fleet universe

The Lost Stars (formerly The Phoenix Stars) deals with the collapse of the Syndicate Worlds, and specifically the efforts of Midway System's system CEO commander and ground force CEO commander to deal with the aftermath.

The series expands the story to include the viewpoint of Syndicate Worlds citizens and how the leaders of the Midway star system react to the collapse of central authority, occurring at the same time as the events in the Beyond the Frontier series.
I got all but the newest of these books at the library as Kindle ebooks. These stories are in the world of Jack Campbell's Lost Fleet books. They start  at the point where the Alliance / Syndicate war has ended and now the governments need to refocus and rebuild their economies. This is the same timeframe as the Lost Fleet / Beyond the Frontier series. Both series are a spinoff of sorts on The Lost Fleet series.
The Syndics  are the "enemy"  of my beloved John Geary (of the Alliance) or are they? This is a fascinating look at things from another perspective. There are more details of the same events.  I love space opera but there are always politics.  The books are more like one long book, broken into parts.  The story doesn't exactly end, it stops. So I do recommend reading the series in order, after The Lost Fleet series (also read in order).
---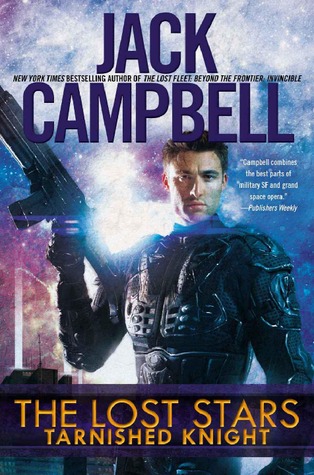 Tarnished Knight
by
Jack Campbell
Published by
Ace
on October 2, 2012
Genres:
Science Fiction
,
Space Opera
Pages:
400
Format:
eBook
Source:
Library
Goodreads
Amazon
, 
Barnes & Noble




The authority of the Syndicate Worlds' government is crumbling. Civil war and rebellion are breaking out in many star systems despite the Syndic government's brutal attempts to suppress disorder. Midway is one of those star systems, and leaders there must decide whether to remain loyal to the old order or fight for something new.

CEO Artur Drakon has been betrayed. The Syndic government failed to protect its citizens from both the Alliance and the alien enigmas. With a cadre of loyal soldiers under his command, Drakon launches a battle for control of the Midway Star System—assisted by an ally he's unsure he can trust…

CEO Gwen Iceni was exiled to Midway because she wasn't ruthless enough in the eyes of her superiors. She's made them regret their assessment by commandeering some of the warships at Midway and attacking the remaining ships still loyal to the Syndicate empire. Iceni declares independence for the Midway Star System on behalf of the people while staying in charge as "President." But while she controls the mobile fleet, she has no choice but to rely on "General" Drakon's ground forces to keep the peace planet-side…

If their coup is to succeed, Drakon and Iceni must put their differences aside to prevent the population of Midway from rising up in rebellion against them, to defend Midway against the alien threat of the enigma race—and to ferret out saboteurs determined to reestablish Syndic rule
This is right after the end of the war. The Syndicate has lost. The economy is in a shambles. The government was able to get the people to sacrifice for a century to fight the Alliance. Now why should the people continue to sacrifice?
Gwen Iceni and Artur Drakon are CEOs in the Syndicate. They are in this outer star system because they are not typical CEOs. This is where they take over and announce their independence from the Syndicate. We learn about the Internal Security Service – the snakes. The way of the Syndic government, its policies and why people act the way they do is explored.
Iceni and Drakon have lots to do and few to trust in this tumultuous time.
---
Perilous Shield
by
Jack Campbell
Published by
Ace
on October 1, 2013
Genres:
Science Fiction
,
Space Opera
Pages:
417
Format:
eBook
Source:
Library
Goodreads
Amazon
, 
Barnes & Noble




Following a successful coup, the leaders of the rebel Midway Star System struggle to forge a government free enough to please its citizens yet strong enough to secure power. But in a world where former rulers have become new foes, an alien threat to humanity may turn old adversaries into uncertain allies.

General Artur Drakon knows three words describe someone who confides in a Syndicate CEO: Stupid. Betrayed. Dead. Despite his misgivings, he partnered with another former CEO to overthrow Syndic forces. Now, with an enigma fleet menacing their hard-earned independence, he can ill afford to trust her—or lose her support.

President Gwen Iceni believes Midway is humanity's defense against the enigmas. Syndicate training taught her self-preservation in a crisis, yet she's determined to fight for the star system's fate…even if it means joining forces with Drakon—and an officer of the hated Alliance.

Their plan places the Midway flotilla at great risk in hopes of greater reward: recruiting the personnel necessary to man warships against the enigmas. But before facing the alien advance, Drakon and Iceni must survive hidden dangers closer to home: all-too-human threats that could jeopardize Midway's freedom…and their own lives.
The roles of the new leaders, Iceni and Drakon continue to develop. They have much learning and growing to do. It's difficult for them but necessary if their new world is going to survive. Their lives until now have been a shut-down of any emotions and morality. Now they are feeling and questioning what is right for themselves and for others, more than they ever have.
Drakon has always championed his people and protected them.This is something very few CEOs did. No CEO trusted anyone or inspired trust but these two new leaders are learning to trust each other. The people are beginning to trust them as well.
The Syndicate sends a flotilla to recapture the Midway Star system. I thought maybe CEO Boyens would be an ok guy after he spent time with Black Jack during the Lost Fleet series. Not so much. Anyway, too bad for him,  the enigmas show up. Black Jack shows up. The Dancers show up. Yes, I do so LOVE space opera.
---
Imperfect Sword
by
Jack Campbell
Published by
Ace
on October 7, 2014
Genres:
Science Fiction
,
Space Opera
Pages:
369
Format:
eBook
Source:
Library
Goodreads
Amazon
, 
Barnes & Noble





President Gwen Iceni and General Artur Drakon have successfully liberated the Midway Star System—but the former rulers of the Syndicate Worlds won't surrender the region without a fight. The dictatorial regime has ordered the ex–Syndicate CEOs terminated with extreme prejudice and the system's citizens punished for their defiance.

Outnumbered and led by junior officers hastily promoted in the wake of the uprising, Midway's warships are no match for the fleet massing and preparing to strike. But the Syndicate isn't the only threat facing Iceni and Drakon. Another former CEO has taken control of the Ulindi Star System, the first calculated move toward establishing his own little empire.

With Drakon's ground forces dispatched to Ulindi, Midway erupts in violence as Syndicate agents and other, unknown enemies stoke a renewed revolt against Iceni's power—leaving both her and Drakon vulnerable to trusted officers just waiting for an opportune moment to betray them…
Awesome on every level, Imperfect Sword has all my favorite stuff. There's plenty of political maneuvering, mystery, action, battles, a touch of romance and even humor! I can go to 4.5 stars here.
There are continued attacks by the Syndicate on the new Midway system and its government. A key person in the administration disappears. The relationship between Iceni and Drakon grows. More people are saved and more people are lost.
Giggle worthy quote:   
""No complaints? What kind of supervisor are you? How am I supposed to be motivated unless you treat me like dirt?" Mercia laughed.

"You know what? If we destroy Happy Hua's battleship, I'll also praise you. Publicly praise you and give you your fair share of the credit. You'll just have to get used to that kind of thing."
---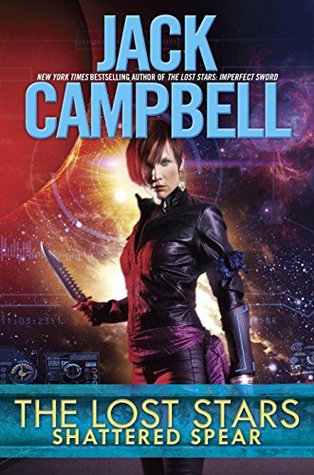 Shattered Spear
by
Jack Campbell
Published by
Ace
on May 3, 2016
Genres:
Science Fiction
,
Space Opera
Pages:
352
Format:
eARC
Source:
NetGalley
Goodreads
Amazon
, 
Barnes & Noble




The Syndicate Worlds continue to splinter as more star systems pledge allegiance to President Gwen Iceni, General Artur Drakon, and the new government they're establishing at Midway. But the toxic legacy of Syndicate rule continues to undermine their efforts as the rebels encounter difficulty trusting one another and believing their new leaders' promises of freedom from tyranny.

Before Iceni and Drakon can put their house in order, they must deal with an even greater threat. An enigma warship has appeared and vanished near a Syndic colony. If the aliens are capable of jumping into other human-occupied star systems, then billions of people could be vulnerable to a hostile invasion fleet anywhere they choose to strike.

But an even greater vulnerability lies with Iceni and Drakon, as a once-trusted adviser-turned-saboteur plans revenge.
This is a bittersweet ending. It definitely feels like an ending, an epilogue to this world. There was action and politics and mysteries to be resolved in Shattered Spear. It was mostly as expected and somewhat predictable.
Nearly all the things I wanted to know were covered. In most cases, the results feel too easy for our main characters. The focus was more personal and less world-wide. It seems I would like this but I didn't. The effect was sentimental instead of realistic. While I enjoy the personal relationships and a bit of romance, for me, it went too far for this genre.
---
Latest posts by Anne - Books of My Heart
(see all)
Related Posts