Review copy was received from Publisher. This does not affect my opinion of the book or the content of my review.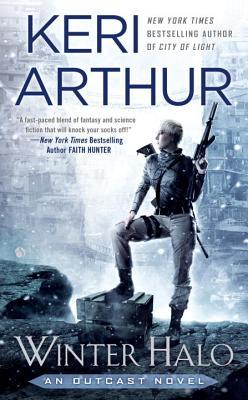 Winter Halo
by
Keri Arthur
Series:
Outcast #2
Published by
Signet
on December 6, 2016
Genres:
Urban Fantasy
Pages:
368
Length:
11 hours, 10 minutes
Format:
ARC
Source:
Publisher
Goodreads
Amazon
, 
Audible
, 
Audiobook




The humanoid supersoldiers known as the déchet were almost eradicated by the war. Ever since, Tiger has tried to live her life in peace in hiding. But in the wake of her discovery that Central City's children are being kidnapped and experimented on, Tiger's conscience won't let her look the other way.

The key to saving them lies within the walls of a pharmaceutical company called Winter Halo. But as she learns more about the facility, Tiger's mission is derailed by a complication: Winter Halo's female security guards are being systematically attacked by an unknown force.

Now Tiger must summon all her gifts to stop those responsible for both atrocities—no matter the cost to herself..
I very much looked forward to this second book and I enjoyed it. Many things continue from City of Light. Tiger still wants to find the missing children. This means she is working with Nuri and Jonas, as they want the same thing, but they don't trust each other. They need each other though. It's a difficult balance.
The enemy is not fully defined and is formidable. Tiger needs to be alert for the many dangers. It has me on edge throughout Winter Halo. Tiger takes on a new lover to gain intelligence for the team. It's why she was created so it is a comfortable role but it's still squicky (to me). She also finally manages to get a job at the lab in hopes of finding out where the children are. However, the female security guards are being attacked.
Tiger's relationship and caring of her baby ghosts expands here. This is one of the more emotional aspects of this story. Otherwise, it felt more focused on action, planning and figuring things out. Penny also turns things with a real twist. I am worried about these children.
This is a unique blend of science fiction, fantasy and even mystery with the lightest touch of romance. The characters are well-developed. The world-building is fascinating. I don't feel I am adequately expressing how much I liked this; the unusual aspects of the world are wonderful.
There is steady progress, knowledge gathering with plenty of action and suspense. This Outcast series is far from over. I can't wait to see what is next!
Latest posts by Anne - Books of My Heart
(see all)
Related Posts