Review copy was received from Publisher. This does not affect my opinion of the book or the content of my review.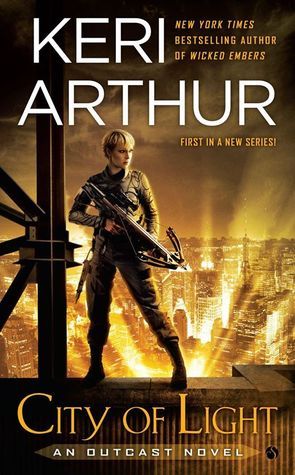 City of Light
by
Keri Arthur
Series:
Outcast #1
on January 5th 2016
Genres:
Urban Fantasy
Source:
Publisher
Goodreads
Amazon





When the bombs that stopped the species war tore holes in the veil between this world and the next, they allowed entry to the Others—demons, wraiths, and death spirits who turned the shadows into their hunting grounds. Now, a hundred years later, humans and shifters alike live in artificially lit cities designed to keep the darkness at bay....

As a déchet—a breed of humanoid super-soldiers almost eradicated by the war—Tiger has spent her life in hiding. But when she risks her life to save a little girl on the outskirts of Central City, she discovers that the child is one of many abducted in broad daylight by a wraith-like being—an impossibility with dangerous implications for everyone on earth.

Because if the light is no longer enough to protect them, nowhere is safe...
I have enjoyed other series by Keri Arthur.  I loved the Riley Jensen stories; it was one of the first series I read when I started into this genre.  I didn't like the spinoff from it, but these latest two series are wonderful.  
This is a rich and unusual world with unique types of supernaturals. The world building is fascinating with enough detail for interest but not so much as to be overwhelming or boring.   The characters are varied and we get enough information to make them feel real.  
What happens here, from the characters and the story, is emotions are developed and played.  I FELT.  I was distressed. I loved. I was aroused. I was sad. I was terrified. I raged.   This is the true mark of a great book, appealing both to my mind and to my heart.
There were plenty of action and puzzles to solve.  It was a multi-hued world with a spectrum of "people", not all good or bad but shades in them.   The sex was just right, not too detailed or using odd words, but enough to stimulate.  This is not a romance, not at all, this is urban fantasy with a strong flavoring of science fiction.
I love Tiger who has such a sense of integrity for all the horrors in her past. It is not what is done to you, but how you choose to react and live.  Her spirit and strength, her street savvy, McGyver skills and caring combined in one awesome woman.  She is another urban fantasy heroine who I predict will collect friends in many camps.  
As soon as I finished City of Light,  I wondered, how soon can I get the next book? When I looked for information online, I found Winter's Halo is scheduled for release on December 6, 2016, and I can't wait. Highly recommended.
Latest posts by Anne - Books of My Heart
(see all)
Related Posts