Review copy was received from NetGalley. This does not affect my opinion of the book or the content of my review.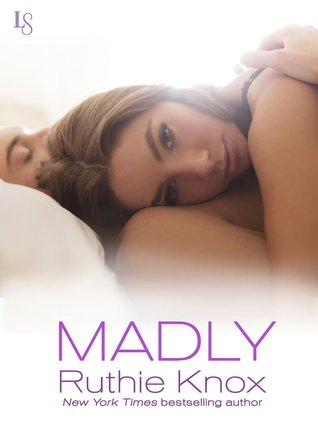 Madly
Series:
New York #2
Published by
Loveswept
on March 14, 2017
Genres:
Contemporary Romance
Pages:
274
Format:
eARC
Source:
NetGalley
Goodreads
Amazon
, 
Libro.fm






Allie Fredericks isn't supposed to be in Manhattan, hiding in the darkest corner of a hip bar, spying on her own mother—who's flirting with a man who's definitely not Allie's father. Allie's supposed to be in Wisconsin, planning her parents' milestone anniversary party. Then Winston Chamberlain walks through the door, with his tailored suit, British accent, and gorgeous eyes, and Allie's strange mission goes truly sideways.

Winston doesn't do messy. But after a pretty stranger ropes him into her ridiculous family drama with a fake kiss that gets a little too real, he finds out that messy can be fun. Maybe even a little addicting. And as the night grows longer, Allie and Winston make a list of other wild things they could do together—and what seems like a mismatch leads to a genuine connection. But can their relationship survive as their real lives implode just outside the bedroom door?
Ruthie Knox is one of my favorite authors. I've enjoyed everything I've read which is almost all, including by Robin York.  They are just amazing! But what does that mean and why do I enjoy them so much?
It's the everyday, real characters. They make me feel. They have problems and fears and do stupid and embarrassing things. I care about them; I hurt for them; I root for them. They make me laugh. The story is rich with various relationships and family issues creating an interesting, emotional journey.
Madly is the follow up to Truly in the New York series. Truly was a free serial on Wattpad for a year before it was published. You can read my 5 star review here.  Madly brings back some characters from Truly (May and Ben) as well as a tie in to About Last Night (another 5 star read), which I reread recently to remind myself and was then excited to see these folks (CITY!!! and Cath) show up also. The things I said in my review of Truly are still true. Madly is intimate, personal with just a touch of awkward realism and some lovely humor.
THIS. This is the kind of romance I want to read.  Allie and Winston are honest with each other, authentic, and very brave with their sexy list. I can't wait for Completely projected for June of this year. SO Highly Recommended.
Giggle-worthy quotes:
"All of them were happy. All of them full of passionate pronouncements about how they'd finally figured out how to live their lives.

All he'd figured out was how to work Netflix."
"I knew things weren't right with Matt," she said. "But you only ever wanted to tell me how great he is. And, dude, he is not that great."

"Yeah. I had a big throw-down with him last night."

"Yeah?"

"I called him and told him he needed boundaries, and to quit acting like he was part of my family and part of my life, because he's not anymore."

"Da-a-ng. I wish you had recorded that. When I am finished being mad at you, I would really like some kind of reenactment. I'm pretty sure no one has told Matt no since preschool. Maybe not even then."  "
"You're telling me to give Allie space."

"No, I'm telling you she's not going to drop off the face of the earth – you've got a cell phone and access to an airport. Maybe she goes home without telling you she wants to belong to you until the end of time. It doesn't mean she's not going to text you an hour after she lands, or add you on Skype in a week and see if you want to video chat. And if she does that, when she does that, it's because she wants you. You. Winston Chamberlain. For whatever fucking reason. And you're not doing her a favor if what you decide to do is give her space and never tell what it is you want."

"I don't have a Skype."

"Get one. Use it to call Mum and Dad. They'd like to see your face."
Latest posts by Anne - Books of My Heart
(see all)
Reading this book contributed to these challenges:
Anne: 2017 New Release Challenge
Related Posts