Review copy was received from Publisher. This does not affect my opinion of the book or the content of my review.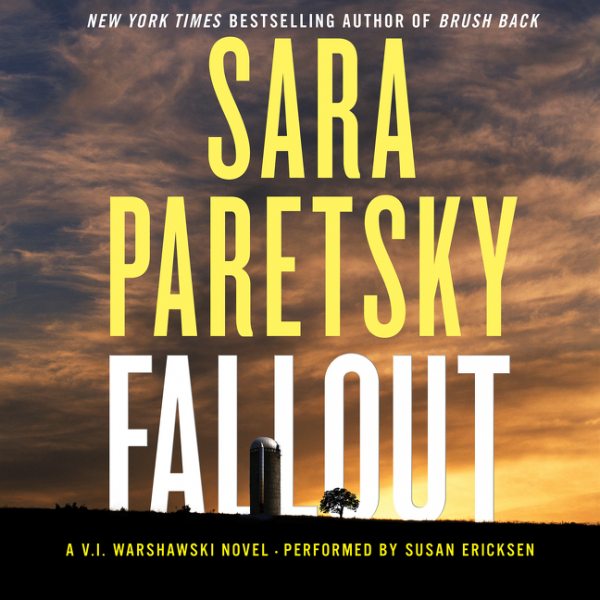 Fallout
by
Sara Paretsky
Narrator:
Susan Ericksen
Series:
V.I. Warshawski #17
Published by
HarperAudio
on April 18, 2017
Genres:
Mystery
Pages:
448
Length:
16 hours, 27 minutes
Format:
Audiobook
Source:
Publisher
Goodreads
Amazon
, 
Audible
, 
Libro.fm





Before there was Lisbeth Salander, before there was Stephanie Plum, there was V.I. WARSHAWSKI. To her parents, she's Victoria Iphigenia. To her friends, she's Vic. But to clients seeking her talents as a detective, she's V.I. And her new case will lead her from her native Chicago... and into Kansas, on the trail of a vanished film student and a faded Hollywood star.

Accompanied by her dog, V.I. tracks her quarry through a university town, across fields where missile silos once flourished — and into a past riven by long-simmering racial tensions, a past that holds the key to the crimes of the present. But as the mysteries stack up, so does the body count. And in this, her toughest case, not even V.I. is safe.
I have read and loved the V.I. Warshawski  series for a looooong time, since it started in 1982!  I've read and loved them all and Fallout is number 18. The last few I have enjoyed the audio so when I got the chance to review I went for it. Vic is the original and the best for me. The normal setting is in Chicago but in this she goes out of town for her missing persons case.
Susan Ericksen is a wonderful narrator and she is Vic for me now. She handles the inner thoughts and feelings of Vic and the dialogue and accents of all the various characters very well. I'm not knowledgeable enough to know if they are accurate to the regions but they sound right to me. She really adds to my enjoyment of the story.
The pace starts slow but builds throughout. There are so many things going on which are interconnected, so when one tumbles, it is a domino effect.  I was in fear for some of the characters' lives including Vic all along. The bad guys aren't afraid to just kill people to keep things quiet. There are complex layers of good, bad and ugly here, which get intertwined with many not understanding what they are doing even.  Also, people aren't just one thing or the other, good or bad, but shades of these characteristics. Sometimes it feels like she's not even working the original case. Vic sorts it out per usual to the dismay of many people but to save lives in the end.
I was carried along with the mystery and the characters. I really loved it! The series is a comfortable old friend. There have been breaks, of multiple years even, between books, but Paretsky manages to come back with adventure and compassion every time. Highly recommended.
[su_spacer]

Rating Breakdown
Narration (Audio)
Overall:
Latest posts by Anne - Books of My Heart
(see all)
Reading this book contributed to these challenges:
Anne: 2017 New Release Challenge
Related Posts