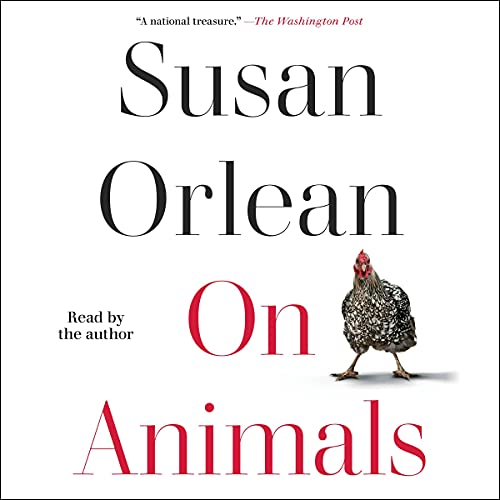 On Animals
by
Susan Orlean
Narrator:
Susan Orlean
Published by
Simon & Schuster Audio
on October 12, 2021
Genres:
Non Fiction
Pages:
256
Length:
10 hours
Format:
Audiobook
Source:
Purchased
Goodreads
Amazon
, 
Audible
, 
Audiobook
, 
Barnes & Noble
, 
Apple




Susan Orlean—the beloved New Yorker staff writer hailed as "a national treasure" by The Washington Post and the author of the New York Times bestseller The Library Book—gathers a lifetime of musings, meditations, and in-depth profiles about animals.

"How we interact with animals has preoccupied philosophers, poets, and naturalists for ages," writes Susan Orlean. Since the age of six, when Orlean wrote and illustrated a book called Herbert the Near-Sighted Pigeon, she's been drawn to stories about how we live with animals, and how they abide by us. Now, in On Animals, she examines animal-human relationships through the compelling tales she has written over the course of her celebrated career.

These stories consider a range of creatures—the household pets we dote on, the animals we raise to end up as meat on our plates, the creatures who could eat us for dinner, the various tamed and untamed animals we share our planet with who are central to human life. In her own backyard, Orlean discovers the delights of keeping chickens. In a different backyard, in New Jersey, she meets a woman who has twenty-three pet tigers—something none of her neighbors knew about until one of the tigers escapes. In Iceland, the world's most famous whale resists the efforts to set him free; in Morocco, the world's hardest-working donkeys find respite at a special clinic. We meet a show dog and a lost dog and a pigeon who knows exactly how to get home.

Equal parts delightful and profound, enriched by Orlean's stylish prose and precise research, these stories celebrate the meaningful cross-species connections that grace our collective existence.
I learned about this book while listening to a podcast I really love, Factually! with Adam Conover (from Adam Ruins Everything). I remember listening to how she found these different stories and I thought it sounded really interesting. I decided to give it a try and I'm really glad I did.
On Animals is a collection of short stories, some of which I believe were previously published in magazines. Because of this, there is some randomness to the stories. We go from talking about the life of a homing pigeon (did you know you can never move the bird, because it will always go home? You would have to retire it and build an aviary where the birds can never fly openly again). Then there is also a story about oxen in Cuba and how they fell out of favor when Russia provided a ton of tractors and oil to the island country. But when the oil wasn't flowing as freely, the few people who still knew how to train oxen were at a premium.
She has a chapter on Keiko, the whale from Free Willy. Another on the Tiger Lady of New Jersey (this one reminded me a lot of a story from my area of Ohio, where the owner turned all of his animals loose, then killed himself. Check out the great podcast about it, looking back 10 years later). Another is where she spends time with a champion show dog named Biff.
There are a large number of stories, all animal related. Not all the stories have a happy ending (see Keiko). I found the story on taxidermy to be very interesting (mostly because I knew nothing about the profession, but knew it existed and isn't at all liked by most animal lovers. This gives you a new perspective on the practice). The story about the Lion Whisperer is another that tells about the tourist trade and its effects on the animals of South Africa.
I found every story interesting, some more than others. I think I learned something in every story. It makes me want to look into her other New York Times best selling books. I think The Library Book is next on my list, though the reviews of The Orchid Thief make it really intriguing as well.
Narration:
The narration is performed by the author. Being a non-fiction book, it doesn't have the voices and tone required of fiction books. I thought her reading was adequate. I would listen to her read her other books (though I haven't checked to see if she performs those books as well).
Listen to a clip:

Rating Breakdown
Plot
Writing
Narration (Audio)
Overall:
Related Posts