Review copy was received from Edelweiss. This does not affect my opinion of the book or the content of my review.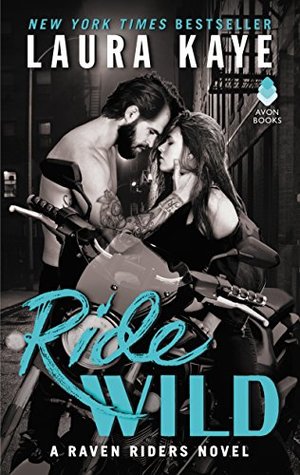 Ride Wild
by
Laura Kaye
Series:
Raven Riders #3
Published by
Avon
on October 31, 2017
Genres:
Motorcycle Club Romance
Pages:
400
Format:
eARC
Source:
Edelweiss
Goodreads
Amazon
, 
Libro.fm
, 
Barnes & Noble
, 
Apple






Wild with grief over the death of his wife, Sam "Slider" Evans merely lives for his two sons. Nothing holds his interest anymore—not even riding his bike or his membership in the Raven Riders Motorcycle Club. But that all changes when he hires a new babysitter.

Recently freed from a bad situation by the Ravens, Cora Campbell is determined to bury the past. When Slider offers her a nanny position, she accepts, needing the security and time to figure out what she wants from life. Cora adores his sweet boys, but never expected the red-hot attraction to their brooding, sexy father. If only he would notice her...

Slider does see the beautiful, fun-loving woman he invited into his home. She makes him feel too much, and he both hates it and yearns for it. But when Cora witnesses something she shouldn't have, the new lives they've only just discovered are threatened. Now Slider must claim—and protect—what's his before it's too late.
The Raven Riders series is one of the only motorcycle rider series I really enjoy. There is the violence and sex and living on the edge of the law which is common in this world. The brutality is not so detailed on page, plus these guys are more protectors to those in trouble rather than perpetrating the abuse or crimes themselves.
Slider has two young sons and has lost his wife to breast cancer. His last few years have not been good; he's just hanging in there for his boys. He needs some help due to his work hours. Cora was saved from a horrible situation in an earlier book, so she is staying with the Raven Riders while she gets her life back on track. She has time and needs to earn money, so she becomes a sitter.
The two boys, Sam (Jr) and Ben are amazing and fun! They added so much to the story. The boys are happy with Cora; she is happy with them. With Cora turning their house into more of a home, Slider starts to open up a bit to be more involved with the club again. There is a slow and steady improvement in things until Cora sees something wrong.
Ride Wild was hot, sexy and heart-rending. I dissolved into some ugly crying. The club really steps up to protect and support their family. It's awesome to see characters from the previous books and even the Hard Ink team. I loved this.  Highly recommended series – read it all!
And don't miss all the books in the Raven Riders Series!
Excerpt: 
When Cora returned five minutes later, he stood at the kitchen counter chugging a glass of water.

"So, I'll get changed," she said, thumbing over her shoulder. He gave her a nod and tried not to let his gaze try to connect the rain droplets that darkened her sweatshirt and slicked the exposed skin of her legs. "But I wanted to mention that we need to go grocery shopping."

We. The word was a total sucker punch.

And it made him need to get her the hell out of his house. At least for a few hours. Because the only we Slider did now was the kind he'd created with his own blood. "I'll get on it."

She didn't leave to get dressed like he expected her to. Instead, she lingered, then finally said, "I know you're on again tonight and need to sleep. Maybe…I could get Bunny to take me and we'll drop everything off here later."

"That's okay," he said, shaking his head.

"Or, if it's easier, I could even hang here today and you could take me when you wake up. God knows I don't have anywhere special I need to be, so it wouldn't be a problem…"

He pictured her staying in his house in a sudden flash of images—her making lunch, her cuddled into the corner of the couch watching TV, her stepping out of the bathroom, hair wet from a shower, and the sweet-smelling scent of her lotion trailing after her…Twin reaction coursed through him. A yearning for the companionship of another adult sharing his space and his life. And a kneejerk fight-or-flight hell no that both left him unsettled and pissed him off.

All of which meant she had to go. Now.

"Jesus, I said I'll take care of it. I don't need you." Something akin to panic had the words coming out more harshly than he'd intended, and his brain was already scrambling to clean up the mess his mouth had made. "To do it, I mean. I don't need you for shopping. Okay? I got it."

"Right. Of course," she said, backing out of the room, green eyes flashing with an emotion he couldn't name.

And he was a giant asshole. He scrubbed his face on a long sigh and waited for her to come back so he could drive her home. And apologize.

He waited. And waited.

What the hell?

"Uh, Cora, you ready? He called out, making sure his tone lacked the frustration he felt with himself. Two-plus years of withdrawing from the world around him had left him all kinds of rusty at interacting like a normal human being.

When there was no response, he waited a few more minutes. Guilt a weight on his shoulders, Slider finally went back down the hall toward the family room where she slept on the couch because she'd long ago refused his offer to use his bed on nights when he wasn't home. The downstairs bathroom was empty. And so was the family room. A creeping apprehension squeezed his chest when he noticed that her bag was gone and the blankets she used were back in their neat little stack, too.

No. No, no. Shit.

His gaze lifted to the door to the back porch, and that was when he knew.

She'd left.

He'd been an asshole, and she'd left. And now she was on the street.

Sonofabitch.
PREORDER RIDE WILD & HELP MAKE A DIFFERENCE!
Animal rescue is a big part of the storyline of Ride Wild, and that's something that's close to Laura's heart, so Laura's giving to the cause by donating a portion of all preorders and sales through 11/5 to Noah's Arks Rescue, a fantastic organization that serves as a source of inspiration for the book. When you grab your copy of RIDE WILD, you're helping a great cause AND you'll get a bonus story when you submit your order info, too!
Rating Breakdown
Narration (Audio)
Overall:
Latest posts by Anne - Books of My Heart
(see all)
Reading this book contributed to these challenges:
Anne: 2017 New Release Challenge
Related Posts