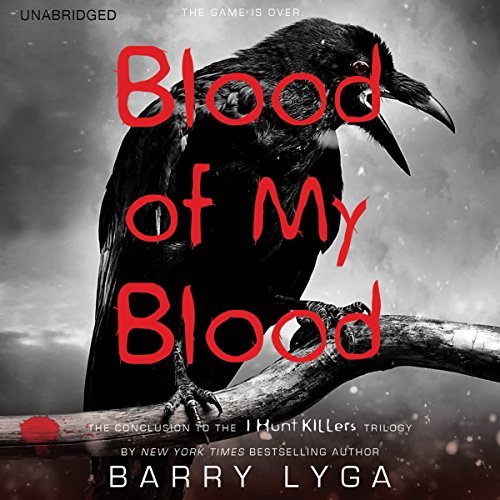 Blood of My Blood
by
Barry Lyga
Narrator:
Charlie Thurston
Series:
Jasper Dent #3
Published by
Little Brown
on September 9, 2014
Genres:
Young Adult
Length:
10 hours, 52 minutes
Format:
Audiobook
Source:
Library
Goodreads
Amazon
, 
Audible
, 
Audiobook
, 
Barnes & Noble






In an effort to prove murder didn't run in the family, Jazz teamed with the police in the small town of Lobo's Nod to solve a deadly case. And now, when a determined New York City detective comes knocking on Jazz's door asking for help, he can't say no. The Hat-Dog Killer has the Big Apple—and its police —running scared. So Jazz and his girlfriend, Connie, hop on a plane to the big city and get swept up in a killer's murderous game.


The final book in the Jasper Dent series. Hmm… How to write this review without revealing spoilers.  Blood of My Blood picks up right after the cliffhanger of book two, Game. Jasper and his best friend, Howie, and his girlfriend, Connie are still trying to solve some murders. Each of them have a different piece to help solve it and they are all in different locations. Jazz is in New York, as is Connie, though she isn't with him. Howie is back in Lobo's Nod. All of them end up in the hospital, though again, they are kept separate. Things aren't looking good for them.
Jasper decides he needs to leave the hospital. Not only does he leave without doctor's approval, he has to take out the cops to do so. Jazz has spent the entire series trying to stay on the right side of the law. He is desperate to not become his father. However, he does have to break some laws if he is going to stop his father and that is just what he does. Jazz does make a point to not permanently hurt anything more than an ego.
I don't want to go too much into this story. For one, I don't want to spoil any of the earlier books for those who might not have read them yet. Two, I don't want to spoil anything in this book and there is a lot of spoilery material in this book. Let's just say I continue to love our three teenagers. Jazz, Howie and Connie are all great characters. The adults are really good too. There is still G. William, the sheriff of Lobo's Nod, Detective Hughes of the NYPD and even Connie's dad. I really enjoyed all of them.
The suspense here really keeps you on the edge of your seat. There are things you learn in this book that are totally NOT what you're expecting. There are things that are revealed that really pushed some boundaries for me (and that is saying something). Things where I read them, and thought "No, the author really isn't going to go there is he. Yes. Yes, he is." If you like suspense, especially if you like creepy, serial killer stories, this is a great trilogy and I highly recommend you try it. And this book wrapped the whole story up really well. I couldn't have asked for a better ending.
Narration
Charlie Thurston continued with a wonderful narration of this series. I have to say that the voices he chose were perfect for the characters. Billy Dent's voice especially (Jazz's dad). He is a really creepy character. The way the voice wavers between crazy sociopath and charming male, really fit the description that the author used for Billy. I even like his voice for Connie and the few other women in this book. I would love to find more books with Thurston as the narrator.
Listen to a clip here:
Rating Breakdown
Plot
Writing
Characters
Narration (Audio)
Overall:
Related Posts