Review copy was received from Publicity team. This does not affect my opinion of the book or the content of my review.
Marriage of Inconvenience
by
Penny Reid
Series:
Knitting in the City #7
Published by
Self-Published
on March 6, 2018
Genres:
Contemporary Romance
Pages:
352
Format:
eARC
Source:
Publicity team
Goodreads
Amazon
, 
Barnes & Noble
, 
Apple






There are three things you need to know about Kat Tanner (aka Kathleen Tyson. . . and yes, she is *that* Kathleen Tyson): 1) She's determined to make good decisions, 2) She must get married ASAP, and 3) She knows how to knit.

Being a billionaire heiress isn't all it's cracked up to be. In fact, it sucks. Determined to live a quiet life, Kat Tanner changed her identity years ago and eschewed her family's legacy. But now, Kat's silver spoon past has finally caught up with her, and so have her youthful mistakes. To avoid imminent disaster, she must marry immediately; it is essential that the person she chooses have no romantic feelings for her whatsoever and be completely trustworthy.

Fortunately, she knows exactly who to ask. Dan O'Malley checks all the boxes: single, romantically indifferent to her, completely trustworthy. Sure, she might have a wee little crush on Dan the Security Man, but with clear rules, expectations, and a legally binding contract, Kat is certain she can make it through this debacle with her sanity—and heart—all in one piece.
Except, what happens when Dan O'Malley isn't as indifferent—or as trustworthy—as she thought?
How I love this Knitting in the City series and this book!  Penny Reid wrote a love letter to the fans, as only she could.  My mind and heart had plenty to keep busy here! And I had some laughs. There were also small scenes with all the people we have come to know and love throughout the series.
Marriage of Inconvenience hit all my buttons. I love science and currently work part-time in a pharmacy. I used to work installing computerized accounting systems before I sold my business.  My father owned an international manufacturing company with his cousins. I also knit. And if I can't decide what to eat – I eat cheese. I nearly always have 2 pounds of sliced cheese ready in the fridge.  My knitting is at my left hand while I type. I connected with this story on so many levels.
I love the connection and support this group of knitting friends provide to each other. They are so lucky to stay together even with the marriages and career moves and even geographic moves.  I love Dan. I love Kat. Just a bit, I wanted to slap them upside the head for letting communication issues make things more difficult. Talk to each other!!!
Dan and Kat are both good people who care about others. They rely on themselves and don't expect help from others. They work very hard and are critical of themselves.  Eventually, they learn to trust and work with each other and accept some support from their friends.
I'm not sure I liked the epilogue at the end, set fifteen years in the future. I would rather have had a little more about the present right at the end, before or instead of any epilogue.  Hopefully, over time, there may be novellas, to tell tales of happenings during those fifteen years.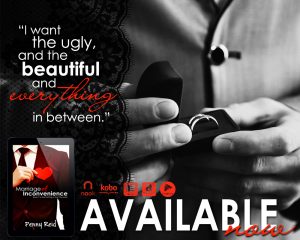 Excerpt:
Staring at his chin, because I couldn't quite lift my eyes any higher, I cleared my throat. "Should we get ready for bed?"

"Sure," he said, his voice a rumble. Dan's eyes were on me, I felt the weight of them.

My hands came to the hem of my skirt and I hesitated, feeling winded for some reason. Sneaking a glance at him, I immediately wished I hadn't. His gaze was watchful, but it was also unmistakably hot in a way that seemed at once both avaricious and accusatory. The vice tightened around my lungs.

Kiss him! Just freaking kiss him! You want numbered steps? Fine. You kiss him- check. He kisses you back- check. Then you make out- check. Check the boxes.

I licked my lips, balling my hands into fists at my sides again, preparing to follow my hasty list.

But then he said, "Undress me."

My breath caught. On instinct, my eyes lifted and collided with his in much the same way our bodies had collided at the top of the stairs just moments ago. Jarring. Startling. Thrilling. This time I couldn't look away because this time I was falling. He made no move to catch me.

"What? What did you say?"

His eyes narrowed, which served only to increase the intensity of his gaze from smolder to inferno. "Take my clothes off."

I stared at him, licking my lips again, and shaking my head. That wasn't one of my steps.

Lifting my chin, I moved to kiss him. He leaned to the side, evading me even as his eyes dropped to my mouth.

"Take off my shirt and I'll give you a kiss." He'd used his naughty-secret voice.

An explosion of heat erupted in my belly, and now I was hot all over. I couldn't figure out if the heat was embarrassment or arousal or both.

He didn't give me a chance to figure it out. His hands lifted and he undid his cuffs; then they moved to the top button of his shirt.

"You better take over," he said darkly, "or else you're not getting that kiss."
Enter the Giveaway for a complete signed set of the
USA Today
bestselling Knitting in the City Series!
Latest posts by Anne - Books of My Heart
(see all)
Reading this book contributed to these challenges:
2018 New Release Challenge
COYER Winter Switch
Related Posts