Review copy was received from Publisher. This does not affect my opinion of the book or the content of my review.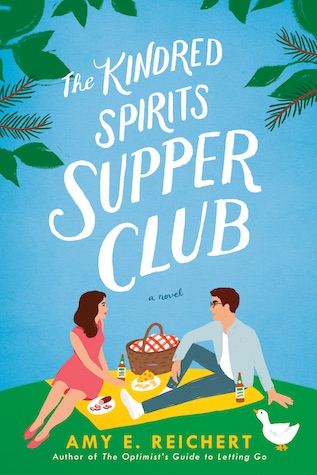 The Kindred Spirits Supper Club
by
Amy Reichert
Published by
Berkley
on April 20, 2021
Genres:
Contemporary Romance
,
Paranormal
Pages:
350
Format:
Paperback
Source:
Publisher
Goodreads
Amazon
, 
Audible
, 
Libro.fm
, 
Barnes & Noble
, 
Apple




Jobless and forced home to Wisconsin, journalist Sabrina Monroe can tolerate reunions with frenemies and kisses from old boyfriends, but not the literal ghosts that greet her in this heartwarming tale of the power of love and connection from acclaimed author Amy E. Reichert.

For Sabrina Monroe, moving back home to the Wisconsin Dells–the self-described Waterpark Capital of the World–means returning to the Monroe family curse: the women in her family can see spirits who come to them for help with unfinished business. But Sabrina's always redirected the needy spirits to her mom, who's much better suited for the job. The one exception has always been Molly, a bubbly rom-com loving ghost, who stuck by Sabrina's side all through her lonely childhood.

Her personal life starts looking up when Ray, the new local restaurateur, invites Sabrina to his supper club, where he flirts with her over his famous Brandy Old-Fashioneds. He's charming and handsome, but Sabrina tells herself she doesn't have time for romance–she needs to focus on finding a job. Except the longer she's in the Dells, the harder it is to resist her feelings for Ray. Who can turn down a cute guy with a fondness for rescue dogs and an obsession with perfecting his fried cheese curds recipe?

When the Dells starts to feel like home for the first time and with Ray in her corner, Sabrina begins to realize that she can make a difference and help others wherever she is.
A quirky heroine forced to return to her small hometown and the spirited population who make her twitchy encounters a friendly, engaging guy, new to town, and trying to make a success of the old family supper club.  Sabrina is one panic attack away from hiding in her room forever, but with a little ghostly maneuvering and a guy who doesn't let a few weird incidences put him off, maybe she has found a reason to stay.
I've had my eye on this author's books since her debut release, but it has taken me until now to finally dive into one of them.  As far as I know, The Kindred Spirits Supper Club is her first book with paranormal elements, but that will not deter me from going back for the backlist after this one caught my fancy from page one.
I had a few laugh out loud moments when odd stuff kept happening to and around poor Sabrina and any ghostly moments that Ray saw her side of.  Though, a few times, the poor gal was sabotaged.  I was captivated by the author's easy, engaging writing style, her grasp of setting with slightly wacky Wisconsin Dells (which I have visited before, by the by and she was right on from what I remember) and the cast of characters.  Sabrina and Ray are at the heart of it all, but they are surrounded by other well-crafted characters including one escapist cat, Mr. Bennett.
The story is a solid rom-com romance with plenty of humor and hilarity, but also portrays a woman who was bullied as a child by others though her family supported her when she learned she had the family gift to see and help ghosts with their problems.  Sabrina finds the gift hobbling and she ends up walled off from life and people as a protection measure.  She hates the gift and has denied it by leaving home and sending the ghosts to her mom.  She's even prepared to brush off a good guy because she has lived with the fear of hurt and rejection and avoids it by not getting involved.  But, slowly Ray and a few worthy ghostly tasks help her realize the joys of life and her family gift, too.
I have to mention how much I adored side character, Molly, the ghost.  The gal loves rom-com movies and is tickled to try to get Sabrina and Ray to live out moments from her movie favs.
All in all, it was gently-paced and heartwarming in tone.  The small-town and paranormal elements blended well and I found this an easy, delightful reading experience I can definitely recommend to small-town romance and rom-com fans.
Related Posts