Review copy was received from NetGalley. This does not affect my opinion of the book or the content of my review.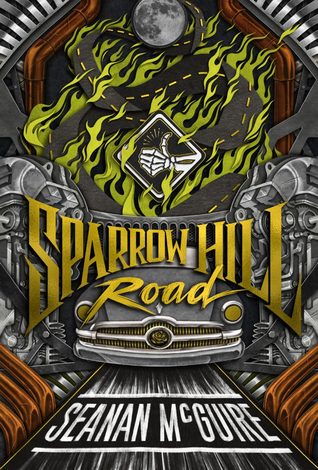 Sparrow Hill Road
by
Seanan McGuire
Series:
Ghost Roads #1
Published by
DAW Books
on June 2018
Genres:
Urban Fantasy
Pages:
321
Format:
eARC
Source:
NetGalley
Goodreads
Amazon
, 
Audible
, 
Audiobook
, 
Barnes & Noble





Rose Marshall died in 1952 in Buckley Township, Michigan, run off the road by a man named Bobby Cross—a man who had sold his soul to live forever, and intended to use her death to pay the price of his immortality. Trouble was, he didn't ask Rose what she thought of the idea.

It's been more than sixty years since that night, and she's still sixteen, and she's still running.

They have names for her all over the country: the Girl in the Diner. The Phantom Prom Date. The Girl in the Green Silk Gown. Mostly she just goes by "Rose," a hitchhiking ghost girl with her thumb out and her eyes fixed on the horizon, trying to outrace a man who never sleeps, never stops, and never gives up on the idea of claiming what's his. She's the angel of the overpass, she's the darling of the truck stops, and she's going to figure out a way to win her freedom. After all, it's not like it can kill her.

You can't kill what's already dead. (
Sparrow Hill Road is a bit disjointed.  Now I'm not sure if that is literary genius because the main character is a ghost and so her life/afterlife IS a little disjointed time-wise or because that is just the nature of this collection of stories.
Rose is dead and she has been for about sixty years now but that doesn't stop her from hitching a ride now and again and dropping into the living world to have a little bit of a good time or help someone in need.  Sometimes she is able to save them, but other times, she is only able to help them after and make sure they don't get stuck in the in-between of life and death.
Some of these stories could be really sad, depending on how you view death.  I tried to just go with this storie's version of it; it was just a doorway to a new adventure and so it was okay when one of the people Rose tried to help live ended up dead.  At least she was there to hold their hand and make sure they ended up where they were supposed to go.
Rose is the main character of a thousand different ghost stories.  Some of them more true than others, in some she is the source of death and in others she is the guardian angel looking out for the living in diners, truck stops and on highways.  
Overall Rose is really likable and she has a pretty good understanding of her death now.  She even has a bit of a calling and a few friends to boot. Still she is always looking over her shoulder, watching out for the man that killed her on Sparrow Hill Road and trying desperately to save more people for becoming another victim to the man in the car that made a deal with the devil.
There are parts in this which made me happy and some made me almost cry.  I really loved getting Rose's story of her death; it was beautiful and heartbreaking all at the same time.  I have mixed feeling about Gary and his choices BUT I reserve judgement because I think later it is going to work out as a really weird type of HEA, if ghosts get those.
The world building of the twilight and midnight was interesting and I liked the glimpses we got into the different kinds of ghosts that can be made and what they might be up to.  I also really liked the possibilities this presented for future stories and other things from death lore that popped up like Valkeries (I'm very interested in those creatures). It seems like just about anything could happen and I like jumping into Urban Fantasy that stretches the norms of the genre and takes chances on new ideas you don't see often, especially as the main focus and a dead girl being the MC is definitely not something I've read until now.
Related Posts