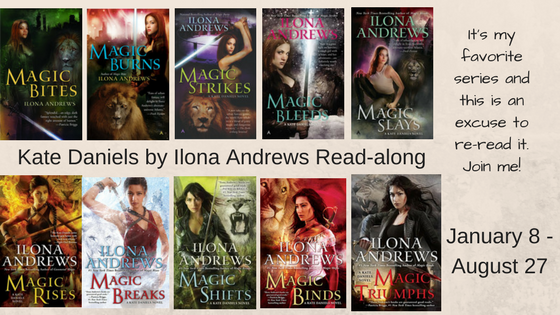 Before we begin, just a reminder this post and its comments will include spoilers for the previous books in Ilona Andrew's Kate Daniels series.  This read-along is for those who have read the books previously and also for those who are new to the series, so please no spoilers for books beyond the one featured in the discussion this week.   Our review this month is by my friend Angela at Angel's Guilty Pleasures.
Book 5: Magic Slays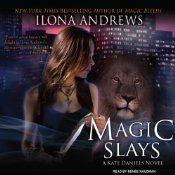 Magic Slays
by
Ilona Andrews
Narrator:
Renée Raudman
Series:
Kate Daniels #5
Published by
Tantor Audio
on January 8, 2011
Genres:
Urban Fantasy
Length:
13 hours, 17 minutes
Format:
Audiobook
Source:
Purchased
Goodreads
Amazon
, 
Audible
, 
Audiobook
, 
Barnes & Noble





Kate Daniels may have quit the Order of Merciful Aid, but she's still knee-deep in paranormal problems. Or she would be if she could get someone to hire her. Starting her own business has been more challenging than she thought it would be—now that the Order is disparaging her good name. Plus, many potential clients are afraid of getting on the bad side of the Beast Lord, who just happens to be Kate's mate.

So when Atlanta's premier Master of the Dead calls to ask for help with a vampire on the loose, Kate leaps at the chance of some paying work. But it turns out that this is not an isolated incident. Kate needs to get to the bottom of it—and fast, or the city and everyone dear to her might pay the ultimate price…
Note: This series does need to be read in order!
Another winner in the Kate Daniels series. WOW just WOW!
Magic Slays brings us a new threat that threatens the very fabric of magic, alliances will be made, people will die, lives will be change forever, and no one will be left without scares.
Lordy, so much is going on in Magic Slays. I just love this series to death and once I pick up any book in it I can't put it down until the very end. Re-reading this book over still had the same affect as it did when I first read it. Mind Blowing!
(Possible Spoilers Of Previous Books Ahead)
Kate is now mated and living with The Beast Lord (Curran), but many of the shifters, mainly the Wolf Clan, still don't like her. This is partly; because she is human (little do they know what she truly is), but also; because some bad shit happened in Magic Bleeds that affected the Wolf Alpha pair. Kate now has her own PI business that will benefit her and the Pack. Andrea returns from being MIA and we learn where she has been, what happened to her, and she no longer has a job with the Order. These two have a good friendship and they work well together. Julie also makes more of an appearance in Magic Slays and we see the relationship she has with Kate. Something very bad happens to Julie and Kate must make a very big and hard decision that could kill Julie or both of them.
Our heroine learns some disturbing news about her step-father Vorn. The past is not as rosy as she thought and what she learns affects her deeply. Her world view tumbles downhill and what she thought she knew was not true. With this new information about her step-dad and mom, she will question herself about why Curran is with her? I absolutely love that Curran lays it all out for Kate and chooses her over the Pack. He will stick by her through thick or thin, run with her if that is what she wants, and will do anything for her.
I listen to the Audiobook and LOVED IT! Narrator Renée Raudman did a wonderful job. The voices are distinct and clear. The audio grabs you at the start. I felt like I was reading the book for the first time. I had such a fabulous time listening to Magic Slays. I highly recommend this series, either or both reading and/or listening.
Magic Slays is another fabulous read in the Kate Daniels series and fans will enjoy the new twists, turns, and action-packed adventure.
Who said:
"My lord, my lady, may I say that I am delighted that my favorite alpha is feeling better. Why, you'll be running recklessly into danger against overwhelming odds anytime now."
Schedule and wrap up:   
We are doing one book every four weeks, posting on Mondays. We should have a review for most of the books with the team here at Books of My Heart plus some of our blogging friends.
Jun  4:  Magic Rises
Jul  2:     Magic Breaks
Jul 30:   Magic Shifts
Aug 27:     Magic Binds
Aug 28:     Magic Triumphs (release day!)
---
Miss a post?
Jan 15:  Magic Bites
Feb 12:  Magic Burns
Mar 12:  Magic Strikes
Apr  9:  Magic Bleeds
---
The winner of last book's giveaway is:  Yevhenii P.
This Book's Giveaway: 
Read-along Giveaway: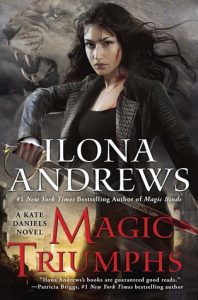 Latest posts by Anne - Books of My Heart
(see all)
Related Posts