Review copy was received from NetGalley. This does not affect my opinion of the book or the content of my review.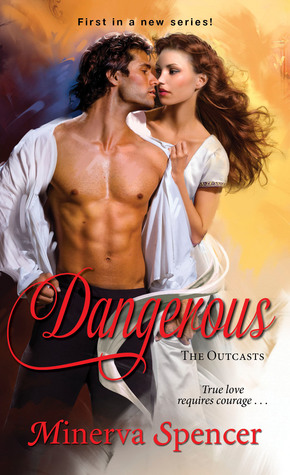 Dangerous
by
Minerva Spencer
Series:
The Outcasts #1
Published by
Zebra
on June 26, 2018
Genres:
Historical Romance
Pages:
304
Format:
eARC
Source:
NetGalley
Goodreads
Amazon
, 
Barnes & Noble





Lady Euphemia Marlington hasn't been free in seventeen years—since she was captured by Corsairs and sold into a harem. Now the sultan is dead and Mia is back in London facing relentless newspapermen, an insatiably curious public, and her first Season. Worst of all is her ashamed father's ultimatum: marry a man of his choosing or live out her life in seclusion. No doubt her potential groom is a demented octogenarian. Fortunately, Mia is no longer a girl, but a clever woman with a secret—and a plan of her own.

Adam de Courtney's first two wives died under mysterious circumstances. Now there isn't a peer in England willing to let his daughter marry the dangerously handsome man the ton calls The Murderous Marquess. Nobody except Mia's father, the desperate Duke of Carlisle. Clearly Mia must resemble an aging matron, or worse. However, in need of an heir, Adam will use the arrangement to his advantage.

But when the two outcasts finally meet, assumptions will be replaced by surprises, deceit by desire—and a meeting of minds between two schemers may lead to a meeting of hearts—if the secrets of their pasts don't tear them apart.
A woman trapped in a harem for years has come home, only to marry a man believed to have killed not one, but two wives, well count me in since that isn't something I see in historical romance ever.  I'm not one to be really caught up on how true to the time something is as long as I like the story so this whole trope worked for me.
Mia is used to playing games.  Stuck in a harem with numerous other women, she has watched her back all her life, so it should be easier to guard it against one allegedly murderous Marquess instead of many women.   If her father intends to marry her off to any that will have her, with a mysterious past she supposes Adam will do. But the more Mia gets to know Adam, the more she thinks everything the rumors say about this man can't be true.  Too bad she plans to run off first chance she gets.
I really enjoyed most of this story.  For one, Mia is a woman who thinks, she has a plan to get back to her son and no one and nothing will stop her.  That is until unexpectedly she starts falling for the man she thought would be pleasurable enough to bed but easy enough to leave.  
Adam, on the other hand, is a man on the fringes of society and one with many secrets.  With rumors of two dead wives, it is hard to get invited to a single party, let alone have a potential bride practically shoved into his lap.  Adam needs an heir though and the beautiful and mysterious Mia might just be exactly what he requires, since she wants nothing to do with him after she conceives.  Too bad the more time her spends with her, the worse that deal sounds.
There are plenty of missteps and mishaps along the way for Mia and Adam to go through and make it to their ending.  The romantic journey and different backstory of the heroine is what made this for me. There are some great side characters and I'm very interested in seeing where Barbarous, the sequel to Dangerous goes.
"You must cultivate acceptance and learn to accept minor, er, shortcomings in your suitors."

Shortcomings. The word caused an almost hysterical bubble of mirth to rise in her throat. What the duke really meant was the only men willing to take an older woman with a dubious past were senile, hideous, brainless, diseased, or some combination thereof.
Mia sighed, unwillingly recalling the hundreds of crying episodes she'd been forced to tolerate during her time in the harem. At least there would be no danger of poison or knives this time. She put an arm around the weeping woman and uttered soothing words while patting her back.
Related Posts