Review copy was received from Publisher. This does not affect my opinion of the book or the content of my review.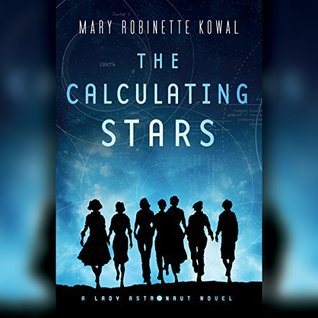 The Calculating Stars
by
Mary Robinette Kowal
Narrator:
Mary Robinette Kowal
Series:
Lady Astronaut #1
Published by
Audible
on July 3, 2018
Genres:
Historical Fiction
Length:
11 hours, 41 minutes
Format:
Audiobook
Source:
Publisher
Goodreads
Amazon
, 
Audible
, 
Audiobook





A meteor decimates the U.S. government and paves the way for a climate cataclysm that will eventually render the earth inhospitable to humanity. This looming threat calls for a radically accelerated timeline in the earth's efforts to colonize space, as well as an unprecedented opportunity for a much larger share of humanity to take part.

One of these new entrants in the space race is Elma York, whose experience as a WASP pilot and mathematician earns her a place in the International Aerospace Coalition's attempts to put man on the moon. But with so many skilled and experienced women pilots and scientists involved with the program, it doesn't take long before Elma begins to wonder why they can't go into space, too—aside from some pesky barriers like thousands of years of history and a host of expectations about the proper place of the fairer sex. And yet, Elma's drive to become the first Lady Astronaut is so strong that even the most dearly held conventions may not stand a chance.
I was offered The Calculating Stars  as an audio to review by Audible and was very excited to hear it. In my mind, it was science fiction but in reality it is combined with historical fiction. The story centers around a couple of the Jewish faith, in the 1950s. They both work for the government. Nathaniel has been in the army and worked on the Manhattan project as an engineer. Elma works as a computer. At the beginning, they live in Washington DC, when a meteor hits and destroys DC and many areas on the East Coast.
The couple ends up in Kansas, working on the space project. The effects of the meteor are expected, by scientists, to cause drastic weather changes where Earth may not be habitable for humans. So the team works to prepare the technology to be able to form space colonies.
I love science and math but had limited ( to no) understanding of that aspect. The focus is on the relationships of the couple, their co-workers and friends. There are also many politics involved with the government.  Elma is our view to the world. Her aspirations are to become a lady astronaut and we follow her process and growth.  She has incredible support from her husband and brother. Her husband is like the best possible guy ever!
The story is very interesting. It is also a reflection of the racism of that time. There is also the sexism and religious prejudice. Elma is admirable in her ability to be kind when others are not. She makes efforts to alleviate the biases.  She is also honest, hard-working, and humble.    I really look forward to the continuation of this Lady Astronaut series.  Fated Sky will be released next week.  Both books are a prequel to The Lady Astronaut of Mars published in 2012.
Narration:
The author also narrated this story. I rather like that, even if the author is not a professional narrator, since the author knows the emotion and situation of every scene. This author is also a voice actor. I was able to listen at my normal 1.25x speed. I think this was easier as a listen than reading since I didn't have to puzzle over pronunciation of any technical terms. The voices, both male and female, were nicely performed with no odd ones to take me out of the story. Some were from the South with a bit of a lilt. I enjoyed it very much.
Listen to a clip:
Rating Breakdown
Plot
Characters
Narration (Audio)
Overall:
I can't really remember any time when I wasn't reading. I LOVE books and what they give me. It's an opportunity to learn new things, see new places,live different emotions in a "safe" way. It lets me live in a new world.
I read all types of books but my favorites are urban fantasy and romantic suspense.I like some romance and some action / adventure / mystery in everything.I like sex in my books but please, only between TWO people.Intimate conversation is equally important to the sex in a book.It lets me see the characters.The other thing I enjoy is humor.
Friend me at Goodreads.
Latest posts by Anne - Books of My Heart (see all)
Reading this book contributed to these challenges:
2018 Audiobook Challenge
2018 New Release Challenge
COYER BSBB
Related Posts