Review copy was received from NetGalley. This does not affect my opinion of the book or the content of my review.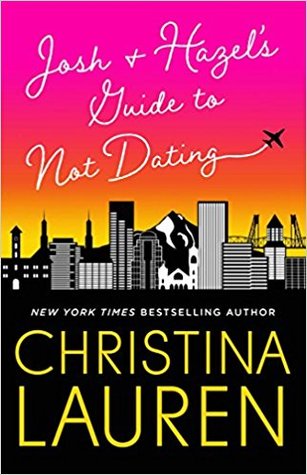 Josh & Hazel's Guide to Not Dating
by
Christina Lauren
Published by
Gallery Books
on September 4, 2018
Genres:
Contemporary Romance
Pages:
320
Format:
eARC
Source:
NetGalley
Goodreads
Amazon
, 
Audible
, 
Libro.fm
, 
Barnes & Noble






Hazel Camille Bradford knows she's a lot to take—and frankly, most men aren't up to the challenge. If her army of pets and thrill for the absurd don't send them running, her lack of filter means she'll say exactly the wrong thing in a delicate moment. Their loss. She's a good soul in search of honest fun.

Josh Im has known Hazel since college, where her zany playfulness proved completely incompatible with his mellow restraint. From the first night they met—when she gracelessly threw up on his shoes—to when she sent him an unintelligible email while in a post-surgical haze, Josh has always thought of Hazel more as a spectacle than a peer. But now, ten years later, after a cheating girlfriend has turned his life upside down, going out with Hazel is a breath of fresh air.

Not that Josh and Hazel date. At least, not each other. Because setting each other up on progressively terrible double blind dates means there's nothing between them...right?
Are you tired of alpha assholes, bazillionaires, practically perfect people and virginal damsels? Then this book could be for you.  This is my first Christina Lauren book but it definitely will not be the last, because on the merits of this one book I've decided to read everything they have ever written.
Josh and Hazel met one night in college when Hazel might have puked on his shoes just after offering to sex him up.  It is now years later and Hazel is still a wild and crazy hot mess, but she is a completely respectable one as a third grade teacher.  I completely fell in love with this character on page one and Hazel just got better as the book went on. The girl has a menagerie of pets in a tiny apartment and each one has a better name than the last, I mean she has a rabbit named Janice Hoplin.  I want to be Hazel's friend in real life.
Josh is the perfect straight man to Hazel's wild woman.  He has a nice respectable job, family and just found out his girlfriend is cheating on him.  No better time for Hazel to enter his life and be the bestest best friend he has ever had. He has no idea the ride he is in for.
Hazel's pretty sure she is undatable in Josh's eyes, well most men's eyes, she is a lot to handle and usually doesn't have a filter on her mouth. But what if they helped each other date.  So, the plan begins to go on double blind date  they set up for the other. What could possibly go wrong? Well nothing for you, the reader, because it is one crazy fun adventure after another.
Sure, you know they are going to end up with one another eventually, it was inevitable but the journey is so much fun.  Hazel is her own woman and proud of the crazy character she is. I loved that she didn't conform to the world around her and marched to her own beat.  Even the lack of filter is adorable in her character.
The story is told from both Josh and Hazel's PoVs which made the story even better.  I really like knowing where each person is emotionally; in a story like this, it definitely makes it more fun.
So recap, fantastically funny, completely cute, silly smart, uniquely quirky and just a dang good time in a book.  
Hazel groans in jealousy. "You get to talk about cores all day, and working things nice and deep. I would never get any actual work done."

"I mean, I occasionally get to tell people to take their pants off, but it's rarely the people you want to see naked from the waist down."
I tear off a chunk of pancake and carefully feed it to the dog.

"Don't spoil her," Hazel tells me over her shoulder.

"Hazel. The dog you don't want me to spoil is wearing a Wonder Woman T-shirt."
We met up in person for venting over coffee and became immediate fast friends. Or, maybe more accurately, I decided she was amazing and invited her to coffee again and again until she agreed. The way Emily describes it: when I meet someone I love, I become an octopus and wind my tentacles around their heart, tighter and tighter until they can't deny they love me just the same.
Related Posts