Review copy was received from Publisher. This does not affect my opinion of the book or the content of my review.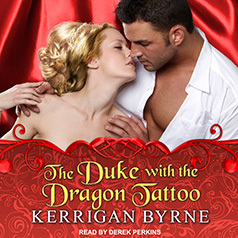 The Duke with the Dragon Tattoo
Narrator:
Derek Perkins
Series:
Victorian Rebels #6
Published by
Tantor Audio
on August 28, 2018
Genres:
Historical Romance
Length:
9 hours, 59 minutes
Format:
Audiobook
Source:
Publisher
Goodreads
Amazon
, 
Audible
, 
Libro.fm
, 
Barnes & Noble






The bravest of heroes. The brashest of rebels. The boldest of lovers. These are the men who risk their hearts and their souls—for the passionate women who dare to love them…

He is known only as The Rook. A man with no name, no past, no memories. He awakens in a mass grave, a magnificent dragon tattoo on his muscled forearm the sole clue to his mysterious origins. His only hope for survival—and salvation—lies in the deep, fiery eyes of the beautiful stranger who finds him. Who nurses him back to health. And who calms the restless demons in his soul…

A LEGENDARY LOVE

Lorelei will never forget the night she rescued the broken dark angel in the woods, a devilishly handsome man who haunts her dreams to this day. Crippled as a child, she devoted herself to healing the poor tortured man. And when he left, he took a piece of her heart with him. Now, after all these years, The Rook has returned. Like a phantom, he sweeps back into her life and avenges those who wronged her. But can she trust a man who's been branded a rebel, a thief, and a killer? And can she trust herself to resist him when he takes her in his arms?
Oh Captain, my captain, I do love a good pirate tale. The Duke with a Dragon Tattoo has a few things going for it. There is, of course, the dashing and dastardly pirate king and a damsel in need of saving from some nefarious old dude. But before that, we get some sweet and cute, which is much needed since later our Pirate is quite an antihero.

The Highwayman has been my favorite of this Victorian Rebels series by far. This is the tale of the Dorian Black, the boy Dugan thought long dead, who by dying had saved Dugan. Dorian was thought dead by all and he very nearly was. That is until Lorelei happens on him while driving home in a carriage. Broken, battered and on the verge of death, she wills him to live and nurses him back to health. Here is all of the cute and I loved how the two of them became closer as he healed.

Lorelei is a fun heroine because she isn't a perfect specimen, she has flaws. She is kindhearted and nurses just about any lost animal back to health. Lorelei also has a severe limp and struggles getting around. She has some confidence issues because of that and the way her brother treats her. But she is someone who is easy to like.

Dorian can't remember anything about himself before he was found on the side of the road. He is pretty sure he wasn't a nice boy to begin with, but for this girl he would try to be one. He's decided he loves Lorelei and will find a way to earn a living and be with her after he recovers from the injury. But fate has other plans and it will be close to twenty years until they see each other again.

I'm glad we get some sweet time with the characters while they are kids since later Ash/Dorian is very changed and seems almost brutal in many of his dealing. As the notorious Rook Pirate King of the seas, he was a bit to take at times even though we know how broken he truly is. Lorelei remains the character that holds the story together for me. I love her and so I want her to get the HEA she seems to deserve.

This has some tender moments to hold onto though and showed us true love lasts decades.  Ash is the most himself with Lorelei and you can see how much his love for her drove him all of the years he was away.

One of the best parts was getting to see Dorian (or Dugan as his true name really is) from the Highwayman along with Farrah. I was very happy that characters from the prior books made cameo appearances and helped with a few things.

The Highwayman still holds the top position for this series for me but this probably comes in a close second.
"Lorelai. There are only two indisputable facts in this world: The sun will set in the west, and I'll come for you. Always."
"It's not that I merely missed you…..You are not a hole in my heart, you are the whole of my heart.
Narration:
Derek Perkins performed this story well.  He was able to capture a voice for all of the characters and make me feel for them.  His narration of Ash/Dorian/The Rook made him seem both strong and vulnerable. I was able to listen to this at my usual 1.5x speed.
Listen to a clip here:

Rating Breakdown
Plot
Writing
Characters
Narration (Audio)
Overall:
Related Posts