Review copy was received from NetGalley. This does not affect my opinion of the book or the content of my review.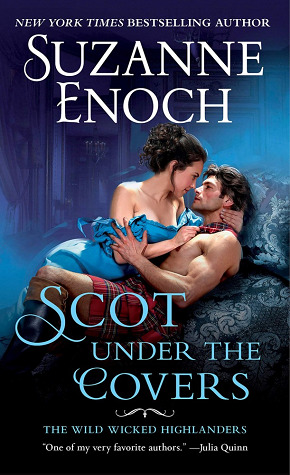 Scot Under the Covers
by
Suzanne Enoch
Series:
Wild Wicked Highlanders #2
Published by
St. Martin's Press
on January 28, 2020
Genres:
Historical Romance
Pages:
320
Format:
eARC
Source:
NetGalley
Goodreads
Amazon
, 
Barnes & Noble
, 
Apple





When a resourceful English lady and a hot-blooded Highlander join forces to trick a scoundrel, every rule will be broken!

Miranda Harris is known for her charm, wit, and ability to solve any problem she encounters. But when her brother lands neck-deep in gambling debt to a crafty villain and Miranda is subsequently blackmailed into marrying him, she must enlist the help of the devil himself to save the family honor―and herself.

Devilishly handsome Highlander Aden MacTaggert knows next to nothing about the ways of the ton, but he most certainly knows his way around gaming halls and womens' hearts. Still, Aden is not sure how he'll manage to find a Sassenach bride in time to save his family's inheritance. When his almost sister-in-law Miranda comes to him for assistance, he proposes a partnership: She will help him navigate London society and he'll teach her everything about wagering…and winning back her freedom. The beautiful, clever lass intrigues Aden―but is she playing her own game, or are the sparks between them real? He is accustomed to risking his pocket. But betting on Miranda's love is a game he can't afford to lose. . .
What are you supposed to do when your brother gambles away a fortune he doesn't have and promises you to a man you despise? You do what any other smart woman would do and fight fire with fire. Or in this case, a gambling Highlander who might just be able to best the scoundrel at his own game.
Scot Under the Covers is the second book in the Wild Wicked Highlanders series. It centers around three very attractive Highland men, who through some machinations of their estranged mother, have to marry an English woman before their sister marries or loose the money required to run their highland home.
Aden is a sweet man overall; he seems incredibly lucky, until you see the thought and work, he puts behind that luck.  I enjoyed reading his character especially when Miranda, his soon to be sister-in-law initially despises him due to his gambling ways. It was fun to watch her opinion change when she meets a true gambler, the one who owns her brother and is intent on marrying her. I also enjoyed Miranda's growth from a sheltered debutante to a woman truly fighting for her future.
This is a fun story with a very charming man in a kilt willing to go to great lengths for the woman he decides will be the one he marries no matter the cost. Aden was the son that seemed the most upset with their estranged mother and who is probably the most like her. I really enjoyed the interactions they had together and how perhaps he might soften to her just a little anyway.
This is the second book in a series and can definitely be read as a standalone, but you'd miss the fun of Niall and Amelia in It's Getting Scot in Here if you decided to do that.  If you are a fan of Scottish Brogues and like tricksters, then the love story of Aden MacTaggert and Miranda might just what you are looking for.
Blast it all, he was twenty minutes early. She hadn't managed to circle her thoughts back around from self-pity to useful plotting yet.
"I've some curiosity. Most lasses who decide they dunnae like me have at least conversed with me first. Do ye have a dance to spare for me this evening? Then we can chat and ye'll have a reason to loathe me."
Related Posts