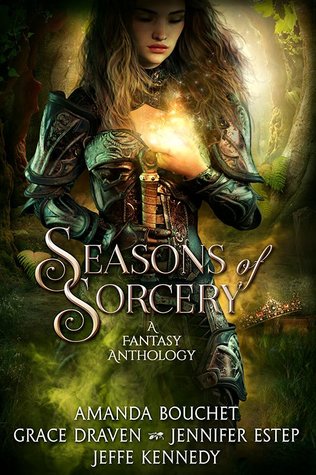 Seasons of Sorcery
by
Amanda Bouchet
,
Jeffe Kennedy
,
Jennifer Estep
,
Grace Draven
Published by
Brightlynx Publishing
on November 13, 2018
Genres:
Fantasy
Pages:
370
Format:
eARC
Source:
Author
Goodreads
Amazon
, 
Barnes & Noble
, 
Apple




WINTER'S WEB BY JENNIFER ESTEP
An assassin at a renaissance faire. What could possibly go wrong? Everything, if you're Gin Blanco. This Spider is trapped in someone else's icy web—and it seems like they don't want her to leave the faire alive . . .

A CURSE FOR SPRING BY AMANDA BOUCHET

A malevolent spell strangles the kingdom of Leathen in catastrophic drought. Prince Daric must break the curse before his people starve. A once-mighty goddess trapped in a human body might be the key—but saving his kingdom could mean losing all that he loves.

THE DRAGONS OF SUMMER BY JEFFE KENNEDY

As unofficial consort to the High Queen, former mercenary Harlan Konyngrr faces a challenge worse than looming war and fearsome dragons. His long-held secrets threaten what he loves most—and he must make a choice between vows to two women.

A WILDERNESS OF GLASS BY GRACE DRAVEN

The stretch of sea known as The Gray rules the lives of those in the village of Ancilar, including widow Brida Gazi. In the aftermath of an autumn storm, Brida discovers one of the sea's secrets cast onto the shore—a discovery that will change her world, mend her soul, and put her in the greatest danger she's ever faced.
Winter's Web by Jennifer Estep
I had fun with this short story with Gin and the gang at a Renaissance Festival. Of course Gin can't go anywhere without getting into trouble. I think fans of the series will enjoy this story, although you don't have to read it to continue the series. I'm not sure if people who haven't read Elemental Assassins will enjoy it as much. I just think they might not understand the world and the magic that exists in it well enough. I do think people who don't know Gin will enjoy the story, just not as much as fans of the series.
A Wilderness Of Glass by Grace Draven
I'm not at all familiar with this author or this story. It was an interesting story. It follows Brida Gazi a widow in a small town. She now tries to help out her brother and sister-in-law who have several kids. She also helps harvest seaweed. Then she comes across something she's never seen before.There is also someone who is stalking her.
This was a nice short story with some romance and suspense and a lot of paranormal. I would be interested in learning more about this world.
A Curse For Spring by Amanda Bouchet
This is a stand-alone story. I have read Amanda Bouchet before. I liked her stories. This is another nice short story. Prince Daric is desperate for rain for his lands. There have been nothing but droughts since he was born. His parents are selling off pieces of their assets to get water from bordering kingdoms that have water. He was begging his goddess, Braylian, for help from her cauldron. Then a humanoid figure shows herself. Daric's father pulls her out of the cauldron and she becomes flesh and bone. She is named Rain, since everyone kept asking her to make it rain.
This is a story of hardship, sacrifice and love.
The Dragons Of Summer by Jeffe Kennedy
This story follows Harlan Konyngrr from Dasnaria. He was also the hero of third book of The Twelve Kingdoms, The Talon of the Hawk. He is now the unofficial consort to Queen Ursula. However, he hasn't shared everything with her. He has a secret in his past.
This story brings the fans of The Twelve Kingdoms series up to date with all that we've learned in The Chronicles of Dasnaria. Or, at least what Harlan knows from that series (there's a lot he doesn't know).
This is another story I think fans of the series will enjoy more than people who haven't read the series. This world Jeffe Kennedy has created is pretty complex, and it is hard to get a full grasp of it in a novella length story. Not to mention, there is a lot of build up to this point.
Overall
I had a great time with all four of these stories. I got to read from two series I love, a new story from an author I've enjoyed and a new-to-me author. If you like fantasy stories, I recommend this anthology.
Rating Breakdown
Plot
Writing
Characters
Dialogue
Overall:
Related Posts