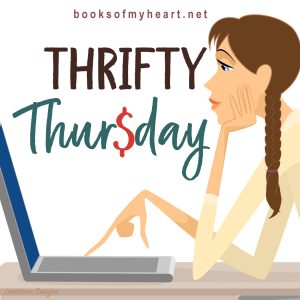 The purpose of Thrifty Thursday is to read a book which was free (at some point).
Kindle freebie on November 12, 2018  (currently still free at Amazon and also in Kindle Unlimited as of writing this post)
Overall rating 4.64 with 39 ratings and 28 reviews
Love Under the Mistletoe
by
Krista Lakes
Published by
Indie
on November 8, 2018
Genres:
Contemporary Romance
Pages:
250
Format:
eBook
Source:
Purchased
Goodreads
Amazon




Holly has always loved Christmas, but this year is different. As a school teacher, she's worried about her students, her dad, and her entire town. All of them are poised for a terrible Christmas, and there's nothing she can do about it. The only bright spot in her life is the mysterious man she meets at the holiday party.

Nathan has always hated Christmas, but this year is different. As a billionaire, he's excited about his new plans for his company, but as always, it's all about the money. When he meets the bubbly woman who doesn't care about his wealth, love blossoms under the mistletoe.

It almost seems like magic.

But their lives are more intertwined than either of them originally thought. It turns out that Nathan's plan for the future of his company is the very thing that's destroying Holly's community.

Holly begins to understand why everyone refers to Nathan as a Scrooge, and she thinks that the wonderful man she shared a passionate weekend with was nothing more than a lie. Will Nathan be able to prove that she saw the real him?

Will Christmas magic prevail, or will their love vanish like a kiss under the mistletoe?
I was half in and half out here.  I was all in for Holly, her Dad's bookstore, the small town, her teaching and students . I enjoyed the skiing and the Colorado setting. The technology and small business aspect appeals to me also.
I was out for the billionaire who only cares about money. This was too cliche. I hated Lucy and her brief parts. Nathan, at least remembered being a human being, he supported Lucy in the end. I felt there were loose ends with her and probably because she was not a fully developed character, more just a villain to hate.
I really loved Holly's students and I cried over their hopes and fears, also their Christmas gifts. I had problems with the insta-love and the predictable issues.  Love under the Mistletoe is sweet, interesting and has Christmas magic.
HoHoHoRAT #12
---
These are only Kindle freebies I get, or ones through author newsletters which anyone can sign up and get for free. I don't include things like Kindle Unlimited or Prime Free Reading (I do have it). Both Tantor and Audible have occasional free audios (to anyone) and I do include those.  Since I one-click on 1-2 freebies a day or probably at least 5 a week, I came up with this feature to make sure I start reading them.
So I have thought about doing a Thrifty Thursday Challenge someday. For now,  what I think would be fun is if you have read and reviewed  a freebie, link up to your review (Goodreads, blog, facebook or wherever) below.
---
Add your review link here: 
Mister Linky's Magical Widgets — Thumb-Linky widget will appear right here!
This preview will disappear when the widget is displayed on your site.
If this widget does not appear,
click here
to display it.
Latest posts by Anne - Books of My Heart
(see all)
Reading this book contributed to these challenges:
2018 New Release Challenge
Related Posts