Review copy was received from Author. This does not affect my opinion of the book or the content of my review.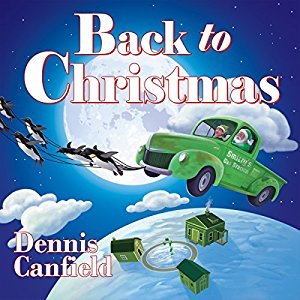 Back to Christmas
by
Dennis Canfield
Narrator:
Simon Vance
on November 1, 2016
Genres:
Fantasy
Length:
2 hours, 51 minutes
Format:
Audiobook
Source:
Author
Goodreads
Amazon
, 
Audible
, 
Audiobook
, 
Barnes & Noble




In the tradition of Christmas movies like Elf that can be enjoyed by the whole family comes the new book, Back to Christmas. Amazon, Goodreads & Audible reviewers agree: "One of the best Christmas stories I've ever read ..." "Fun and magical ..." "Perfect for the entire family ..."

"You and your whole family are about to go onto the Permanent Naughty List, and I'm required to give you the official warning ... even though, in the case of your family, the warning is merely a formality." Twelve year old Amanda Krumwerth can't believe her ears. Or her eyes. She's come face-to-face with an elf from the North Pole. And not just any elf; his name is Marmel, and he's head of Santa's Department for Labeling Humans Naughty or Nice. With just two days before the sun sets on Christmas, how can she prove Marmel wrong? Find out in this delightful story about an unhappy elf, an unpleasant family, and the magic of Christmas.
Tis the Season and so I wanted to try something new that would possibly be good for the entire family including my nieces.  Let's face it, we've all seen most of the Christmas movies out there what feels like hundreds of times. So, I thought I'd give a book with a disgruntled elf, Santa's brother and a Family who have lost their Christmas Wonder a try.
Marmel is the head elf in Santa's labeling department.  It's a very important job, his department helps pick out who goes on the naughty or nice list. But this year is different, Marmel feels like his team has been to lax in assessing who is naughty or nice and he has found a family that definitely belongs on the naughty list.
The Krumwerth family used to do a lot together and the holidays were always special.  But over the years other things seem to have become more important. Marmel has to give the Krumwerths a shot at redemption and Amanda is the family member chosen to lead the charge.  She has to find a way to help her family find a way back to the meaning of Christmas together and she needs to do it before the sun sets on Christmas.
I enjoyed this story.  It shows how easy it is to get so caught up in what you are doing and forget to think about what is really important.  How easy it is to become distracted by social media, the internet and the very electronic lifestyles most of us lead, we can forget all of the things that are the most important in our lives and how to cultivate those.
I really like the idea of Santa's brother, reverse Santa who takes things away instead of giving people things.  It is a good reminder that sometimes you need to set down the things in your life to just spend time with the people in your life.
This was a fun adventure that even though there was a good message in the story, it was just a fun story too. It is short enough you could fit it in easily over the holiday season with your family.
Narration:
When the author asked me to listen to Back To Christmas, I was excited because Simon Vance is the narrator and he is one of my favorites narrators.  Simon did not disappoint and did a great job with all the voices in this. His voice lent perfectly to the cuddle up by the fire for a story cozy feel.  The audio is a little under three hours making it perfect for kids during the holidays. I listened at my regular 1.5x speed.
Listen to a clip:

Rating Breakdown
Plot
Writing
Characters
Dialogue
Narration (Audio)
Overall:
Related Posts