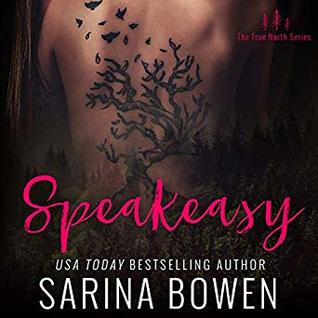 Speakeasy
by
Sarina Bowen
Narrator:
Seraphine Valentine
,
Lance Greenfield
Series:
True North #5
Published by
Audible
on September 25, 2018
Genres:
Contemporary Romance
Length:
9 hours, 33 minutes
Format:
Audiobook
Source:
Purchased
Goodreads
Amazon
, 
Audible
, 
Libro.fm
, 
Barnes & Noble






Sometimes you fall for Mr. Right. And sometimes for Mr. Right Now…

May
Did you hear the one about the girl who walks into a bar and catches her live-in lover kissing someone else? No? You're the only one in town who missed it.
Luckily Alec is there to wrap me up in strong arms and carry me out the door before things get too ugly. And that's not all Alec is good at. Our unexpected chemistry makes him the perfect rebound guy.

Alec
I should know better than to hook up with my rival's little sister, but the fiery look in May's eyes really turns my crank. She needs cheering up, and I'm just the guy for the job.

It's not like I'll fall in love. Not even after a string of scorching hot trysts, and the realization that we're good at the same things: wild nights and familial disappointment. I don't do love, never have, never will. So this is the perfect arrangement, for both of us.

Nobody would approve, but nobody has to know…
I began 2018 with a review of Sarina Bowen's True North Series.  It only seems fitting to finish off the year with another poignant romance in the same series.  Speakeasy is the fifth installment in the True North series, where everyday folk navigate love and life in rural Vermont.
Alec Rossi is a fun-loving, bar owner who is always up for a good time.  May Shipley is a determined, hard worker who has all her s**t together.  Or at least, that is what it people are meant to see.  In reality, Alec strives to be a successful businessmen, reliable friend and sibling, and to live down a legacy left by his ne'er-do-well father.  May, perpetually disappointed in love, struggles daily to stay sober while her family waits for an inevitable relapse.
When May's current relationship detonates, Alec is the hero of the hour.  It isn't long before they decide to capitalize on their intense chemistry.  Though they both appear to have good reasons why they should keep it casual, it isn't long before they are falling for each other.  It's a roller-coaster ride of emotion, peppered with sigh-worthy romance and humorous banter.
What I enjoy most about True North is it isn't just about romance and relationships.  The characters are believable and relatable with real world problems.  These are stories about struggling business owners and farmers, recovering addicts, single mothers, and trauma survivors.  Sarina Bowen doesn't shy away from the ugly or difficult side of life, she lays it out in all its imperfect glory and I want to devour it as fast as a Shipley family dinner.
Narration:
The audio narration was very good.  Both the male and female characters sounded how I imagined.  I think both narrators skillfully conveyed the emotions of May and Alec, especially in the more difficult, grief-stricken moments.  The pacing was right where it needed to be, although I wish the story had never ended.  I suppose I'll have to wait for the next installment.  I encourage you to check out this series from the beginning, which will surely have you pining to visit Vermont during apple picking season.
Listen to a clip:  HERE
Rating Breakdown
Plot
Writing
Characters
Dialogue
Narration (Audio)
Overall:
Related Posts