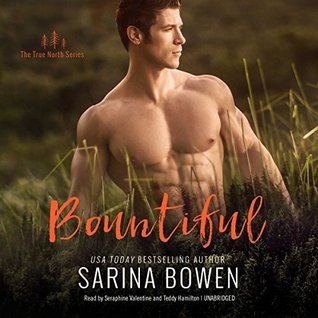 Bountiful
by
Sarina Bowen
Narrator:
Seraphine Valentine
Series:
True North #4
on October 20, 2017
Genres:
Contemporary Romance
Length:
10 hours, 51 minutes
Format:
Audiobook
Source:
Library
Goodreads
Amazon
, 
Audible
, 
Libro.fm
, 
Barnes & Noble






Once upon a time a cocky, copper-haired tourist sauntered into Zara's bar. And even though she knew better, Zara indulged in a cure for the small-town blues. It was supposed to be an uncomplicated fling—a few sizzling weeks before he went back to his life, and she moved on.

Until an accidental pregnancy changed her life.

Two years later, she's made peace with the notion that Dave No-Last-Name will never be found. Until one summer day when he walks into her coffee shop, leveling her with the same hot smile that always renders her defenseless.

Dave Beringer has never forgotten the intense month he spent with prickly Zara. Their nights together were the first true intimacy he'd ever experienced. But the discovery of his child is the shock of a lifetime, and his ugly past puts relationships and family out of reach.

Or does it? Vermont's countryside has a way of nurturing even tortured souls. The fields and the orchards—and hard won love—are Bountiful.
Bountiful is the fourth installment in the True North series by Sarina Bowen, and a cross-over with the Brooklyn Bruisers series.  The book is typical of Bowen's tone and writing style; smart, sexy, and humorous with richly drawn, multi-faceted characters.  She is particularly gifted with lining up her supporting cast, characters that make you want to read about them in the next book, yet don't steal the show from the primary love interests.  While Bowen is a go-to for Hockey Romance, it is her portrayal of life in rural Vermont that is my absolute favorite.  I might have been a tiny bit pre-disposed to love Bountiful before reading it.  I should also fess up to the following:  I love secret baby stories, I love strong female leads, and I love hockey.
The first part of Bountiful focuses on the summer hook-up between Zara and Dave.  Shameless flirting and undeniable chemistry lead to some seriously steamy sex scenes.  Reading between the lines, we see two damaged and lonely people connecting with each in a way neither has ever experienced.  Regretfully, they haven't quite figured their s**t out and they go their separate ways.
Fast forward two years.  Dave returns to Vermont and discovers he left more than a piece of his heart behind.  He's stunned to discover he has an eighteen month old daughter, Nicole.  In between scenes of Dave learning how to care for a baby, with comic relief provided by his team mates and sweet vignettes provided by hammocks, Zara and Dave work to untangle their feelings now that they are irrevocably tied together.
Dave's reaction and subsequent actions are completely believable.  Coming to terms with his past and romancing Zara is secondary to him finding a way to be a permanent fixture in his child's life, and, if possible, I love him more for it.  I think I read every scene featuring Dave and Nicole with Spencer Rowell's 'L'Enfant' poster in my head.
Most of Zara's growth happens off the page, in the two year gap, but that doesn't diminish how her character has been transformed by motherhood.  Her strength and stubbornness are still there, but it is channeled into more productive avenues.  I admire how she is independent and hardworking, yet able to accept help from family and friends.  I especially loved the sweet moments with her daughter, which pull the story back and focus on what is really important without all the noise that is the life of a busy single mom.
And just in case you were wondering, the second half is just as hot, and as a mom myself, maybe even more so.  Dave's reaction to Zara as the mother of his child is sizzling and sexy as hell.
There was so much to love about this story, I would only be gushing if I continued.  My final words:  While not everyone can be a successful business owner with the secret baby of a hot NHL player, one can experience the thrill of it in Bountiful.
Related Posts