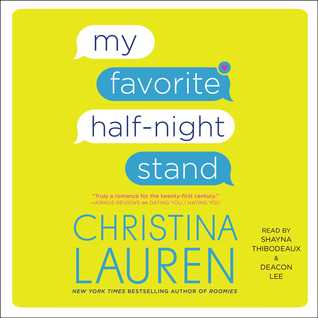 My Favorite Half-Night Stand
by
Christina Lauren
Narrator:
Shayna Thibodeaux
,
Deacon Lee
Published by
Simon & Schuster Audio
on December 4, 2018
Genres:
Contemporary Romance
Length:
7 hours, 8 minutes
Format:
Audiobook
Source:
Purchased
Goodreads
Amazon
, 
Audible
, 
Libro.fm
, 
Barnes & Noble






With a world-famous speaker at their university, Mille Morris and her four woefully single male colleagues make a pact that they'll all find dates. Unfortunately, Millie has more success helping them make matches online than she does navigating the onslaught of lewd pics in her own feed. But when she creates a fictional name for a new account, Millie finds herself vying for the online attention of a man she sees every day in the flesh.
After reading Josh and Hazel's Guide to Not Dating and loving it, I was up for another Cristina Lauren read ASAP when My Favorite Half-Night Stand was on sale at Audible so I picked it up.  I didn't love it as much as Josh and Hazel but it was still hilarious and fun in so many ways. I think if you like Millie, then you will like this book. She is brilliant but when it comes to emotions, she is a bit stupid. I really could relate to Millie, so this story worked for me.
Millie accidentally ends up catfishing her best friend that she very recently spent half of the night with after a lot of wine.  But they are not going to let a little thing like sex ruin their being best friends or keep them from finding dates for an important function, with the other members of their friend group.  Think of a group of friends similar to the Big Bang Theory, but hotter and with a smarter girl (sorry Penny). The best way to find dates for the important faculty soiree, a dating app of course, let the hilarity ensue.
Millie and Reid are the glue that holds their little group of friends together.  Millie likes Reid a lot and he is the best friend she has ever had, but when everyone in their group puts profiles up on a dating app and hers is a mess, she makes another profile with her middle name, only she gets matched to Reid who doesn't realize it is Millie.  Initially Millie messages him thinking that he will totally get that it is her, but when he doesn't a series of choices puts Millie in this weird place where she is opening up more to her best friend on line as another person than she does in real life and it is nice, and so the accidental catfishing of her best friend begins.
At times, this was a little over the top and you'd think that the friend group would have some better advice for Millie or Reid but not so much.  Still I enjoyed at least 85% of this book and was only slightly frustrated with 10% (in a good way?). I understood where Millie was coming from and why it was so hard for her to be open with the people in her life and share the hard details about herself with them.  But like I said, if you don't get Millie in this book, then I don't think it will work for you, but I know a ton of really smart people who are stupid in this way so I totally get her.
Reid is a great hero, possibly too great? The man was practically flawless, he even does dishes and puts them away -I mean how is a girl not supposed to swoon over that?!?  Plus, he is genuinely nice, caring and considerate. Sure he is on a dating app, talking to one woman, while also trying to figure out if he wants to be with Millie, but that is beside the point.
I really loved the resolution to this story as well.  The ending was totally cute and fitting and I really loved how Millie changed in the end.  If you've never read Christina Lauren, I'd still say start with Josh and Hazel's Guide to Not Dating, but if you've read it, then this should be next up on your list.
"I feel like we meet people in life and want so much for them to like us that we suck in our stomachs and pretend we don't fart and tell them a bunch of things we think they want to know. If it works they fall for the person we want to be, and not for the person we are."
"I'm lonely. I'm lonely because I don't tell people what I need or what I want, and then get hurt when they don't figure it out on their own."
Narration:
Shayna Thibodeaux and Deacon Lee did a fantastic job at the performance and dual PoVs.  I really liked how they portrayed each set of characters and I didn't feel like I was missing anything while in either PoV.  I was able to listen to this at my normal 1.5x speed.
Listen to a clip:

Rating Breakdown
Plot
Writing
Characters
Dialogue
Narration (Audio)
Overall:
Related Posts