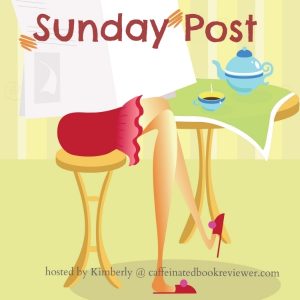 The Sunday Post is a weekly meme hosted by Kimberly  @ Caffeinated Reviewer. It's a chance to share news~ A post to recap the past week on your blog and showcase books and things we have received.
Stacking The Shelves
is also a weekly meme hosted by 
Tynga's Reviews
and Marlene from
Reading Reality.
It's all about sharing the books you are adding to your shelves, may it be physical or virtual. This means you can include books you buy in physical store or online, books you borrow from friends or the library, review books, gifts and of course ebooks!

Don't forget to look at my giveaways on the right sidebar.   There are several this week and a couple are ending at midnight!
What a great week for weather!  I was able to wear flip-flops to the water class last Sunday. I just put my sweatpants or yoga pants and top over my swim suit and then take a towel and undies.  I realized after class I had not put on a shirt over my suit, but thankfully a light jacket.  Good thing I was headed straight home!  Tuesday was 73F/21C so I rode the Harley to Chair Yoga. What a gorgeous day! When I got home I raked my weekly 2 cans of leaves.   After being cooler this weekend, it is supposed to be back in the 60s again this week.
I'm reading all about the love with upcoming blog tours this week with my reviews from some of my favorite romance authors.  It took me the whole week to update my blog challenges with linkys and forms etc but it is complete for January.  There are some Goodreads shelves which I "emptied" to start the new year – NewRelease and library-love, so the 2018 stuff isn't there anymore.
Otherwise it has been a fairly quiet week, which is great.  There is so much happening in the upcoming week I'm worried.   Today I have a bunch of reviews to write.  I also want to do some knitting and sewing.  I'm working on the dog sweater which I want to finish by Thursday.  Just too many things I want to do.  The YMCA is going to get shortchanged with the appointments we have this week also.  My mom is doing well and can probably go home this week. Yes, 91 and had surgery just 2.5 weeks ago; she's stronger than many of us.

Stacking the Shelves is hosted by Tynga's Reviews and Reading Reality.  These are the exciting ARCs I received this week:
Nothing.                                 
Birthright                                                    White Trash Zombies Gone Wild
I purchased my Prime Freebie and then 2 audiobooks in the Audible 2-1 sale.

Now the really scary one. This is all the Kindle and Audible freebies I grabbed this past week. You can see why I need to do Thrifty Thursday to be sure I read a few at least one each month.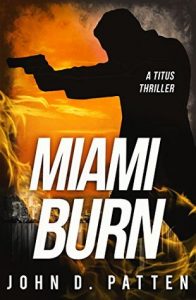 I really meant to cut back on freebies BUT  they are free so I guess that won't be happening.

I'm not including things like reviews posted or upcoming as they are always in the right sidebar. And, my challenge status is also there.
If you like this and want to see me do the Sunday post, as often as I can manage, leave me a comment and let me know.
Anne
Latest posts by Anne - Books of My Heart
(see all)