Review copy was received from Publicity team. This does not affect my opinion of the book or the content of my review.
This book may be unsuitable for people under 17 years of age due to its use of sexual content, drug and alcohol use, and/or violence.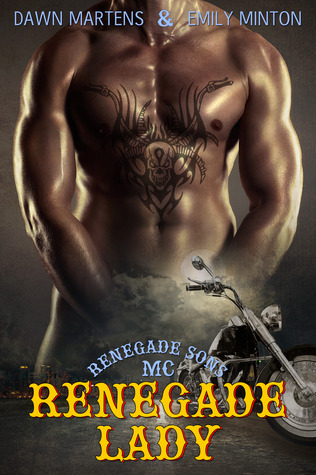 Renegade Lady
by
Dawn Martens
,
Emily Minton
Series:
Renegade Sons MC #1
Published by
Amazon
on January 22, 2014
Genres:
Contemporary Romance
,
Erotica
Pages:
399
Format:
eARC
Source:
Publicity team
Goodreads
Amazon
, 
Barnes & Noble




Jenna "Ice" Chandler grew up as part of a motorcycle club. She considered it her home, until one wrong move made it her prison. After months of abuse, she is rescued by Chipper, who takes her to Big Clifty, Missouri, home of the Renegade Sons MC.

Kiddrick "Kidd" Jones is the president of the Renegades. He knows there is something special about Ice the moment his older brother, Chipper, brings her into the club, but stays away, because she is too young.

When time comes for Ice to take her place in the club, she has two choices, become an old lady or a club whore. Not believing in love and knowing a man can never be faithful, she decides to earn her spot on her back.

With each passing year, Kidd's feelings for Ice grows and the urge to make her his becomes stronger. Frustrated and jealous, he finally decides it's time to make her his.

Will Ice finally thaw out and give love a chance, or is Kidd fighting a losing battle?
ICYMI is a post from my early days of blogging at Yummy Men & KickAss Chicks.   You can see the original joint review here.
Kick Ass Chick – Jenna Chandler
---
I've wanted to read some motorcycle series for awhile. I ride a Harley, a 2008 Dyna Super Glide. I met Julie last fall when I rode from Minnesota to Ontario in September. Anyway, I realized some of these books would have outlaw elements, wild sex, as well as romance. This book came up and I decided to give it a try.
Renegade Lady byDawn Martens and Emily Minton definitely is an 18 and older book. It has some illegal elements like drugs, murder, rape, abuse and also lots of sex. Not everyone will enjoy a dark book with this much violence. This club runs drugs and a strip club but the club members, in general, don't use drugs themselves.
Jenna loses her mother, with whom she had spent nearly all her time, when she is 16. Her father is the VP of a Renegade Sons chapter. He has totally screwed up with drugs, so he "gives" her to another member to keep his secrets. The other member takes her virginity, beats her, rapes her, shares her, etc. Finally, Chipper, a member from the national charter comes in, rescues her, and takes her into his family (as a daughter) until she is 18. She falls for Chipper's younger brother, Kidd.
Jenna starts in a bad place which goes to worse, but then she is saved. She develops a good relationship with Kidd, but he continues to see other women casually to keep himself from her since she is too young. Jenna is quite likeable and she does a reasonable job of growing in a shitty environment. Throughout the story, she does the best she can and improves herself. With the things that have happened to her and the rules of the club, I'm surprised she manages as well as she does.
Kidd is another story. He seems like an okay guy, especially for how he has been raised in the club. But I don't like what he does to Jenna when she turns 18. It's just stupid. It seems a bit too much like a plot device rather than being authentic to his character. In the end he comes around again, but I didn't like it. He's ten years older than Jenna so he should be a little more mature.
And continuing with the plot device, there is a six year time jump where we don't get to see Jenna's growth or how Kidd behaves. During this time period, Jenna won't talk to Kidd because of his behavior on her birthday. Six years! Again, this seems like an awfully long time. I realize it gives her time to grow into her own person which helps the story but to me it's ridiculous.
This story is focused on the personal relationships in the club. There is very little of the club or business aspects other than how it relates to the women, especially Jenna. It is really her story. Both Kidd and Jenna's points of view are shared. In that way, the style is more like fanfiction.
I felt for Jenna but couldn't really care about Kidd. I admit I'm a huge fan of Sons of Anarchy and what this story seems missing, to balance the violence, is humor. It could also be balanced by romance which it is, to some degree, but it's not enough for me. I needed more balance and a few more personal interactions which weren't just sex.
It was hard for me to see why Jenna and Kidd cared about each other, how it wasn't just a physical attraction. I wish we'd gotten a bit more of their day–to-day relationship at the end of the story, once they were together and Jenna started doing some new things. A few more scenes at the end with them caring about each other, supporting each other's daily routines, would have helped me feel more connected.
Since Renegade Lady is my first foray into the "motorcycle" genre, I am not sure how I feel about it. I will need to read more to see if the general treatment of women (and immaturity of the men emotionally) is a downside of the genre. It should be possible to write a great story with either humor, or drawing in more intimate relationships emotionally. These clubs are big on family and that could also play a big role. I didn't have any trouble staying interested or reading the story, but I didn't like or believe everything.
Giggle-worthy quote –
I blow out a frustrated breath, causing her hair to tickle my chin. "If you try to fight with me over this, I will tan your ass."
"Sounds fun, but it'll have to wait until tomorrow night. I'm too sleepy to play right now."
"Night, baby girl," I say with a chuckle.
Latest posts by Anne - Books of My Heart
(see all)
Related Posts