Review copy was received from Publicity team. This does not affect my opinion of the book or the content of my review.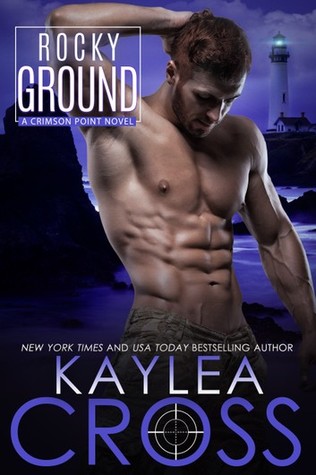 Rocky Ground
by
Kaylea Cross
Series:
Crimson Point #4
Published by
Self-Published
on March 26, 2019
Genres:
Romantic Suspense
Pages:
251
Format:
eARC
Source:
Publicity team
Goodreads
Amazon
, 
Barnes & Noble
, 
Apple




She's been hurt too many times…

Single mom Tiana Fitzgerald has sworn off all romantic relationships to protect herself and her daughter. Her track record is disastrous and she's done getting hurt. But a certain sexy Scotsman in Crimson Point has other ideas, and somehow manages to sneak past her defenses at every turn. As the hits keep coming and her life implodes, she begins to see he's unlike any man she's ever known. Now he's become the greatest threat to her heart, because there's no possible future for them. Not when he's leaving the country in a few weeks. And when her worst fears are realized, she must risk everything by placing her trust in his hands.

He's determined to capture her heart.

Scotsman Aidan MacIntyre never saw the fiery, beautiful Tiana coming. The prickly redhead has gotten under his skin as badly as he wants to get under hers. But she's determined to keep walls between them. Luckily the former Royal Marine doesn't know how to give up. Someone from her past wants to hurt her, but Aidan will stand between her and any threat. He'll stop at nothing to protect her and the little girl who have completely stolen his heart—and fight for them to have a future together.
In the continuation of the Crimson Point series, we get more of the amazing child Ella, and her animal love,  as this is the story of her mother, Tiana.  Poor Walter will be sorely "abused" as an orphaned litter of kittens come to need him. The connection and support of all the guys, Beckett, Jase, Noah and their ladies are a key component for me in this series.
Aidan and Tiana have problems which are rather dire. The suspense and action from these issues are the bulk of the story. Rocky Ground kept me tense and worried all along.  Tiana went through hell and high water, but Aidan was right there to support her.  The romance went rather quickly, especially since Tiana had been burned badly, more than once. This seems common in romantic suspense though, with situations which bring people together with heightened emotions during events.
I always enjoy books from Kaylea Cross and I recommend them.
Excerpt:
The molten hunger in his eyes sent a torrent of heat rushing through her body even as her old fears bubbled to the surface again. "Aidan…" she murmured, dropping her gaze to his chest.

She'd done it. Given her unspoken consent. Now her heart was trying to pound its way out of her chest.

His hand came up to stroke her hair away from her face. She leaned into his touch, craving more. Craving this wonderful, incredible man that for some reason wanted her in spite of all her imperfections.

Her heart beat an erratic rhythm against her ribs. She'd never experienced anything like this before. Not with this level of intensity. This was…something she'd only read about before. Was it because of everything they'd gone through together? Because she'd relied on him for survival?

His fingers stroked against her scalp in a drugging caress that had her eyelids drooping. "What are you so afraid of?"

She looked up at him again. God, he was beautiful. And strong. And brave.

He was also going to rip her heart out when he left.

It wasn't easy to voice her insecurities aloud, but she felt comfortable with him. Close to him in a way she'd never felt with another man. "Of making another mistake. Of getting my heart broken again," she whispered.

He cupped the side of her face to run his thumb over her cheekbone. "I'll not hurt you, lass."

Her insides squeezed at the tenderness in his voice, the yearning in his eyes. No, he wouldn't hurt her intentionally. "But you're leaving soon. In another few weeks." That was going to leave a scar, no matter how gently the cut was made.

"Aye," he agreed, his gaze locked with hers. "But I'm here now."

His words reverberated in the deepest recesses of her heart. He was right here in front of her, and he wanted her.

Any other arguments she had stored up vanished in the space of a single heartbeat. Before she could think herself out of it, she gave free rein to the need pulsing inside her, took his face in her hands and pulled him down to her waiting lips.
Latest posts by Anne - Books of My Heart
(see all)
Reading this book contributed to these challenges:
Related Posts