Review copy was received from Publisher. This does not affect my opinion of the book or the content of my review.
This book may be unsuitable for people under 17 years of age due to its use of sexual content, drug and alcohol use, and/or violence.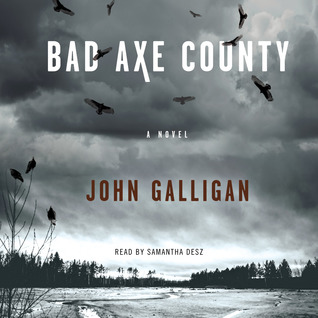 Bad Axe County
by
John Galligan
Narrator:
Samantha Desz
Published by
Simon & Schuster Audio
on July 16, 2019
Genres:
Mystery
Length:
10 hours, 24 minutes
Format:
Audiobook
Source:
Publisher
Goodreads
Amazon
, 
Audible
, 
Libro.fm
, 
Barnes & Noble
, 
Apple




Fifteen years ago, Heidi White's parents were shot to death on their Bad Axe County farm. The police declared it a murder-suicide and closed the case. But that night, Heidi found the one clue she knew could lead to the truth - if only the investigators would listen.

Now, Heidi White is Heidi Kick, wife of local baseball legend Harley Kick and mother of three small children. She's also the interim sheriff in Bad Axe. Half the county wants Heidi elected, but the other half will do anything to keep her out of law enforcement. Aas a deadly ice storm makes it way to Bad Axe, tensions rise and long-buried secrets climb to the surface.

As freezing rain washes out roads and rivers flood their banks, Heidi finds herself on the trail of a missing teenaged girl. Clues lead her down twisted paths to backwoods stag parties, derelict dairy farms, and the local salvage yard - where the body of a different teenage girl has been carefully hidden for a decade.

As the storm rages on, Heidi realizes that someone is planting clues for her to find, leading her to some unpleasant truths that point to the local baseball team and a legendary game her husband pitched years ago. With a murder to solve, a missing girl to save, and a monster to bring to justice, Heidi is on the cusp of shaking her community to its core - and finding out what really happened the night her parents died.
Bad Axe County is an exciting, sort of law enforcement case of tracking down the bad guys. Heidi is the interim sheriff and of course, things don't happen linearly. Multiple bad guys are doing their bad things all at the same time! So more than one case is happening, sometimes connected, sometimes not.  Even the good guys have trouble with trying to do the right thing and not to get tangled up with the law or bad guys.
"Guys" is a generic expression here. There are perpetrators of both sexes. But the overwhelming offenders are male. In this relatively small town, there is plenty of misogyny over the years and corruption. Being female, a former Dairy Queen, Heidi is not the one the good old boys want in charge.  It is frightening how far they will go to remove her.
In addition to the cases,  Heidi is not communicating well with her husband, her MIL is a bad influence on their children, and she still believes her parents were murdered.  The others caught in the drama of the cases include a neglected teenage girl and a hometown boy who's been away doing well in baseball.
I really enjoyed this story. I worried about Heidi surviving several times, not just because of a few of her decisions, but also the ruthlessness of the good old boys.  There were others in trouble as well. Young girls do not fare well in this town, past or present.  A thrilling journey to find the truth and have some kind of justice kept me engaged.
Narration:
I've heard and enjoyed this narrator previously. The primary character is Heidi and much of the story is her stream of consciousness.  Her voice sounds right as this character. The other characters are slightly differentiated with male and female voices all in a middle tonal range. The women's voices are a bit higher. I was able to listen at my usual 1.5x speed.
Listen to a clip:

Rating Breakdown
Plot
Writing
Characters
Narration (Audio)
Overall:
Latest posts by Anne - Books of My Heart
(see all)
Reading this book contributed to these challenges:
2019 Audiobooks
2019 Releases
COYER Hunt
Related Posts