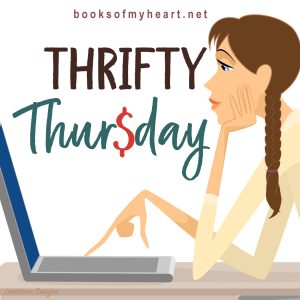 The purpose of Thrifty Thursday is to read a book which was free (at some point).
Kindle freebie on September 12, 2017  (currently $1.99 as of writing this post)
Overall rating 3.82 with 377 ratings and 69 reviews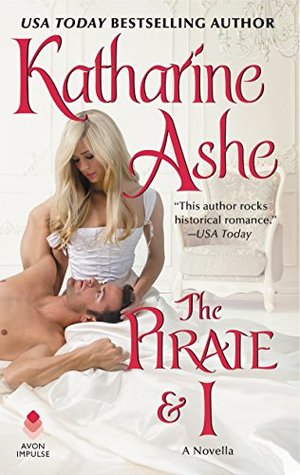 The Pirate & I

by Katharine Ashe
Series: Devil's Duke #2.5
Published by Avon on July 11, 2017
Genres: Historical Romance
Pages: 192
Format: eBook
Source: Purchased
Goodreads
Amazon,  Barnes & Noble,  iTunes






Years ago, Miss Esme Astell fell hopelessly in love with Charles Brittle, an unassuming and highly respectable London bookmaker.

Then he disappeared without a word . . .

The last thing Esme ever dreamed was to meet Charlie again—

In a dark alleyway—

In a drenching rain—

In a chase with the police—

In Scotland.

Can she fall again, this time for the dangerous scoundrel he's become?
I don't read too much historical romance but I went to a Barnes & Noble event where Katharine Ashe spoke. She was amazing and funny.  So when I needed a pirate book for COYER, this seemed like a great fit even though it is in the middle of the Devil's Duke series. It is different than what I expected but a great surprise.
Even though it is historical, the main female character, Esme, is quite strong and independent. She is exceedingly competent at her profession. Her employer relies on her and gives no opportunity to advance.  Esme works hard to secure a place at a conference where she might get an apprenticeship with a top talent in her profession.
Esme runs into her old crush Charles who disappeared a few years ago. Charles was the main force working in his family's business. They have a lot in common, both being the primary workers and receiving little or no credit for it. Now Charles is a pirate and seems to be in trouble with the police and more.  What has happened to him? Is he the scoundrel he appears to be?  Esme is still attracted to him and wants to know.
I love this brave and crazy adventure they undertake. Esme and Charles get to know each other, reluctantly.  I love Esme's high spirits and Charles' integrity. The Pirate & I is a fun romp with some spicy scenes and made me want to read more in this series.
---
These are only Kindle freebies I get, or ones through author newsletters which anyone can sign up and get for free. I don't include things like Kindle Unlimited or Prime Free Reading (I do have it). Both Tantor and Audible have occasional free audios (to anyone) and I do include those.  Since I one-click on 1-2 freebies a day or probably at least 5 a week, I came up with this feature to make sure I start reading them.
So I have thought about doing a Thrifty Thursday Challenge someday. For now,  what I think would be fun is if you have read and reviewed a freebie, link up to your review (Goodreads, blog, facebook or wherever) below.
---
Add your review link here: 
Mister Linky's Magical Widgets — Thumb-Linky widget will appear right here!
This preview will disappear when the widget is displayed on your site.
If this widget does not appear,
click here
to display it.
I can't really remember any time when I wasn't reading. I LOVE books and what they give me. It's an opportunity to learn new things, see new places,live different emotions in a "safe" way. It lets me live in a new world.
I read all types of books but my favorites are urban fantasy and romantic suspense.I like some romance and some action / adventure / mystery in everything.I like sex in my books but please, only between TWO people.Intimate conversation is equally important to the sex in a book.It lets me see the characters.The other thing I enjoy is humor.
Friend me at Goodreads.
Reading this book contributed to these challenges:
Related Posts