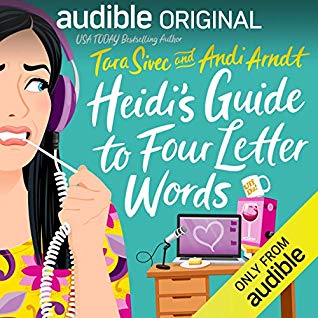 Heidi's Guide to Four Letter Words
by
Tara Sivec
,
Andi Arndt
Narrator:
Andi Arndt
Published by
Audible
on September 3, 2019
Genres:
Contemporary Romance
Length:
6 hours, 15 minutes
Format:
Audiobook
Goodreads
Amazon
, 
Audible
, 
Audiobook
, 
Barnes & Noble






Nothing good ever comes from drinking a box of wine alone. So when I decided to entertain my drunken self by setting up some hand-me-down podcasting equipment and reading the steamy parts from romance novels, I never thought anyone would actually listen. The fact that I admitted my huge crush on my sexy next door neighbor made the whole thing even more mortifying. But sometimes life surprises you, and that's how my podcast, Heidi's Discount Erotica, was born.

Now I, Heidi Larsen, a sweet former kindergarten teacher in Waconia, Minnesota, lead a scandalous double life reading erotic novels to the listening world. And with each episode, I find myself embracing my new alter ego more and more. Now I'm starting to feel more comfortable in my own skin and do things I never would have dreamed of - like kissing my neighbor.

Look out, Waconia, because Heidi's on the loose! She's in your ears, in your hearts, and down your pants...wait, that didn't sound as good as it did in my head. Well, you get the picture, don'tcha know!
All my hearts are for Heidi's Guide to Four Letter Words! This won't be so much a review, as a gushing tribute to the awkward, hilarious masterpiece. I'll share with you why I love it; your reasons may be different.
I learned about this from Andi Arndt herself at Book Bonanza.  She is one of my favorite narrators and she is excellent.  So I've had Audible Escape for almost two months and this is the first thing I cared enough about to listen, even with a huge pile of ARCs staring me in the face.  (Still behind from moving).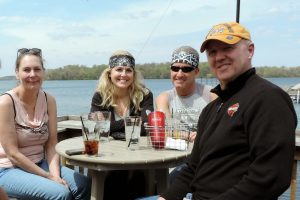 The setting is Waconia, MN and I lived near there and know the town well. I scrapbooked at both Bayview and Southview Elementary for many, many years.  I also scrapbooked at the 4H group fundraiser for 8-9 years at  – da ta dah – TRINITY LUTHERAN CHURCH.  I also ate at Lola's a few times, including with my HOG chapter after a ride.  One of my favorite people in the world – Nicole – lives there. It's fun to know the places and see them in my head as they are in the story.
I love Heidi and her family although they can be embarrassing. I love the sexy neighbor – what a sweetheart. The people at Heidi's work are awesome, although I feel badly she didn't have as many friends from school.  The characters are larger than life, small-town quirky, and easy to love. Yes, a few characters are over-the-top but it is fun.
I always love character growth and this is a story of personal growth and discovery. It is laugh out loud  and cry your eyes out, but worth the emotional journey. (Actually, there wasn't a lot of crying)  I can't highly recommend this enough.
Narration:
It would be enough that it is Andi Arndt, because I always enjoy her narration.  She is perfection here.  I love her voices for all the characters.  The Minnesota accent is over the top like some of the other humor. The story is from Heidi's point of view so we mostly get her stream of consciousness and some dialogue. The timing worked for the comedy.  I listened at my usual 1.5x speed.
Listen to a clip: 

Rating Breakdown
Narration (Audio)
Overall:
Latest posts by Anne - Books of My Heart
(see all)
Reading this book contributed to these challenges:
2019 Audiobooks
2019 Releases
Related Posts