Review copy was received from NetGalley. This does not affect my opinion of the book or the content of my review.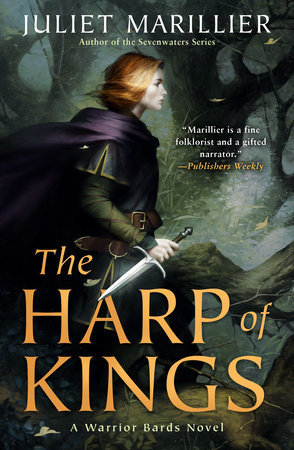 Harp of Kings
by
Juliet Marillier
Series:
Warrior Bards #1
Published by
Ace
on September 3, 2019
Genres:
Young Adult
,
Fantasy
Pages:
464
Format:
eARC
Source:
NetGalley
Goodreads
Amazon
, 
Barnes & Noble





Eighteen-year-old Liobhan is a powerful singer and an expert whistle player. Her brother has a voice to melt the hardest heart, and a rare talent on the harp. But Liobhan's burning ambition is to join the elite warrior band on Swan Island. She and her brother train there to compete for places, and find themselves joining a mission while still candidates. Their unusual blend of skills makes them ideal for this particular job, which requires going undercover as traveling minstrels. For Swan Island trains both warriors and spies.

Their mission: to find and retrieve a precious harp, an ancient symbol of kingship, which has gone mysteriously missing. If the instrument is not played at the upcoming coronation, the candidate will not be accepted and the people could revolt. Faced with plotting courtiers and tight-lipped druids, an insightful storyteller, and a boorish Crown Prince, Liobhan soon realizes an Otherworld power may be meddling in the affairs of the kingdom. When ambition clashes with conscience, Liobhan must make a bold decision and is faced with a heartbreaking choice. . .
Juliet Marillier is  a master storyteller. I have enjoyed everything I have read of her work. I was so excited to read The Harp of Kings; it has been on my radar for almost a year.  Unfortunately, it was off timing because I was exhausted from moving and it is a longish book.  I always need more energy to start a fantasy or science fiction series than some other genres. It's the building of a completely different world.
The lush detail of the world-building and the variety of characters in the first book of this Warrier Bards trilogy, gave me a small bit of the first in a series syndrome. This was certainly worse because of my personal situation, though.  So it took me a bit of effort to grasp the circumstances, but fantasy is often this way for me.
Once immersed, it was a joy.  These are first and foremost warriers. They often have other skills and for our teams, music will likely play a part.  Music was a key to this tale. I liked the mix with the humans, the wise woman the druids, and the fae. There were also the strange Crow creatures.  Politics and class differences are evident as expected in a historical setting with kings.
We get the point of view of the three newest warriers in training: Dau, Liobahn and Brocc.  Each is working for a place with the warrier group permanently. They are top contenders and are sent out on a mission. They work hard at their roles and tasks for the mission. It is difficult but they learn much about themselves and about each other. Personal growth is always a great thing.
While ending at a good point, not a cliffhanger, there is much more I want to know.  How will these three fare in the future?  Will we actually get a scene with Grim & Blackthorn rather than just mentions of them?  Now settled in this world, I can't wait for more.
Latest posts by Anne - Books of My Heart
(see all)
Reading this book contributed to these challenges:
Related Posts