Review copy was received from Publisher. This does not affect my opinion of the book or the content of my review.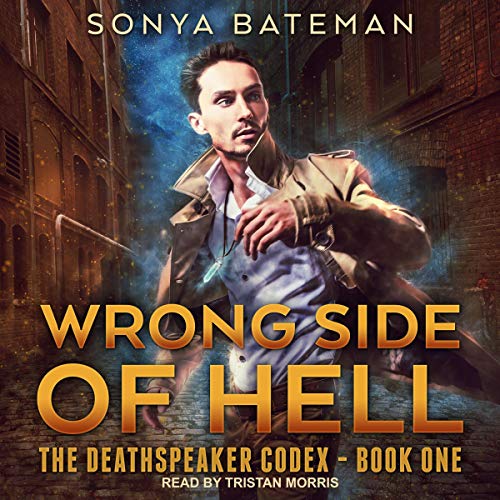 Wrong Side of Hell
by
Sonya Bateman
Narrator:
Tristan Morris
Series:
Deathspeaker Codex
Published by
Tantor Audio
on October 22, 2019
Genres:
Urban Fantasy
Length:
8 hours, 20 minutes
Format:
Audiobook
Source:
Publisher
Goodreads
Amazon
, 
Audible
, 
Libro.fm



"The dead never bothered me. That honor was reserved for the living."

Hauling dead people around Manhattan is all in a day's work for body mover Gideon Black. He lives in his van, talks to corpses, and occasionally helps the police solve murders. His life may not be normal, but it's simple enough.

Until the corpses start talking back.

When Gideon accidentally rescues a werewolf in Central Park, he's drawn into the secret world of the Others. Fae, were-shifters, dark magic users and more, all playing a deadly cat-and-mouse game with Milus Dei, a massive and powerful cult dedicated to hunting down and eradicating them all.

Then a dead man speaks to him, saying that Milus Dei wants him more than any Other. They'll stop at nothing to capture him and control the abilities he never knew he had.

He is the DeathSpeaker. He is the key. And he's not as human as he thought...

Life was a whole lot easier when the dead stayed dead.
Wrong Side of Hell is your standard UF tale.  It has the MC who didn't realize how special they were, with a mysterious past.  Something nasty trying to kill/capture them and then the potential love interest(s) off to the side.  The biggest difference here is the cast of characters include Fae and the MC can commune with the dead.
Gideon had a semi normal childhood, that is if by normal, you mean his parents despised him and his siblings tried to kill him occasionally.  He grew up learning how to be small and unnoticed. Now he stays off the radar and his job is to pick up the dead and haul them to wherever they are going next.  Usually that is the morgue. He is so off the grid, his job is cash work mostly and he lives in his van.
Gideon has always felt a little different, he gets feelings about things and has a cop buddy he sometimes helps to solve crimes.  He doesn't learn just how different he is until he saves a girl from the man trying to kill her one night. She just happens to be a werewolf and introduces Gideon to the world of the Fae and to the Milus Dei, a group who tortures and tries to exterminate all of the fae on this side of the veil. 
Gideon's origins and story are interesting enough.  He is a halfling fae that was secreted away. His mother is dead and his father, well the Milus Dei caught him long ago.  His journey to discover his roots and the truth of how he came to be in the family of 'hunters' long ago was probably the best part of the book for me.  
There is the hint of a promise of romance down the road with one of the female characters in the book.  There isn't much romance in Wrong Side of Hell as most of the time the characters are in the middle of some action trying to stay alive.  
Overall, this is a pretty standard UF.  I enjoyed it, and will probably check out the next book now that the world has been set up, to see if the next book can delve a little deeper into character development and fleshing out the world.
Narration:
Tristan Morris reminded me a little of William Shatner in his delivery for Wrong Side of Hell.  It was sometimes a little over dramatized in the telling, with pauses that definitely reminded me of Shatner's delivery style.  I did get used to it over the story, but it made everything seem just a smidge cheesy. I listened to this at my normal 1.5x speed.
Listen to a clip: HERE
Rating Breakdown
Plot
Writing
Characters
Narration (Audio)
Overall:
Related Posts