Review copy was received from NetGalley. This does not affect my opinion of the book or the content of my review.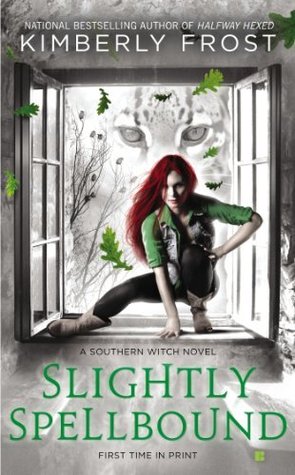 Sightly Spellbound
by
Kimberly Frost
Series:
Southern Witch #4
Published by
Berkley
on May 6, 2014
Genres:
Urban Fantasy
Pages:
320
Format:
eARC
Source:
NetGalley
Goodreads
Amazon
, 
Barnes & Noble
, 
Apple





Tammy Jo's romance with the wizard Bryn Lyons is on hold while her ex-husband is in town trying to remind her of the good old days. Choosing between them isn't easy, and it doesn't help that a skeletal creature is spying on her, a faery knight is hunting her, and she just made friends with Evangeline Rhodes—a rich witch who thinks her own family is trying to kill her.

When Evangeline disappears under suspicious circumstances, Tammy Jo is determined to find out what happened. As she uncovers a secret more dangerous—and personal—than she could have imagined, she also discovers that, in both love and magic, you can't stay neutral forever.
ICYMI is a post from my early days of blogging at Yummy Men & KickAss Chicks.   You can see the original review here.
Kick Ass Chick – Tamara Jo Trask
---
I am reading the best books lately! This is another example where the series was new to me, so I started by reading the previous three books. I thought the first book was good, kind of funny and quirky. So I went on reading. I'm so glad I did! These books make me laugh, care about the characters and want more.
Slightly Spellbound is the fourth book in Kimberly Frost's Southern Witch series. It was published May 6th, following a THREE year wait after book 3. I can tell you now, I would have DIED if I had been waiting three years. Book 3, Halfway Hexed, is also a 5 star book. So good. This is an urban fantasy series with a long romance. There is a love triangle with Bryn, Tamara and Zach. Let me just say I am totally Team Bryn, and have been from the beginning.
Tamara reminds me a bit of Sookie Stackhouse as she is southern, has some supernatural ancestry but thinks she's just a normal girl. There are also relatives who are out of touch and haven't been completely truthful. They both have some righteous integrity about saving lives and not killing people. The setting for both series is a small town with quirky characters, some of whom are clueless about the supernatural shenanigans. Tamara comes from a family of witches but hasn't believed she had any powers herself. She is an awesome pastry chef. She's smart, caring and a bit wacky.
Zach is her ex-husband; they were childhood sweethearts. He is a police officer and doesn't believe in anything supernatural. Zach didn't believe Tamara or support her, in fact he sent her to a therapist and thought about having her committed for mental problems! He does love her, but in such an old school, "I'm in charge" asshole way. But he's finally "growing up." Tamara has a long history with Zach; she loves him and trusts him.
Bryn is a wizard and a few years older than Tamara and Zach. He is a lawyer, smart, knowledgeable, powerful, sexy and SO patient. He's also whipped LOL. It's charming to see a guy with money and power who could have anyone, and he loves Tamara (trouble with a capital T). Bryn always totally believes in her, and helps Tamara in her plans, even to his own detriment. He knows what he wants and isn't ashamed or afraid of how he feels. Bryn rhymes with sin, for a reason! He is mmmmm delicious! Bryn is new, exciting and Tamara isn't sure about trusting him since her family doesn't.
By this fourth book, Tamara is learning more about herself and her capabilities. She is also making decisions about the men in her life. The scenes with her men, are much better than some series, since each couple actually spends time together, has some intimate conversations, and helps each other. I hope this series stays interesting with the characters and relationships and doesn't go off into ridiculous plots and too many lovers or waffling about who will be her man. At this point, it is on track and I'm LOVING it.
In each book there is some magical evil which has to be fought. In Slightly Spellbound, Zach has just come back from supernatural law enforcement training, since he finally believes in the supernatural . In all four books, Tamara works with Bryn to protect their town from supernatural disasters and evil.
Slightly Spellbound could end at a nice place, the foes have been vanquished, it's Christmas and two of Tamara's relatives are back in town, but no. The last two chapters bring on a whole new shocking situation, which won't be addressed until the next book. It's not exactly a cliffhanger but the stage is set for the next book which won't be available soon enough! (tomorrow?! No. May 2015!!) I recommend you get ready by reading the first four books now.
Giggle-worthy quotes:
"I'm going to consult some witches' books. Not that I have many here to consult. But I'm not going to Bryn's house. I've made it twelve whole days without sleeping with him, and no scary skeleton in a tree is going to send me to Seduction Central now that Bryn's big case is finally over."

—–

"We're not going to get carried away. If anything, you're in trouble with me."
"Am I?" he asked.
"I've warned you a bunch of times to stop doing things to make me fall more in love with you, but you just don't listen."
He smiled. "Yeah, me treating you well, it's a problem.'
Latest posts by Anne - Books of My Heart
(see all)
Related Posts