Review copy was received from Publisher. This does not affect my opinion of the book or the content of my review.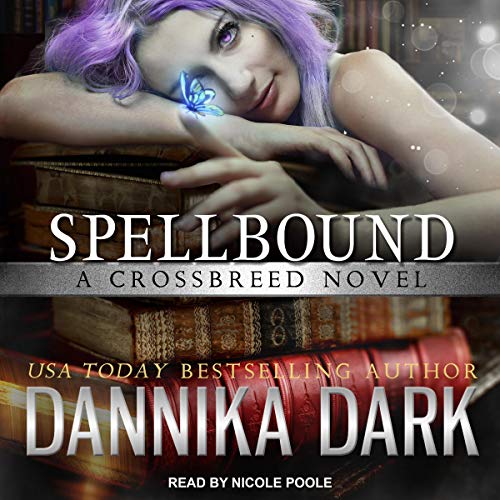 Spellbound
by
Dannika Dark
Narrator:
Nicole Poole
Series:
Crossbreed #8
Published by
Tantor Audio
on November 5, 2019
Genres:
Urban Fantasy
Length:
6 hours
Format:
Audiobook
Source:
Publisher
Goodreads
Audible
, 
Audiobook





Niko is caught in a powerful spell that was cast from the very book he sought to protect. Trapped between life and death, his chances of returning look grim.

Gem is determined to set things right. Armed only with her innate knowledge of language, she begins her daunting quest to break the diabolical spell… no matter the cost. When an irreversible action unleashes a new threat, Keystone scrambles into action. Lives are at stake as the team scours the city in search of an elusive foe.

A bond forged in secrets. A courageous sacrifice. Will Gem succeed at her daring attempt, or will she inadvertently destroy them all?
By accident I discovered the Crossbreed series by Dannika Dark.  I can only consider it a happy accident and have no qualms about recommending it to anyone looking for a well-designed urban fantasy world with compelling characters and interesting story arcs.  Spellbound is the eighth installment, and picks up right at the cliffhanger which ended the seventh book, Moonstruck.  There was no way I could have listened to Spellbound without having first read Moonstruck.  I strongly urge anyone who decides to give this series a try to start at the very beginning.  The character development builds through each book along with the relationships between the members of Keystone.
Spellbound was a little choppier and less cohesive as a novel than the previous books in the series.  There were a couple of story arcs that began in Moonstruck and continued through Spellbound.  I really feel these would have been better served had they been separated into two distinct novels.
This story spends a great deal of time on Gem and Niko.  It begins with Niko trapped in a stasis spell, with Gem desperately trying to wake him back up.  Initially, I was drawn into Gem's search for a 'cure' and appreciated the rising action and personal drama driving Gem.  Unfortunately, the emotional climax happened way too early, and I expected great things to happen between Niko and Gem afterwards.  Instead, I felt a little let down.  There was a lot of talking and not a lot of doing.  Although I'm not a huge fan of flashbacks, I feel that the sharing of back stories needed more action, which could have been delivered with that device.  I was thankful the remainder of the team returned for the latter half of the book.
Raven Black and Christian Poe have been standout characters from the onset of the series.  They've maintained their individuality, even as they've become a more cohesive unit.  I like that they are often assigned separate jobs and that their partnership in Keystone is work-oriented.  It makes their personal relationship that much more intense.  I love their easy banter and snarky remarks.
In Spellbound, Raven really begins to embrace her vampire half, under the watchful eye of Christian, of course.  She seems to finally believe what she once considered a flaw is actually one of her greatest strengths.  At the same time, Christian seems to have regained some of his humanity, and found strength, rather than weakness in loving someone else.
While I didn't find Niko or Gem to be as compelling as Raven and Christian, I'm very interested to see how Ms. Dark progresses their relationship in future books.  As a separate novel, Spellbound was a little choppy.  However, I feel relatively satisfied with the outcome of events that began in Moonstruck and feel that the Keystone team is well-positioned for future adventures.
Narration:
The narrator did an excellent job.  I was especially impressed with how she's created a distinctive voice for each of the Keystone team members.  It is very easy to tell them apart, even with several characters in a 'scene.'  The pacing was perfect for me, although I know I could listen at 1.25x speed and still be able to follow without any problem.
Listen to a clip: HERE
Rating Breakdown
Plot
Writing
Characters
Dialogue
Narration (Audio)
Overall:
Related Posts