Review copy was received from NetGalley. This does not affect my opinion of the book or the content of my review.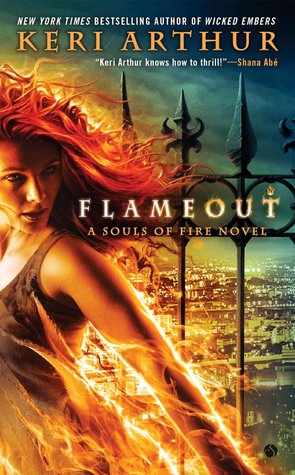 Flameout
by
Keri Arthur
Series:
Souls of Fire #3
Published by
Signet
on July 5, 2016
Genres:
Urban Fantasy
Pages:
384
Format:
eARC
Source:
NetGalley
Goodreads
Amazon
, 
Audible
, 
Audiobook





Emberly and her red hot partner, Jackson, have hit an impasse in their battle against the crazed humans infected by a plague-like virus derived from vampire blood. Their quest to unearth the leader of the group leads them into an ambush—and leaves Emberly at odds with her former lover, Sam, who's pressuring her to join his Paranormal Investigations Team.

To make matters worse, three local witches have been kidnapped—and if their spells fall into the wrong hands, Emberly's powers could end up smothered. With time ticking until the virus consumes the world, Emberly and Jackson must race to save the witches, find a cure, and smoke out their nemesis—or go down in a blaze of glory...

With the books of Souls of Fire series being a year apart, I confess I am having some trouble remembering all the details of the situation. I do recall all the characters and the feelings and the overall plot, but the finer points get a bit lost to me. Luckily, there is just enough review of the facts in the investigation for me to hang in there.  This is urban fantasy, where you definitely want to read all the books, in order. I look forward to a complete back-to-back reading, perhaps before the fourth one.
This supernatural cast is varied rather than typical, and fascinating. I love the characters with their integrity, goals, feelings and humor (or lack of all of these!). Emberly and Rory are so close and supportive of each other. Jackson is a bit of enigma but I am so happy Emberly has him in her life. Sam has a hell of a mess and I wonder how he will prevail. There are some new players as well as a couple of old friends. As with any heroine, Emberly is collecting allies over time.
She needs allies, because every time they turn around there's another evil guy. The relentless action, danger and suspense kept me reading Flameout until I finished. There was information found and problems resolved but this mystery is far from solved. Everyone wants their way so it's a constant battle.
Souls of Fire series:
 1-  Fireborn
 3- Flameout
4- Ashes Reborn (July 2017??)
Giggle Worthy Quote:
"I'm gathering you and he had something of a disagreement over you continuing as his assistant?"

"No. I did the sensible thing and ran."
Latest posts by Anne - Books of My Heart
(see all)
Related Posts