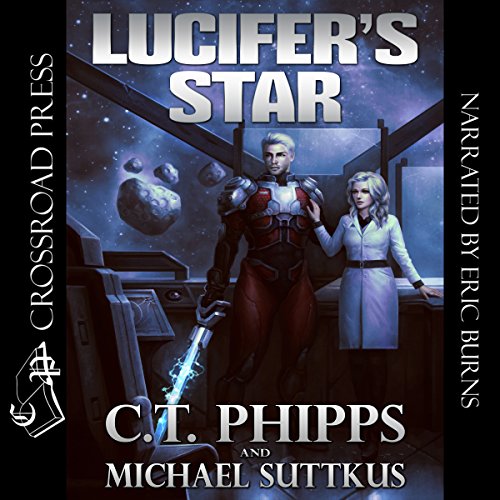 Lucifer's Star
by
Michael Suttkus
Narrator:
Eric Burns
Series:
Lucifer's Star #1
Published by
Crossroad Press
on May 17, 2017
Genres:
Space Opera
Pages:
298
Length:
10 hrs and 20 mins
Format:
Audiobook
Source:
Author
Goodreads
Amazon
, 
Audible
, 
Audiobook
, 
Barnes & Noble
, 
Apple





From the bestselling author of The Rules of Supervillainy:

Cassius Mass was the greatest star pilot of the Crius Archduchy. He fought fiercely for his cause, only to watch his nation fall to the Interstellar Commonwealth. It was only after that he realized the side he'd been fighting for was the wrong one. Now a semi-functional navigator on an interstellar freight hauler, he tries to hide who he was and escape his past. Unfortunately, some things refuse to stay buried and he ends up conscripted by the very people who destroyed his homeland.

LUCIFER'S STAR is the first novel of the Lucifer's Star series, a dark science fiction space opera set in a world of aliens, war, politics, and slavery.

I'm a huge fan of C.T. Phipps, so I was excited to try this new-to-me space opera. I do like science fiction, though I don't read it as much as fantasy. This story follows Cassius Mass, a great star pilot for the Crius Archduchy. He's hailed as a hero by some and a war criminal by others. Now he's hiding under a different name.
In this world, there are clones and robots that are very human-like. There is even a woman who is able to pass as human and does for a while. It is really hard to know who is what, with the clones and humanoid-like robots, not to mention spies. Even when you think you know something about someone, you learn something else.
I really liked Cassius. He was able to look back at his actions and know he did some pretty horrible things during the war and does what he can to make up for some of those deeds. He knows he can never make up for the large number of lives he took. He takes a memory drug to help him "forget" his past. There is also a lot of drinking.
If you like stories that are twisty-turny, this is a fun story for you to try. It seemed like I learned something new about a different character in each chapter. I never knew what was going to happen next. I don't want to go more into the story, because I really like to avoid spoilers.
I have to say, my favorite part of this story is the characters. I just love the characters that Phipps develops. They are just so relatable, real, fun and likable. If you've never tried Phipps, I highly recommend him.
Narration:
This was my first time listening to Eric Burns. I really liked his narration of this story. It has a fairly large cast and he didn't do a bad job with all the characters. Each had a pretty distinctive voice. I think his female voices could've been a little bit better, but not bad overall. Those voices became the voices of the characters. I would definitely listen to him read another book at some time.
Listen to a clip: HERE
Rating Breakdown
Plot
Writing
Characters
Dialogue
Narration (Audio)
Overall:
Related Posts