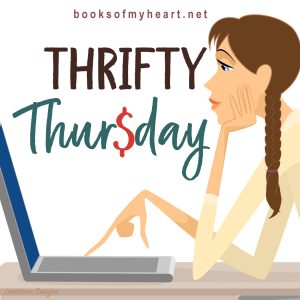 The purpose of Thrifty Thursday is to read a book which was free (at some point).
Kindle freebie on July 17, 2012  (currently free as of writing this post)
Overall rating  3.76 with 18, 169 ratings and 1,370 reviews
The Mind Readers
by
Lori Brighton
Series:
The Mind Readers #1
Published by
Self-Published
on December 7, 2010
Genres:
Paranormal Romance
Pages:
170
Format:
eBook
Source:
Purchased
Goodreads
Amazon
, 
Apple




Cameron Winters is a freak. Fortunately, no one but her family knows the truth …that Cameron can read minds. For years Cameron has hidden behind a facade of normalcy, warned that there are those who would do her harm. When gorgeous and mysterious Lewis Douglas arrives he destroys everything Cameron has ever believed and tempts her with possibilities of freedom. Determined to embrace her hidden talents, Cameron heads to a secret haven with Lewis; a place where she meets others like her, Mind Readers.

But as Cameron soon finds out some things are too good to be true. When the Mind Readers realize the extent of Cameron's abilities, they want to use her powers for their own needs. Cameron suddenly finds herself involved in a war in which her idea of what is right and wrong is greatly tested. In the end she'll be forced to make a choice that will not only threaten her relationship with Lewis, but her very life.
I've had this freebie for 6.5 years and I always wanted to read it.  I love any kind of book with mind abilities or skills. For me, it's even better than magic which would be my next favorite.
I happily chose The Mind Readers with Berls to do a buddy read and it was also on Tiffany's list. Sadly, since Cameron was a high school student, the mood swings were epic. I could not be happy with the juvenile attitude and emotional decisions.  I wanted her to learn more about her skills and her grandma was totally sheltering her from everything but Cameron didn't treat her very well.
I was excited about others with skills and Cameron being able to learn more and develop her abilities but I didn't trust them. With everything from Cameron's point of view, it was hard to get a feel for the other characters and their motivations.  It seemed more like they wanted to use her rather than teach her very much.
While I love the concept, I won't be reading further in the series.  I need more adult and developed characters.
---
These are only Kindle freebies I get, or ones through author newsletters which anyone can sign up and get for free. I don't include things like Kindle Unlimited or Prime Free Reading or Audible Escape. Both Tantor and Audible have occasional free audios (to anyone) and I do include those.  Since I one-click on 1-2 freebies a day or probably at least 5 a week, I came up with this feature to make sure I start reading them.
I think it would be fun is if you have read and reviewed  a freebie, link up to your review (Goodreads, blog, facebook or wherever) below.
---
Add your review link here: 
Mister Linky's Magical Widgets — Thumb-Linky widget will appear right here!
This preview will disappear when the widget is displayed on your site.
If this widget does not appear,
click here
to display it.
Latest posts by Anne - Books of My Heart
(see all)
Reading this book contributed to these challenges:
Related Posts