Review copy was received from Publisher. This does not affect my opinion of the book or the content of my review.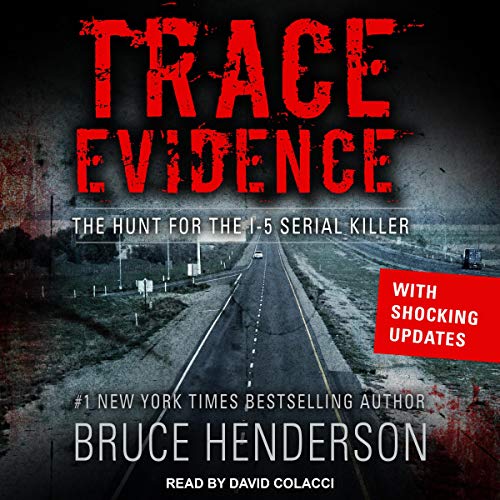 Trace Evidence
by
Bruce Henderson
Narrator:
David Colacci
Published by
Tantor Audio
on February 25, 2020
Genres:
True Crime
Length:
16 hours, 54 minutes
Format:
Audiobook
Source:
Publisher
Goodreads
Amazon
, 
Audible
, 
Audiobook




Some books about serial killers are dramatic and emotional. Trace Evidence, by contrast, has a steady relentlessness that allows the reader to become fascinated by the characters of the investigators and the facts of how the evidence was assembled. This killer specialized in picking up his victims along Interstate 5, near Sacramento, California, and he had an odd penchant for snipping at their clothes with scissors. As deaths of young women in several different jurisdictions began to form a pattern, a few detectives with contrasting approaches (excitable and given to hunches vs. cool and logical) formed a team.

Author Bruce Henderson relates how they followed through on a bewildering number of leads, how they ranked their potential suspects on a point system that proved remarkably effective, and how, finally, a trace evidence expert spent many long hours looking through a microscope to cinch the case with analysis of fibers. Trace Evidence is skillfully structured, emphasizing the investigation rather than the trial, and includes crisp photographs of the key evidence. It would have been a better book if the author had included a timeline of the crimes and a map of the area, but that is a small nitpick about an excellent work of journalism. --Fiona Webster
I don't read very much true crime but I do read many mystery / thrillers. Trace Evidence sounded interesting and I'm really glad I gave it a try. This case is about an actual serial killer in California nicknamed the I5 killer for the interstate near where the crimes happened.
The information in the case was quite well organized and told mostly in a chronological format.  It covers a long time frame, many years.  In the beginning, there are pay phones and very little technology and use of forensic evidence.  By the end, DNA and other technological advances have changed things greatly. The book version was published in 1998.
Because this was about a serial killer with many victims, many different law enforcement agencies were involved.  The missing person case might be in one town or county. The homicide might be in a different place.  The coordination and communication of these different detectives and forensic groups was mostly poor.  It also meant many different detectives worked different parts of the case with specific victims. I found it a little tough to keep track of all the detectives and where they worked.
There are some gruesome details about what happened to these unfortunate women.  Some were prostitutes but some were ordinary young women.  Most were beautiful young blondes with longish hair and rather busty.  Mostly though we get the details of what they were doing before they went missing and the search for them.   There is also the details of when a body was discovered and the work to identify the woman and find her killer.
I really appreciated how detailed the information on the investigation and evidence was unfolded. It seemed honest in how frustrating it had to be when law enforcement couldn't get the resources to work the cases properly, or there was a lack of communication so things went slowly or off on a tangent.  The detectives working the case were so talented and dedicated; I admired them greatly.
I also enjoyed how the case was solved and there was a definitive solution. The evidence was solid; it just took a long time to get it. There were only a few things found out which were unclear to me where they got the information. I am assuming that information was from the killer in the end.
Narration:
This story was told with somewhat limited dialogue. There were a few voices and they sounded appropriate.  I had not previously heard this narrator.  I thought it was well done and easy to listen.  I used my normal 1.5x speed.
Listen to a clip:  HERE
Rating Breakdown
Narration (Audio)
Overall:
Latest posts by Anne - Books of My Heart
(see all)
Reading this book contributed to these challenges: