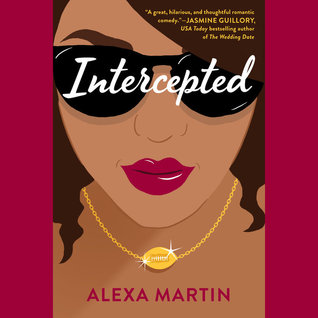 Intercepted
by
Alexa Martin
Narrator:
January LaVoy
Series:
Playbook #1
Published by
Penguin Audio
on September 11, 2018
Genres:
Contemporary Romance
Length:
9 hours, 14 minutes
Format:
Audiobook
Source:
Library
Goodreads
Amazon
, 
Audible
, 
Audiobook
, 
Barnes & Noble
, 
Apple





Marlee thought she scored the man of her dreams only to be scorched by a bad breakup. But there's a new player on the horizon, and he's in a league of his own...

Marlee Harper is the perfect girlfriend. She's definitely had enough practice by dating her NFL-star boyfriend for the last ten years. But when she discovers he has been tackling other women on the sly, she vows to never date an athlete again. There's just one problem: Gavin Pope, the new hotshot quarterback and a fling from the past, has Marlee in his sights.

Gavin fights to show Marlee he's nothing like her ex. Unfortunately, not everyone is ready to let her escape her past. The team's wives, who never led the welcome wagon, are not happy with Marlee's return. They have only one thing on their minds: taking her down. But when the gossip makes Marlee public enemy number one, she worries about more than just her reputation.

Between their own fumbles and the wicked wives, it will take a Hail Mary for Marlee and Gavin's relationship to survive the season.
I love sports romance and love discussing it with fellow fans.  At a book convention last year, someone mentioned a witty sports romance series written by a former NFL wife.  I added it to my list in 'Notes,' with the intention of checking it out when I got back home.  As my luck would have it, a software error and lack of backup (#fearthecloud) resulted in the loss of my data to the ether and consequently, this recommendation.  Fast forward a year.  The fabulous cover of Intercepted jumps out at me from an author's list of starter romance novels for men.  I do a quick search for the book at my library and discover Intercepted the first book in The Playbook series by Alexa Martin is the book about which I'd heard some many great things.  Score!
Marlee is a down-to-earth, talented graphics designer who has put her life and career on the back burner in support of her long-time, NFL player boyfriend, only to have the relationship detonate and her world turned upside down.  The team's new QB, Gavin, is ready to help her pick up the pieces and start afresh.  Marlee falls for the thoughtful and caring Gavin, but is it too much, too fast and how can she keep herself and her newfound independence from being swept away?
This was a swoony, sweet romance filled with snark and sass.  I rotated between laughing, growling, and sighing throughout the entire story.  Ms. Martin draws on her own experience in the world of NFL wives and girlfriends, or as she refers to it, #thelandwherehighschoolneverends, and creates some hilarious drama.  I could totally identify with Marlee not giving zero f***s about fitting in with the 'mean girls' opting for sympathetic, like-minded friends instead.
The humorous writing is backed up by excellent character development.  The growth of Marlee, her ability to stand on her own and be OK with that was a large part of why I enjoyed this book.  Although the fictional background in professional sports isn't everyone's reality, Marlee's struggle 'adulting' and figuring out how to build and maintain healthful relationships is something with which we can all identify in some part.  I also liked that we are given a well-rounded view of Marlee and Gavin via their relationships outside of their romantic involvement, with much page time dedicated to their families and friends.
The ex-boyfriend, Chris, was over-the-top horrible.  I was mildly annoyed at how Marlee accommodated him, even when she was taking a hard line on his BS.  In the end however, I thought the author did a great job of completing this particular story arc, and I am genuinely interested in what happens to Chris in the long run, perhaps he'll be the subject of a future book or a novella.
If you can appreciate a good love story, sarcastic humor, or tight football pants, you are sure to enjoy Intercepted.  This book was a fun and surprisingly emotional read.  It is hard to believe that it is Alexa Martin's debut novel.  The good news is that this is a series.  I can't wait to work my way through the rest of the team!
Narration:
I enjoyed the narration of Intercepted.  It was crisp and funny and easy to follow.  I was impressed with how the narrator managed to differentiate between Marlee's actual speaking voice and when Marlee's thinking voice.  The dumb-jock interpretation of Chris and the mean girl voices of Courtney and her friends were a little stereotypical which would be my only complaint.  I feel this book would be enjoyed equally as a listen or read.
Listen to a clip:

Rating Breakdown
Plot
Writing
Characters
Dialogue
Narration (Audio)
Overall:
Related Posts