Review copy was received from Publisher. This does not affect my opinion of the book or the content of my review.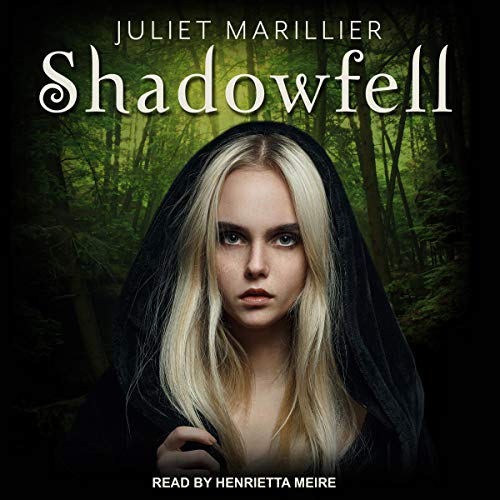 Shadowfell
by
Juliet Marillier
Narrator:
Henrietta Meire
Series:
Shadowfell #1
Published by
Tantor Audio
on March 31, 2020
Genres:
Young Adult
,
Fantasy
Length:
11 hours, 18 minutes
Format:
Audiobook
Source:
Publisher
Goodreads
Amazon
, 
Audible
, 
Audiobook
, 
Barnes & Noble
, 
Apple





Sixteen-year-old Neryn is alone in the land of Alban, where the oppressive king has ordered anyone with magical strengths captured and brought before him. Eager to hide her own canny skill—a uniquely powerful ability to communicate with the fairy-like Good Folk—Neryn sets out for the legendary Shadowfell, a home and training ground for a secret rebel group determined to overthrow the evil King Keldec.

During her dangerous journey, she receives aid from the Good Folk, who tell her she must pass a series of tests in order to recognize her full potential. She also finds help from a handsome young man, Flint, who rescues her from certain death—but whose motives in doing so remain unclear. Neryn struggles to trust her only allies. They both hint that she alone may be the key to Alban's release from Keldec's rule.

Homeless, unsure of who to trust, and trapped in an empire determined to crush her, Neryn must make it to Shadowfell not only to save herself, but to save Alban.
Juliet Marillier is a fable teller or what I like to think of as a modern-day Grimm. She weaves these very intricate stories that usually involve humans with hints of the fae and she does this very well. Shadowfell is the first book in the, already completed but new to audio, three book Shadowfell series.  While Shadowfell isn't my favorite story by Juliet it still has the unique feel Juliet Marillier brings to her stories to transport you into another world.
There are some great things this book has going for it. For one it has the orphaned girl who has been on the run for years now and the head of the King's elite task force who seems to care about her more than he should. That has forbidden love written all over it so I was totally in. Then there are the Fae, I do love a good story with Fae in it. I couldn't help but root for Neryn as she traveled to find the very secret place of Shadowfell and learns she might have a gift that could save her kind and the Fae too if used on the right side.
"It seemed to me it would be better to die standing up to a tyrant than to survive as a tool of his will."
The struggle I had with this as with many fantasy books is all the travelling. Neryn is on the road the majority of the book and while she meets some very cool people along the way most of the time she is alone, or sick, or struggling to get to where she is going and it all felt like it was taking so long. I've had this issue before in fantasy and I'll have it again I'm sure, I usually enjoy the traveling parts in a story as much as other things and so I really wish we would have made it to the resistance earlier in the journey.
Still this is a really great introduction into the world and I did love learning what Neryn could possibly be, there is a lot that can be done with that. I even liked the hints that she would eventually have to deal with all the Lords of the Fae so to speak. This is still a very nice faery story, great villain we have yet to see in person but the King is horrible to be sure. I'm definitely continuing on with the series.
Narration:
Henrietta Meire did a fantastic job with the tone of the story and all of the content. She really brought a lot to characters and made the story feel real. With over 100 titles to her narration credit you'd think I'd have heard her before, but this was my first book narrated by her. I was definitely impressed and was able to listen easily at my normal 1.5x speed.
Listen to a clip:  HERE
Rating Breakdown
Plot
Writing
Characters
Dialogue
Narration (Audio)
Overall:
Reading this book contributed to these challenges:
Related Posts