Review copy was received from NetGalley. This does not affect my opinion of the book or the content of my review.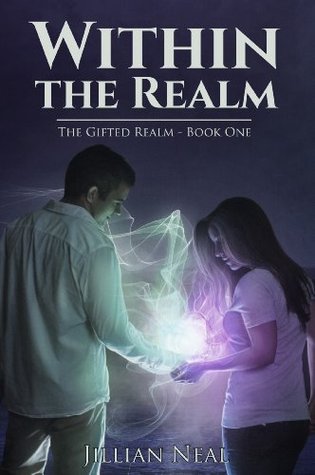 Within the Realm
by
JIllian Neal
Series:
The Gifted Realm #1
Published by
Indie
on November 17, 2013
Genres:
Paranormal Romance
,
Fantasy
Pages:
422
Format:
eARC
Source:
NetGalley
Goodreads
Amazon
, 
Barnes & Noble



He buried his father seven years earlier. As Rainer Lawson comes of age, he is set to join the ranks of Elite Iodex, the fiercest law enforcement organization in the Gifted Realm. Rainer will not allow his father's assassination to have been in vain.

Emily Haydenshire has been the love of his life since childhood, and he wants nothing more than to start their life together. Heady desire consumes them both, but this raw sexual need could blind them to the dangers that surround them.

As they allow their voracious passions to consume them, evil seems to lurk around every darkened corner. The Interfeci criminal organization is desperate to regain power. Iodex is set to use their extraordinary powers to harness and control the energies of the Earth in order to keep the Interfeci at bay. Will Rainer's determination be enough to protect his family and the love of his life Within the Realm?
I am reviewing the oldest book on my Netgalley shelf.  On the surface, it looks like my kind of thing. New adults developing their lives in a world where the gifted have magic. My intuition was spot on when I kept putting it off since it wasn't really for me.
While it says new adult, Within the Realm starts in the final weeks of high school with two guys who are best friends and have steady girlfriends. Rainier and Logan.  Rainier's parents were a big deal in the gifted community. They were murdered 7 years ago and he came to live with his parents' friends, the Haydenshires,and also his best friend, Logan.  Rainier's girl, since a young age, is Emily Haydenshire, the only girl child.
I can't really express my issues without spoilers, so be forewarned.  The flashback kind of history is ok since it gives us a sense of Rainier, his parents who were active in the gifted government and an idea of the government structure and the talents different gifted have.  Still it didn't give me enough on either of those topics. Both Rainier and Logan are going into an elite investigative force after high school, and Emily is joining an elite team, sort of like a sports team, from what I can tell.
Here, we get those last few weeks of high school and part of the summer before they start their jobs. So the high school stuff is never my favorite thing.  View Spoiler »Then we have Rainier and Emily, and Logan and Adeline, all virgins deciding to start having sex. Each couple is committed but having this as a main focus of the story, particularly when 3 of them live in the same house with their parents is just ick. « Hide Spoiler
Adeline has a mother who is an addict and forces Adeline to earn money for her. After the one of the mother's boyfriends decides he should have both the mother and Adeline, the Haydenshires invite Adeline to live with them when she escapes. So now both couples live in the Haydenshire household.
By the end of this story, they just barely start their jobs with the two couples moving into their own place. The book about their gifts, and the investigative work is likely to be the next one in the Gifted Realm series,  Lessons Learned. I am sorry to say I don't care anymore.
Latest posts by Anne - Books of My Heart
(see all)
Related Posts