Review copy was received from NetGalley. This does not affect my opinion of the book or the content of my review.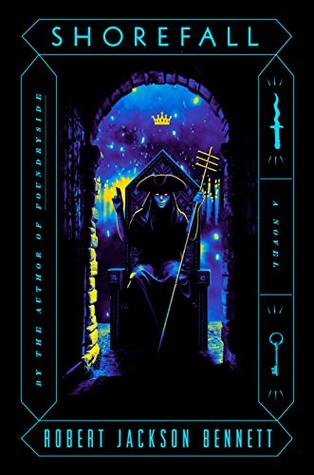 Shorefall
by
Robert Jackson Bennett
Series:
Founders #2
Published by
Del Rey Books
on April 21, 2020
Genres:
Fantasy
Pages:
512
Format:
eARC
Source:
NetGalley
Goodreads
Amazon
, 
Audible
, 
Audiobook
, 
Barnes & Noble
, 
Apple






Having narrowly saved the metropolis of Tevanne from destruction, Sancia Grado and her allies have turned to their next task: sowing the seeds of a full-on magical-industrial revolution. If they succeed, the secrets behind scriving—the art of imbuing everyday objects with sentience—will be accessible to all of Tevanne's citizens, much to the displeasure of the robber-barons who've hoarded this knowledge for themselves.

But one of Sancia's enemies has embarked on a desperate gambit, an attempt to resurrect a figure straight out of legend—an immortal being known as a heirophant. Long ago, the heirophant was an ordinary man, but he's used scriving to transform himself into something closer to a god. Once awakened, he'll stop at nothing to remake the world in his horrifying image.

And if Sancia can't stop this ancient power from returning? Well, the only way to fight a god…is with another god.
Shorefall is the second book the Founders series. This is a series that builds on the prior books and so you need to read them in order to have any idea what is going on. I actually re-read Foundryside right before jumping into Shorefall since it was one of my favorite books of 2018 and there are a lot of details, I wanted a quick refresher.
Shorefall did not disappoint; Robert Jackson Bennett isn't afraid to put his characters through some really tough times and hard decisions. You are genuinely scared for them because he isn't afraid to kill people off or have them make terrible sacrifices.
One of the best things about this series is the world and how it works. It is built on scrivings, which are little rules written into materials that make them do a specific thing or think they are something else. Like wood scrived to think it is as hard as stone, locks that are smart and will only accept specific keys. The entire city has thousands of these all around, forcing reality to believe it is something different.
Now a God-like creature, a Heirophant, who once destroyed most of the world has returned and wants to remake the city into what he thinks mankind should be. Once you find out how a Heirophant was made, it is hard to think anything they want will be good.  If this one gets his way, it will not go well for mankind.
"Ofelia…" said his voice. "You wish to make a moral world, do you not? A just, equitable, sane world?"

"Yes," she whispered.

"Yes. Of course you do. And sometimes I find it takes a lot of treachery and death to make a moral world. That is simply the way of things."
Our cast of characters from Foundryside will be there working together with a powerful tool at their side trying to stop the returning Heirophant.  Sancia can hear and see scrivings; she can even sometimes convince them to change, a trick she learned from a very special key. Sancia made 'friends' with Valeria, a tool once used by the Heirphant to change the world, until the tool became as powerful as the man who made her and went to war with him thousands of years ago. But, should you trust the powerful tool that seems to have an agenda of her own?
I loved the characters in this. None of them are great fighters, well except the former soldier Gregor, but all of them bring something smart and unique to the table. They were a small band trying to break the main houses who controlled the city. They never expected to have to fight an almost god and his most powerful tool.
"I remember the plan," said Sancia. "I just also remember there's a lot of spots in the plan that say, 'Sancia improvises a bunch of shit.' Which is not, you know, comforting."
Founders is a series I'm both desperate and terrified to finish. I've read other series by RJB and I know that nothing is off the table for him. The conclusions to his stories can be bittersweet for some characters and just down right sad for others. But I never guess what the endings will be and for that I'm always grateful and in the past I have left his series feeling satisfied with the endings.
Another wonderful smart fantasy told by Robert Jackson Bennet and I was really happy that a certain key wasn't left out of the story since he was one of my favorite things from Foundryside.
Rating Breakdown
Plot
Writing
Characters
Dialogue
Overall:
Related Posts