Twilight's Dawn
by
Anne Bishop
Published by
Penguin Audio
on March 1, 2011
Genres:
Fantasy
Length:
16 hours, 21 minutes
Format:
Audiobook
Source:
Purchased
Goodreads
Amazon
, 
Audible
, 
Audiobook
, 
Barnes & Noble
, 
iTunes





Winsol Gifts

Daemon, the Black Jeweled Warlord Prince of Dhemlan, is settling into his first year of married life with his Witch Queen Jaenelle. But as the thirteen-day celebration of Winsol draws near, Daemon finds himself being pulled in too many directions as he plays host to his formidable family…

Shades of Honor

Still recovering from the ordeal that left her wounded and angry, Surreal returns to Ebon Rih on the orders of Prince Lucivar. And when her former lover Falonar ruthlessly challenges the rule of her family, Surreal may finally succumb to the darkness burning inside her…

Family

When someone lays a vicious trap for Queen Sylvia and her sons, the fallout completely disrupts the lives of the ruling family of Dhemlan. Now, they have to uncover the identity of the warlord known only as No Face, before he returns to finish what he started…

The High Lord's Daughter

After losing the two most important people in his life, Daemon has assumed his father Saetan's role as High Lord of Hell and built a wall around his heart. But when he inadvertently forges a new connection, will it be enough to break him free from his loveless life?
Twilight's Dawn is the ninth book in the Black Jewels series. I've loved my journey in this world but if you have a hot button, it is probably going to push it. From rape, incest, human trafficking, pedophilia, torture, somewhere in the series it has touched on it all but still all the stories were so captivating I stayed for the entirety of the series.
Twilight's Dawn is four stories. Three that add to the depth of the world we already love and one that is a set up for the next book in the series where we say goodbye to a few of the characters we've loved. The last story The High Lord's Daughter was the hardest to read for me because I loved those characters so much and wasn't ready to move on. But overall it was written well and I will definitely read the next book and new journey that could come from it.
Narration:
John Sharian has narrated the entire series up to this point and does a great job with a very large cast of characters.  I enjoy his voice and listen at my normal 1.5x speed
Listen to the clip: HERE
---
Sweep with Me
by
Ilona Andrews
Series:
Innkeeper Chronicles #4.5
on February 26, 2020
Genres:
Urban Fantasy
,
Science Fiction
Length:
3 hours, 39 minutes
Format:
Audiobook
Source:
Purchased
Goodreads
Amazon
, 
Audible
, 
Barnes & Noble
, 
iTunes






Thank you for joining us at Gertrude Hunt, the nicest bed-and-breakfast in Red Deer, Texas, during the Treaty Stay. As you know, we are honor-bound to accept all guests during this oldest of innkeeper holidays, and we are expecting a dangerous guest. Or several. But have no fear. Your safety and comfort is our first priority. The inn and your hosts - Dina Demille and Sean Evans - will defend you at all costs. But we hope we don't have to.

Every winter, the innkeepers look forward to celebrating their own special holiday, commemorating the ancient treaty that united the very first inns and established the rules that protect them, their intergalactic guests, and the very unaware/oblivious people of planet Earth.

By tradition, the innkeepers welcomed three guests: a warrior, a sage, and a pilgrim, but during the holiday, the innkeepers must open their doors to anyone who seeks lodging. Anyone.

All Dina hopes is that the guests and conduct themselves in a polite manner. But what's a holiday without at least one disaster?
Sweep With Me is a side story novella to the Innkeeper Chronicles and shows us an inside look at the Innkeeper's biggest holiday. There will be three very special guests (group of guests) and Dina will accommodate them all in her very special style. There is the seriousness of the business with a grand being called The Mountain, the hilarity of debating chickens and a new creature we haven't seen before in the books that wants to tour The Alamo. It is a great time to be at Gertrude Hunt.
I loved seeing Sean and Dina settling into their new life together at the Inn and how all my favorite characters from the Inn are doing.
Narration:
Natalie Naudus is a new narrator to the series.  I enjoy her voice and while it took a little time to warm to her since Renee Raudman was the narrator for this series previously, I think she was a good fit to the characters.  I listened at my normal 1.5x speed.
Listen to the clip: HERE
---
Moon Called
by
Patricia Briggs
Series:
Mercy Thompson #1
Published by
Penguin Audio
on September 1, 2009
Genres:
Urban Fantasy
Length:
9 hours, 14 minutes
Format:
Audiobook
Source:
Purchased
Goodreads
Amazon
, 
Audible
, 
Audiobook
, 
Barnes & Noble
, 
iTunes




Werewolves can be dangerous if you get in their way, but they'll leave you alone if you are careful. They are very good at hiding their natures from the human population, but I'm not human. I know them when I meet them, and they know me, too.

Mercy Thompson's sexy next-door neighbor is a werewolf.

She's tinkering with a VW bus at her mechanic shop that happens to belong to a vampire.

But then, Mercy Thompson is not exactly normal herself... and her connection to the world of things that go bump in the night is about to get her into a whole lot of trouble.
Moon Called, the first book in the Mercy Thompson series and a decent introduction to the story. I read it for the first time years ago and really didn't remember much of the entire story, which was surprising. Mercy shifts into a coyote through some Indian magic. She was literally raised by wolves, werewolves that is, and is about to get pulled back into some pack dynamics. Along the way we are introduced to some Fae and Vampires that set the scene for the overall series nicely.
Narration:
Lorelei King is an accomplished narrator and does a really good job with the entire series. I had to slow it down from my normal 1.5x speed to 1.25x speed. 
Listen to the clip:

---
Wicked Bite
by
Jeaniene Frost
Narrator:
Tavia Gilbert
Series:
Night Rebel #2
Published by
HarperAudio
on January 28, 2020
Genres:
Urban Fantasy
Length:
8 hours, 55 minutes
Format:
Audiobook
Source:
Purchased
Goodreads
Amazon
, 
Audible
, 
Audiobook
, 
Barnes & Noble
, 
iTunes





Some promises are meant to be broken...

Veritas spent most of her life as a vampire Law Guardian. Now, she's about to break every rule by secretly hunting down the dark souls that were freed in order to save Ian. But the risks are high. For if she gets caught, she could lose her job. And catching the sinister creatures might cost Veritas her own life.

Some vows are forever...

Ian's memories might be fragmented, but this master vampire isn't about to be left behind by the woman who entranced him, bound herself to him, and then disappeared. So what if demons, other Law Guardians, and dangerous, otherworldly forces stand against them? Come hell or high water, Ian intends to remind Veritas of the burning passion between them, because she is the only person seared on his mind--and his soul..
Ian and I had a rough start in the Night Huntress series but his books are great so far. This is a series that I think you have to have read the other books set in this world to really appreciate. Ian was a man/vampire who was never going to marry. In a twist of fate, he ended up hitched to the very law abiding guardian, Veritas, and even though he could have a way out of that marriage now he is going to find his wife and remind her why he is the yin to her yang. There will also be bad guys along the way and a big fight with a demon just to round things out.
Super fun read for lovers of the Night Huntress world.
Narration:
Tavia Gilbert has narrated all of the books in the Night Huntress world.  She plays all the parts well and I'm able to comfortably listen at my usual 1.5x speed.
Listen to the clip: 

---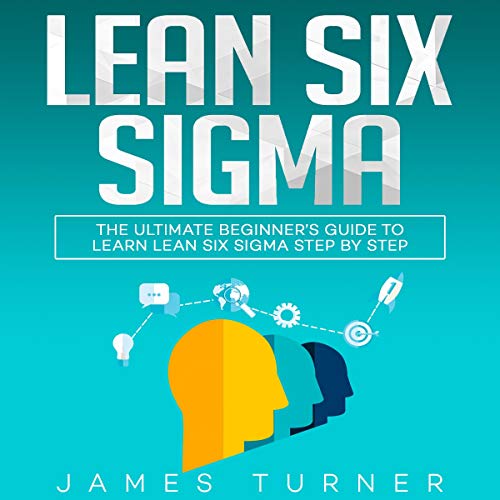 Lean Six Sigma
Length:
9 hours, 9 minutes
Format:
Audiobook
Source:
Purchased
Goodreads
Audible




Is your business struggling to remain profitable? Is quality management at the top of your agenda? Could Lean Six Sigma benefit your company? As businesses struggle to stay relevant and continue to make a profit in unfavourable market conditions, so the need to retain a quality advantage over your competitors becomes even more crucial. Sometimes this can be the sole advantage and best selling point for any business, but how do you make sure yours is working to best effect?In this book, Lean Six Sigma: The Ultimate Beginner's Guide to Learn Lean Six Sigma Step by Step gives you a detailed battle plan to cut "waste" on all levels of your business. In fact, it's designed to help you analyze and eliminate inefficiencies without delay. You will learn the basic concept of this approach, that combines two quality management methodologies, Lean and Six Sigma, in chapters that include: - The Core Principles of Lean Six Sigma- The history of Lean Six Sigma- The strategic concept of it- 16 BENEFITS of Lean 6 Sigma - Comparing Lean with Six Sigma- Understanding customer needs- The secrets to identify improvement projects- 7 KEYS to overcoming management resistance- The DMADV & DMAIC frameworks- 9 common mistakes and vital tips for avoiding them- And more...Lean Six Sigma could well be the answer you've been looking for when it comes to ensuring quality control. And as it has been written with the novice in mind, Lean Six Sigma will teach you the principles right from the very first steps through to a vastly better quality product.
Every once and a while I read something for career development. This was my attempt at that as my group was about to embark on some projects involving Six Sigma, Yellow Belt and Green Belt Training.
It isn't a bad book if you knew absolutely nothing about Lean and Six Sigma you would at least get a better understanding of what it is. But this is not a guide on how to start your first project using the ideas of Six Sigma. I was looking more for the Step by Step aspect of how to do one of my first projects and this didn't really cover that.
Narration:
Russell Newton did a great job narrating a very dry subject and sounded a lot like a radio or tv announcer to me.  I confess that towards the end I was a bit bored with the subject matter and listened at 2x speed.
Listen to the clip: HERE
---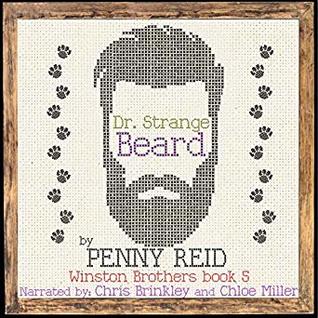 Dr. Strange Beard
by
Penny Reid
Series:
Winston Brothers #5
on November 8, 2018
Genres:
Contemporary Romance
Length:
12 hours, 29 minutes
Format:
Audiobook
Source:
Purchased
Goodreads
Amazon
, 
Audible
, 
Audiobook





Hunches, horse races, and heartbreak

Ten years after Simone Payton broke his heart, all Roscoe Winston wants is a doughnut. He'd also like to forget her entirely, but that's never going to happen. Roscoe Winston remembers everything—every look, every word, every single unrequited second—and the last thing he needs is another memory of Simone.

Unfortunately, after one chance encounter, Simone keeps popping up everywhere he happens to be . . .

Ten years after Roscoe Winston dropped out of her life, all Simone Payton wants is to exploit him. She'd also like some answers from her former best friend about why he ghosted her, but if she never gets those answers, that's a-okay. Simone let go of the past a long time ago. Seriously, she has. She totally, totally has. She is definitely not still thinking about Roscoe. Nope. She's more than happy to forget he exists.

But first, she needs just one teeny-tiny favor . . .
Roscoe really hasn't been one of my favorite brothers in the Winston Brothers series. But getting inside his head and PoV was eye opening. What if you remembered every moment of your life with absolute clarity? How could you ever have a relationship with someone, everything they ever said to you is just sitting there in your head and when something that really hurt happened it would be hard to forgive and forget, since you know you can't forget anything.
Roscoe definitely grew on me in this story and the love interest is his first love from childhood who is just as quirky as Roscoe is, in her own way. Simone needs his help to find his bail jumping father, but she also doesn't want him to know that is why she is hanging out with him again.
While not my favorite couple I did like how the two were together and I really enjoy second chance and friends to lovers' stories.
Narration:
Chris Brinkley & Chloe Miller do a really good job in this series with the voices and varied PoV.  It took some time to get used to Roscoe's in and out of memory moments but once I got it I was fine.  I was able to listen at my normal 1.5x speed.
Listen to the clip:

---
The Shadow of What Was Lost
Narrator:
Michael Kramer
Published by
Podium Audio
on February 10, 2015
Genres:
Fantasy
Length:
25 hours, 28 minutes
Format:
Audiobook
Source:
Purchased
Goodreads
Amazon
, 
Audible
, 
Barnes & Noble
, 
iTunes





It has been twenty years since the end of the war. The dictatorial Augurs - once thought of almost as gods - were overthrown and wiped out during the conflict, their much-feared powers mysteriously failing them. Those who had ruled under them, men and women with a lesser ability known as the Gift, avoided the Augurs' fate only by submitting themselves to the rebellion's Four Tenets. A representation of these laws is now written into the flesh of any who use the Gift, forcing those so marked into absolute obedience.

As a student of the Gifted, Davian suffers the consequences of a war fought – and lost – before he was born. Despised by most beyond the school walls, he and those around him are all but prisoners as they attempt to learn control of the Gift. Worse, as Davian struggles with his lessons, he knows that there is further to fall if he cannot pass his final tests.

But when Davian discovers he has the ability to wield the forbidden power of the Augurs, he sets into motion a chain of events that will change everything. To the north, an ancient enemy long thought defeated begins to stir. And to the west, a young man whose fate is intertwined with Davian's wakes up in the forest, covered in blood and with no memory of who he is…
Shadow of What Was Lost is Epic Fantasy at its best. It is the fisrt book in the Licanius Trilogy, the journey of three friends who will have to take very different paths if they are to defeat an ancient danger that is just starting to make it's move. The world building is well done and I love it when I can go back to the prologue after finishing a book and see the hints that were planted from the get go.
The characters are interesting and I really enjoyed not only the premise of the story but the hints of what is coming. One of the best beginnings to an epic fantasy series that I've read in a long time.  If you are a fan of Brandon Sanderson books (raises hand), then this series will probably work for you.
Narration:
Michael Kramer is an EXPERT narrator of epic fantasy and he shines in this series as well.  I listened at my usual 1.5x speed.
Listen to a clip:

---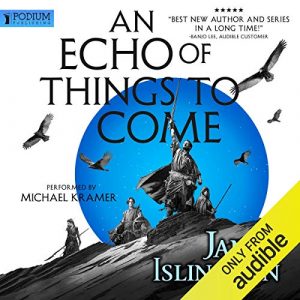 An Echo of Things to Come
Narrator:
Michael Kramer
Published by
Podium Audio
on August 22, 2017
Genres:
Fantasy
Length:
26 hours, 28 minutes
Format:
Audiobook
Source:
Purchased
Goodreads
Amazon
, 
Audible
, 
Barnes & Noble
, 
iTunes






In the wake of the devastating attack on Ilin Illan, an amnesty has been declared for all Augurs - finally allowing them to emerge from hiding and openly oppose the dark forces massing against Andarra. However as Davian and his new allies hurry north toward the ever-weakening Boundary, fresh horrors along their path suggest that their reprieve may have come far too late.

In the capital, Wirr is forced to contend with assassins and an increasingly hostile Administration as he controversially assumes the mantle of Northwarden, uncovering a mystery that draws into question everything commonly believed about the rebellion his father led twenty years ago. Meanwhile, Asha begins a secret investigation into the disappearance of the Shadows, determined to discover not only where they went but the origin of the Vessels that created them - and, ultimately, a cure.

And with time against him as he races to fulfill the treacherous bargain with the Lyth, Caeden continues to wrestle with the impossibly heavy burdens of his past. Yet as more and more of his memories return, he begins to realise that the motivations of the two sides in this ancient war may not be as clear-cut as they first seemed...
Wow! An Echo of Things to Come moves much faster than the first book in the Licanius Trilogy. There is a lot happening as four distinct plot arcs are being explored, as we follow different characters on their journeys. I love how the three friends remain true to each other over distances and time as they all follow the paths they are on. Each teased out detail to the overall story adds to the scope this epic tale takes.
There were so many times I was surprised by a revelation only to realize I should have seen it coming. An Echo of Things to Come also has one of the best closing reveals I've read in awhile and I was so happy that the final book was out so I could jump in right away.
Narration:
Michael Kramer is an EXPERT narrator of epic fantasy and he shines in this series as well.  I listened at my usual 1.5x speed.
Listen to a clip:

---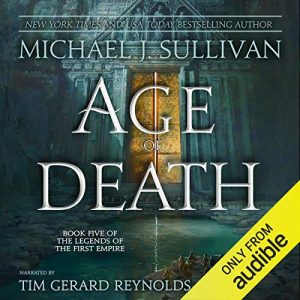 Age of Death
by
Michael J. Sullivan
Narrator:
Tim Gerard Reynolds
Series:
Legends of the First Empire #5
Published by
Audible
on February 4, 2020
Genres:
Fantasy
Length:
13 hours, 57 minutes
Format:
Audiobook
Source:
Purchased
Goodreads
Amazon
, 
Audible
, 
iTunes






Winter blankets the land, and more than just hope has died. Prevented from invading the Fhrey homeland by the tower of Avempartha, the western army seeks a way across the Nidwalden River before the fane obtains the secret of dragons. As time runs out for both humanity and the mystic Suri, the only chance for the living rests with the dead. Having made their fateful choice, can a handful of misfits do the impossible, or are they forever lost to an inescapable grave? Do gods truly exist? Is it possible to know the future? And what lies beyond the veil of death? In the tradition of Virgil's Aeneid, Dante's Divine Comedy, and Milton's Paradise Lost, the most epic of tales transcend the world of the living. It's time to see what lies in Elan's Age of Death.
Age of Death is the 5th book in the six book Legends of the First Empire. It has been a long time since I loved so many characters in a series, please MJS I can't lose any more of them. In Age of Death, we have a group of travelers in the underworld traveling across it in hopes of saving their friend Suri, currently held prisoner in the Elvish lands.
The humans and the Elves have been deadlocked in a war for years. The humans will need to make a bold play if they want to win and there are many who have put their lives on the lines to do just that. The pieces are being moved into place for the final book and some very large sacrifices will probably have to made for humans to survive.  Let's just say I'm very nervous for the conclusion to the series.
Narration:
Tim Gerard Reynolds is fantastic in every book I've listened to him narrate and that doesn't change for this series either.  He does a wonderful job and I always get lost in his narrations, in a good way.  I listened to this at my normal 1.5x speed.
Listen to a clip:

Reading this book contributed to these challenges: