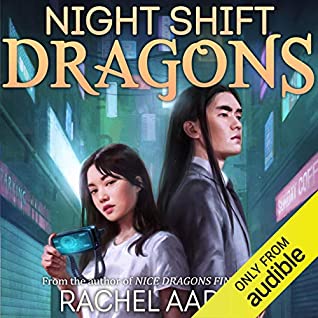 Night Shift Dragons
by
Rachel Aaron / Bach
Narrator:
Emily Woo Zeller
Series:
DFZ #3
Published by
Audible
on May 5, 2020
Genres:
Urban Fantasy
Length:
14 hours, 41 minutes
Format:
Audiobook
Source:
Purchased
Goodreads
Amazon
, 
Audible





They say family always sticks together, but when you're your dad's only lifeline and the whole world—humans, dragons, and gods—wants you dead, "family bonding" takes on a whole new meaning.

My name is Opal Yong-ae, and I'm in way over my head. I thought getting rid of my dad's bad luck curse would put things back to normal. Instead, I'm stuck playing caretaker to the Great Dragon of Korea. That wouldn't be so bad if he wasn't such a jerk, or if every dragon on the planet wasn't out to kill him, or if he was my only problem.

Turns out, things can always get worse in the DFZ. When a rival spirit attacks my god/boss with the aim of turning the famously safety-optional city into a literal death arena with Nik as his bloody champion, I'm thrust onto the front lines and way out of my comfort zone. When gods fight, mortals don't usually survive, but I'm not alone this time. Even proud old dragons can learn new tricks, and with everything I love falling to pieces, the father I've always run from might just be the only force in the universe stubborn enough to pull us back together.
Night Shift Dragons is the final book of the DFZ series.  Opal has some daddy issues.  Sure, she has the normal ones, rebellion against a controlling parent and a desperate need to get out from under their thumb.  Then she has the not so normal ones like; being the only human daughter to a dragon and a bad luck curse her father put on her so she would fail and have to come home.  And you thought you had issues with your parents, bet they never cursed you.  Now Opal is stuck with her father after the curse had some unusual side effects.  When everything went wrong, he ended up in a coma and now she is his only magical lifeline to this world.  I guess with all this family time, being magically attached at the hip, maybe they will be able to work through their issues.
Nik, the almost boyfriend, has no idea where Opal has gone and it has been months.  Desperate to find her he makes a bargain that puts him in incredible danger.  He has a death sentence hanging over his head unless he can find a way finagle the magical promise he made.  But he and Opal have been up against worse odds, haven't they?
I struggled a bit with Part-Time Gods, the second book of this series because Opal was so focused on thwarting her father's curse that she lost sight of everything else, even Nik, the most patient partner in the land.  But the Opal I loved from Minimum Wage Magic is back with her super cute can-do attitude and ingenuity.  She is going to find a way to get out of this mess she has gotten herself into and heck she might as well help Nik with his huge problem too while she is at it.
There are some great cameos by a few of the characters from the Heartstriker series.  Amelia being my favorite and I definitely liked seeing how you get the Spirit of Dragons to appear.  The DFZ is also an interesting character, as the spirit of the city she is both the best and the worst of what people are in her city and I liked how unusual that made her.
The romance between Opal and Nik is also one I really like.  Each person is their own individual but they are also a team and try to help each other out.  Nik made some poor choices when Opal disappeared.  I loved that he owned them completely never blaming her at all.  They've both made mistakes in the past but it was great to get them back on target and deal with the family drama that haunted Part-Time Gods.
The culmination and big showdown at the end are well worth the wait and I enjoyed every twisty moment in it, even if my stomach didn't.
This is the end of this series that is an exercise in what if Storage Wars was mashed up with a world where 'gods are real, dragons are traffic hazards, and buildings move around on their own'.  I really like the world this is set in and all the potential of it for so many different kinds of stories.  I'm sincerely hoping that Rachel Arron finds other compelling stories to tell in this world.
Narration:
Emily Woo Zeller is a good fit for the voice of Opal.  She did another good performance of the narration overall.  I was able to listen at my usual 1.5x speed.
Listen to a clip: HERE
Rating Breakdown
Plot
Writing
Characters
Dialogue
Narration (Audio)
Overall:
Reading this book contributed to these challenges:
Related Posts