Review copy was received from NetGalley. This does not affect my opinion of the book or the content of my review.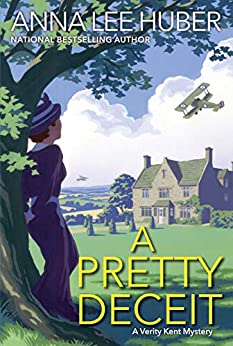 A Pretty Deceit
by
Anna Lee Huber
Series:
Verity Kent #4
Published by
Kensington Books
on September 29, 2020
Genres:
Historical Fiction
,
Mystery
Pages:
304
Format:
eARC
Source:
NetGalley
Goodreads
Amazon
, 
Audible
, 
Audiobook
, 
Barnes & Noble
, 
Apple




Peacetime has brought little respite for Verity Kent. Intrigue still abounds, even within her own family. As a favor to her father, Verity agrees to visit his sister in Wiltshire. Her once prosperous aunt has fallen on difficult times and is considering selling their estate. But there are strange goings-on at the manor, including missing servants, possible heirloom forgeries, and suspicious rumors—all leading to the discovery of a dead body on the grounds.

While Verity and her husband, Sidney, investigate this new mystery, they are also on the trail of an old adversary—the shadowy and lethal Lord Ardmore. At every turn, the suspected traitor seems to be one step ahead of them. And even when their dear friend Max, the Earl of Ryde, stumbles upon a code hidden among his late father's effects that may reveal the truth about Ardmore, Verity wonders if they are really the hunters—or the hunted . . .
Post WWI sees in the Jazz Age and Flappers, a generation of brittle survivors who will never see the world the same way again.  Former spy, Verity, and her army veteran husband, Sydney, know this as much as anyone.  Not all war casualties were left on the field.  As they strive to pick up the pieces, Verity and Sydney end up in the crosshairs of a powerful enemy with a hidden agenda and family obligation takes them into Wiltshire at her autocratic aunt's request.  Missing family heirlooms, counterfeit art, a missing maid, a ghost in the West part, and the murder of an estate worker challenge them as much as Lord Ryde's coded missive to his son that might reveal just what they need to catch Lord Ardmore.
A Pretty Deceit is the fourth of the Verity Kent series and works best when read in order because of the strong series and character development going on from book to book.
I love how the author paints this exciting post-war time with the dreary and painful results of war, but also the survivor stories.  The setting is strongly depicted as were the way the characters were true to the period.  Each book faces a different aspect of this time like the emotional hardships on the home front.  Verity and Sydney have been through a lot, separated by war, and Verity, in particular, must face her demons here, though Sydney isn't miraculously healed from his post-war issues.  When she thought Sydney was dead, she went a bit off the rails between becoming an adrenaline junkie out on her assignments behind enemy lines and also nearly a drunk on gin when the war ended.  She encounters a woman in the village who did become a drunk and unlike others, Verity has a tender spot for her especially since she knows this could have been her so easily.
There is a solid development in the characters and their relationship, too.  The author didn't make a reconciliation easy for Verity and Sydney and she didn't make them perfect.  They have fears, flaws, and the ability to grow as people and a couple.  They are feeling their way since they were newlyweds before the war, had the separation and then the reunion after when they are all but different people.  Because of circumstances- Sydney assumed dead, Verity had been in relationships with two other men which complicates matters now especially since they are right there involved in their case against Lord Ardmore.
I love how Verity and Sydney work hard to communicate and understand through each conflict and difficulty.  Sydney tries very hard to not interfere when Verity jumps into danger and puts herself forward in investigations and she tries hard to not hare off and not include Sydney or take offence when he asks her to sensibly take precautions.
The mystery was two-fold.  The situation at her aunt and cousin's home and their hunt for proof that the powerful Lord Ardmore is a villain.  I'm not sure why, but I had the estate mystery figured out swiftly when it came to the who, the how, and part of the why.  I even saw where it was going to tie into something else.  This didn't deter me from eagerly reading on.  I find it just as exciting to see how they figured it all out and arrived at the end.  I will say that the late Lord Ryde's cryptic message thing did get me impatient after a bit.  The end has the mystery at the estate solved and things left at an interesting place with the Ardmore investigation.
All in all, I found it an emotional, thoughtful, and clever suspense with an engaging pair of detectives.  Those who enjoy historical mysteries that have a strong emphasis on character should give this series a chance.
Related Posts