Review copy was received from Publisher. This does not affect my opinion of the book or the content of my review.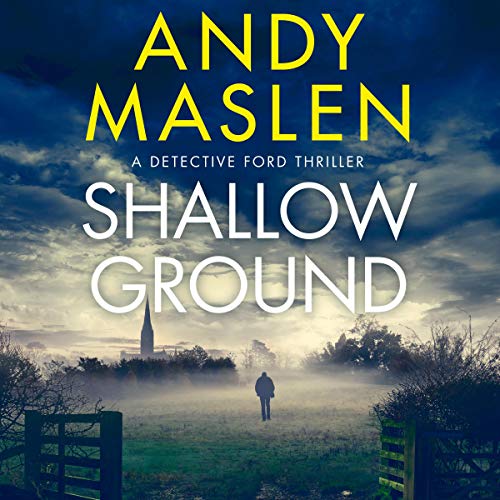 Shallow Ground
by
Andy Maslen
Narrator:
Steve West
Series:
Detective Ford #1
Published by
Brilliance Audio
on November 10, 2020
Genres:
Mystery
Length:
10 hours, 20 minutes
Format:
Audiobook
Goodreads
Amazon
, 
Audible




Barely a month since his promotion to Inspector, DI Ford is called in to investigate the murder of a young nurse and her son in a small flat in Salisbury. There are few clues, and no apparent motive, but Ford can sense that there's a serial killer at work. After all, he knows from brutal personal experience how killers cover their tracks. . .

It's been six years since Ford lost his wife in a climbing accident - an accident he caused. He is desperate to keep the truth hidden, especially from his son, Sam. But Ford's new partner, Dr Hannah Fellowes, is a crime scene investigator with a ruthlessly analytical mind, and as they work together to track down the killer, his crippling guilt is compounded by fear of exposure.

When instinct leads him towards a high-profile suspect, his superiors' warnings just make him more determined to connect impulse and fact. But can Ford hold it all together - the case, his life - long enough to stop the killer?
When I saw a British mystery with Steve West narrating, it was certain I would read it.  Shallow Ground is the beginning of the Detective Ford series which I'll definitely want to continue.  The main character is a single dad, who lost his wife in a tragic accident.  He has felt considerable grief and guilt.  Now six years later, Ford has a teenage son and a promotion.
Ford is leading his first major case since his promotion. He has an instinct but everyone else sees things differently.  There are some key scientific aspects which are helped along by the new CSI, Hannah.  I really liked both Ford and Hannah as characters and enjoyed their work together as they got to know each other.  Ford was a reasonably good supervisor with giving out appropriate tasks and praising good work.  His people are mostly supportive and good at their work.
The possible suspects are quite the quirky bunch.   There are enough clues to make it a bit difficult to discern the killer quickly.  The team works the case in a smart and strategic way, gathering evidence, and eliminating suspects based on their facts. Naturally, there is a lot of pressure to solve a case with a guy who keeps killing.
It was lovely to watch Ford with his son, Sam, and the progression in their relationship. There are ups and downs because of Ford's work schedule and Sam's interests and activities, but they work through the issues. I'm going to enjoy seeing them as they navigate Sam's teen years.
Narration:
Steve West is my favorite narrator. Since the main character DI Ford is male and this story is his point of view, it fit well.  Of course, then I pictured the main character in my head as Steve West. Oddly, it is easy for me to "see" him as DI Ford, Inspector Jury, Hugh  d'Ambray,  Sean Kendrick and more. Sometimes it bothers me to hear a narrator as other characters but that hasn't been an issue with Steve West. The characters don't sound just the same.  The character voices in Shallow Ground were nicely differentiated and seemed appropriate.  I listened at my normal 1.5x speed.
Listen to a clip: HERE
Rating Breakdown
Plot
Writing
Characters
Narration (Audio)
Overall:
Latest posts by Anne - Books of My Heart
(see all)
Reading this book contributed to these challenges:
Related Posts