Review copy was received from NetGalley. This does not affect my opinion of the book or the content of my review.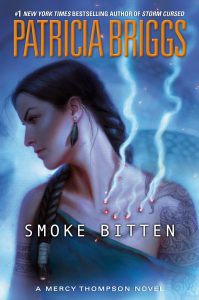 Smoke Bitten
by
Patricia Briggs
Series:
Mercy Thompson #12
Published by
Ace
on March 17, 2020
Genres:
Urban Fantasy
Pages:
368
Format:
eARC
Source:
NetGalley
Goodreads
Amazon
, 
Audible
, 
Audiobook
, 
Barnes & Noble
, 
Apple





I am Mercedes Athena Thompson Hauptman.
My only "superpowers" are that I turn into a thirty-five pound coyote and fix Volkswagens. But I have friends in odd places and a pack of werewolves at my back. It looks like I'm going to need them.

Centuries ago, the fae dwelt in Underhill--until she locked her doors against them. They left behind their great castles and troves of magical artifacts. They abandoned their prisoners and their pets. Without the fae to mind them, those creatures who remained behind roamed freely through Underhill wreaking havoc. Only the deadliest survived.

Now one of those prisoners has escaped. It can look like anyone, any creature it chooses. But if it bites you, it controls you. It lives for chaos and destruction. It can make you do anything--even kill the person you love the most. Now it is here, in the Tri-Cities. In my territory.

It won't, can't, remain. Not if I have anything to say about it.
I am SO happy I chose to have the Mercy Thompson series as our Read-along this year.  It has really been incredible to read them all close in timing.  I know I have understood many more details and enjoyed it immensely.  I really love this author and this series. Each book is so well-written with rich details, cleverly crafted plots, and imperfect, realistic characters. I appreciate the subtle humor as well.
I read Smoke Bitten earlier in the year when it came out and again right after Storm Cursed for the Read-along.  At first, I felt it was kind of back to the same old stuff with one enemy and usually the fae.  But there is more here with fallout from the witches too.   The main characters may be werewolves, except Mercy isn't and the fae, vampires and witches always seem to have a role in the each situation.
Mercy is incredible!  I love how intelligent and compassionate she is, even when it would be so easy to not risk herself for who mistreat her.  She is so very often alone in her efforts.  Is this because she is independent or because the pace of the revelations happens so quickly she has to act spur the moment?
I still don't like Christy!
I still love Kyle!
In the reread, I have been much more aware of her relationship with Adam. I didn't appreciate the first time around, how much he loves her and the difficult positions they face, partly because she is not a werewolf. They face new challenges and I'm so proud of Mercy for seeing past the surface.
I am thrilled Mercy was able to figure things out – again – to help save some of those she loves.  She has all the best characteristics of a great urban fantasy heroine.  She is smart and caring which means all the different groups are willing to work with her and she has built a set of friends and allies who help her with each new and often dangerous situation.
---
Games:
Who said (may enter the answer in the comments)
"God," he said with feeling, "are they going to be disappointed if that's what they need."
Since this is the last month,  share your  discussion questions and quotes in the comments.
---
Share your review/ thoughts on Smoke Bitten:
I thought it might be fun to link up reviews so we can find them all easily.  It can be a link to Goodreads or a blog, or wherever you have a review (short or long).
Mister Linky's Magical Widgets — Easy-Linky widget will appear right here!
This preview will disappear when the widget is displayed on your site.
If this widget does not appear,
click here
to display it.
---
Observations and questions you shared from Storm Cursed:
(Thank you  so much for sharing!)
I wished Mercy's time within the kitten was explored more. It seemed like an after thought to fix a plot hole.
I love the video game names that Briggs comes up with for her wolf pack to play. I looked one up to see if it was real.
Even though I know they aren't real, I hate to read books were animals are abuse. It was fairly brief in Storm Cursed, but still unpleasant for me.
---
Quotes you readers shared from Storm Cursed:
(Thank you for sharing!)
"Bosses need to jump in the outhouse with the grunts occasionally. It's good for morale." ` Mary Jo
---
Schedule:   
We are doing one book every 4 weeks, posting on Fridays.
Nov 6:    Smoke Bitten   –  Anne
Miss a post?
Jan 3:    Moon Called – Anne
Jan 31:   Blood Bound  – Melanie
Feb 28:   Iron Kissed – Carole at Carole's Random Life in Books
Mar 27:   Bone Crossed – KC
Apr 24:   Silver Borne – Berls at Because Reading
May 22:  River Marked – Rachel at Waves of Fiction
Jun 19:   Frost Burned   –  Sophia
Jul 17:    Night Broken – Jennifer the Book Nympho (now at That's What I'm Talking About)
Aug 14:   Fire Touched – Robin
Sep 11:    Silence Fallen – Kimberly at Caffeinated Reviewer
Oct 9:     Storm Cursed  – Angela at My Guilty Pleasures
---
Be sure to enter the giveaway!!!
Grand Prize Giveaway:

If the winner is Intl, I will send a copy of Smoke Bitten through Book Depository.
For the US winner:
Hurog duology MP3
Mercy Thompson Night Broken, Fire Touched + Stories MP3
Hardcover copy of Smoke Bitten
Mercy Thompson enamel pin
The MP3 audios were graciously provided by Brilliance Audio. The Mercy Thompson enamel pin was provided by AceRoc.  Unfortunately none of the conferences happened so things won't be signed.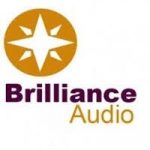 Latest posts by Anne - Books of My Heart
(see all)
Reading this book contributed to these challenges:
Related Posts