Review copy was received from Author. This does not affect my opinion of the book or the content of my review.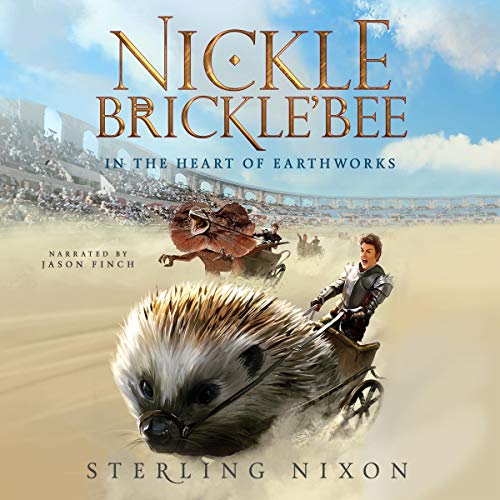 Nickle BrickleBee
by
Sterling Nixon
Narrator:
Jason Finch
Series:
Heart of the Earthworks #1
on October 20, 2020
Genres:
Young Adult
,
Fantasy
Length:
11 hours, 19 minutes
Format:
Audiobook
Source:
Author
Goodreads
Amazon
, 
Audible





Nickle Brickle'Bee is odd, even by his own standards. While most boys are starting to get hair under their arms, Nickle starts growing whiskers on his chin. By the time he is 12, he can grow a full beard.

Then, one day, Nickle finds himself swallowed by the earth and taken to the center of the world, where he finds a massive magical city called EarthWorks that is governed by a myriad of powerful creatures.

Between horrifying monsters, elves that rule with pomp and power, fairies that are in open rebellion, a greedy dwarf warlord, and an indestructible but blind adversary, Nickle finds himself in the middle of a power struggle that could mean the end of this new world.
Nickle Brickle'Bee is the first book of the In the Heart of Earthworks series.  The cover looks a little crazy and that could be because there really is a chariot race involving hedgehogs, lizards, rabbits, rats and others small animals at one point in the story.
Our story follows Nickle on his journey from the land where all the humans live into a world down below the earth's surface, where he finds there is a mystery surrounding his birth and something very different about him.  He also discovers he is a dwarf which is probably why he has been able to grow a beard since he was 10.
As Nickle takes on a journey in this new Dwarf world he is introduced to all the politics surrounding it between the Elves, Faeries, Gnomes and other creatures in the land.  There is something going on in the land and some want to release a warlord who has been locked away for centuries.  As Nickle makes a few friends and goes through his schooling he decides to find out more about his father who is rumored to have turned Troll.
Nickle was a shy and introverted kid on the surface, but with the help of his friend Jason, he finds plenty of ways to get into trouble and a few more dangerous situations.  With his help, maybe there will be a way to broker a little peace between the Dwarves and Gnomes, he just has to gain their trust first and prove he is his father's son.  The best way to do that is to train for a crazy race in the underground with a team of hedgehogs as his chariot's steeds.
Really this was a fun book and I'd put it up there with something that is great for someone in middle grade but will also be fun for the adults too.  Nickle is on the way to learning just a little more of what he can do and the series seems like it could be a fun one in a very interesting world.
Narration:
Jason Finch is a new to me narrator.  He did a pretty good job with the book and fit Nickle's voice well along with a few of the other characters.  There is some odd pausing in a couple areas that I'm not sure was Jason or the production of the book but it wasn't too distracting.  He did a good job of making the book fun and Nickle likeable.
Listen to a clip:

Rating Breakdown
Plot
Writing
Characters
Dialogue
Narration (Audio)
Overall:
Reading this book contributed to these challenges:
Related Posts