Review copy was received from NetGalley. This does not affect my opinion of the book or the content of my review.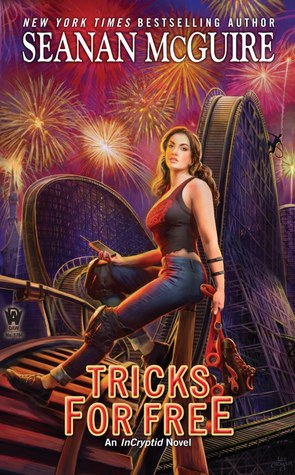 Tricks for Free
by
Seanan McGuire
Series:
Incryptid #7
Published by
DAW Books
on March 6, 2018
Genres:
Urban Fantasy
Pages:
368
Format:
eARC
Source:
NetGalley
Goodreads
Amazon
, 
Barnes & Noble



The seventh book in the funny and fast-paced InCryptid urban fantasy series returns to the mishaps of the Price family, eccentric cryptozoologists who safeguard the world of magical creatures living in secret among humans.

Penance, noun:
1. Punishment for past actions.
2. An attempt to pay for what can't be bought.
3. See also "exile."

Antimony Price is on the run. With the Covenant on her tail and her family still in danger, she needs to get far, far away from anyone who might recognize her--including her own mice. For the first time in a long time, a Price is flying without a safety net. Where do you go when you need to disappear into a crowd without worrying about attracting attention? An amusement park, of course.

Some people would call Lowryland the amusement park. It's one of the largest in Florida, the keystone of the Lowry entertainment empire...but for Annie, it's a place to hide. She's just trying to keep her head down long enough to come up with a plan that will get her home without getting anyone killed. No small order when she's rooming with gorgons and sylphs, trying to placate frustrated ghosts, and rushing to get to work on time.

Then the accidents begin. The discovery of a dead man brings Annie to the attention of the secret cabal of magic users running Lowryland from behind the scenes. They want the fire that sleeps in her fingers. They want her on their side. They want to help her--although their help, like everything else, comes with a price.

No plan. Minimal backup. No way out. Annie's about to get a crash course in the reality behind the pretty facade. If she's lucky, she'll survive the experience.
The thing I really like about Seanan McGuire is – she is different.  I might not always be completely into everything she is writing, but as an author I think she takes chances and delves into topics other authors shy away from.  For instance, in this book alone, there are Ghosts of various shapes and sizes, Witches, Humanoid Creatures that are definitely not human, A Non-Disney Theme Part and just to top it all off Roller Derby Girls.
Antimony Price is a Cryptozoologist from a long like of Cryptozoologists.  What that means is she hunts monsters and things that go bump in the night.  Not to kill them; some of them are really nice, but mostly to study them.  The killing comes only if necessary.  She is currently in hiding and laying low at an Amusement Park from the Covenant, a band of fanatics that kills all the things Antimony is trying to study, and the rest of her family, since they defected a few generations back.
This is book seven of the Incryptid series and there is no way you can go into it without reading the others and know what is going on.  I think this is a series that even though the main characters change each story builds into the next.
Antimony is actually one of my least favorites characters of the Price family (even though I really like the first book with her as the MC) and I really enjoyed both Verity and Alex's books although the book I'm totally waiting for is Alice's since she has been looking for her true love Thomas for 60+ years.  The one issue I have with this entire book is that this felt like a filler book.  Honestly it just killed some time and one really 'big thing' happens at the end but I kinda got the feeling this book was just to facilitate that 'big thing' happening so other stories could move on from there.
This is my least favorite book of the series so far but that is mostly because Antimony is pretty isolated and on her own, no Aeslin Mice with her either.  Some of the magic of the other books is the Price family and all the shenanigans that go along with them.  While Mary, a Crossroads ghost, can be a bit fun she isn't the rest of the quirky Price family and I found myself really wanting some time with Verity, Alex, Grandma Alice, Sarah or the Aeslin Mice even.   
I was happy to see Sam and a few other characters that were in Antimony's short stories like Fern, a sylph criptid, but this book suffered a little from info dumping in a few sections and had a few pacing issues throughout.
Still McGuire did come through on the unusual and interesting in trying out a few new things in her story including luck manipulation, fighting on roller skates and a monkey man boyfriend. I look forward to the next book in this series and what new and interesting plot lines it will bring.
Notable Quotables:
"Ain't no party like a pity party, because a pity party only ends when you bury the bastards who made you feel sorry for yourself."

–Frances Brown
"Huh," said Fern. She paused before asking, more delicately, "Has he actually met you when you were being you, or did he only ever meet you when you were pretending to be somebody else? Because you can be really sweet when you're pretending to be somebody else."

I threw a biscuit at her. Fern laughed as she dodged.

"You're only angry because it's true."

–Fern and Antimony Price
"Whoever he is, marry him and keep us in the style to which we'd like to become accustomed."

"He works in Public Relations."

"Whoever he is, murder him and make it look like an accident, but make sure you get away with his wallet," Megan amended.

—  Megan and Anitmony Price
Rating Breakdown
Plot
Writing
Characters
Dialogue
Overall:
Reviewer
at
Books of My Heart
Reading is my #1 addiction…I'd go to a support group for it but who are we kidding -  I have no intentions of quitting anytime soon. By day, I'm a chemist and can be found sciencing and listening to books. On nights and weekends, I'm a wannabe Spartan and am often training and listening to books. I straight up LOVE almost everything by Brandon Sanderson and Ilona Andrews; they are my flagship authors and I might be slightly impartial where they are concerned. My other guilty pleasures are unusual fairytale retellings and uber alpha males.
Friend me at Goodreads.
Related Posts