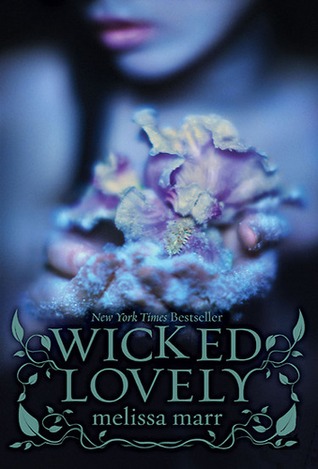 Wicked Lovely
by
Melissa Marr
Narrator:
Alyssa Bresnahan
Series:
Wicked Lovely #1
Published by
HarperAudio
on April 29, 2008
Genres:
Fantasy
,
Young Adult
Length:
10 hours, 9 minutes
Format:
Audiobook
Source:
Library
Goodreads
Amazon
, 
Audible
, 
Audiobook




Rule #3: Don't stare at invisible faeries.
Aislinn has always seen faeries. Powerful and dangerous, they walk hidden in the mortal world. Aislinn fears their cruelty - especially if they learn of her Sight - and wishes she were as blind to their presence as other teens.

Rule #2: Don't speak to invisible faeries.
Now faeries are stalking her. One of them, Keenan, who is equal parts terrifying and alluring, is trying to talk to her, asking questions Aislinn is afraid to answer.

Rule #1: Don't ever attract their attention.
But it's too late. Keenan is the Summer King, who has sought his queen for nine centuries. Without her, summer itself will perish. He is determined that Aislinn will become the Summer Queen at any cost — regardless of her plans or desires.

Suddenly none of the rules that have kept Aislinn safe are working anymore, and everything is on the line: her freedom; her best friend, Seth; her life; everything.

Faery intrigue, mortal love, and the clash of ancient rules and modern expectations swirl together in Melissa Marr's stunning twenty-first-century faery tale.
I listened in preparation for NOLA Storycon. There is every reason I would not like Wicked Lovely; it's young adult. I'm not sure yet if the classification is urban fantasy or paranormal romance since this is the first in the Wicked Lovely series. The first book always has possible world-building issues. There were some but not as many since it is about the fae but Aislinn is not fae and has some misconceptions. There weren't an overwhelming amount of details for this reason. I learned slowly along with her.
I had trouble getting started listening, trying a couple times and couldn't get going and then, I did. The narrator, Alyssa Bresnahan, must have done well because I was able to focus on the story with no disruptions from the narration. Her voice was easy to understand.
The young adult, high school thing, is SO high school. They really end up more like new adults which is an improvement. Most high school students would not have quite the freedom Aislinn does. It felt like forever to start to feel the characters and it seems like there should be more. And they just went on about what they wanted over and over without any change or resolution for awhile.
Aislinn has preconceived ideas about fae which are more than most know but less than the reality. I certainly understood Aislinn having a role she didn't want but sometimes she also felt like a wishy-washy brat.  She kept looking for things to be the way she wanted, without always considering others. She did have some strength and compassion though. Yes, Keenan was old-fashioned and single-minded but I felt for him and his situation. It ain't easy being King. (Sons of Anarchy reference)  I did love Aislinn telling him she had no interest in him initially. Poor Donia has really had a rough road and she was strong with morals anyway.  Seth is the most patient guy and awesome boyfriend material. Which is probably why I like Keenan.
This sort of is the love quadrangle which makes me uneasy.  The ending was well done for now, but I always ship the wrong couple and this is still true.  The story is not really focused on the romance as much as politics. The politics are making all things difficult for everyone. We only get the barest introduction to the fae, primarily summer and winter but hints of much more.
I loved meeting Melissa Marr at NOLA Storycon. She is just awesome.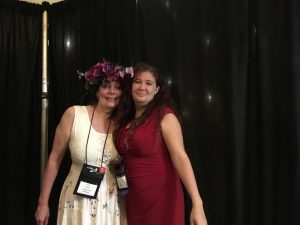 In spite of so many things I normally dislike (I probably need to rethink my knee-jerk I don't like that stereotypes), I really liked and enjoyed this. It made me feel things. I have been told, not by her, the rest of the series just gets better. I was reading on anyway, and hope for more development of these characters as well as new ones. The events may mean many interesting changes in the fae world.
Latest posts by Anne - Books of My Heart
(see all)
Related Posts