Review copy was received from NetGalley. This does not affect my opinion of the book or the content of my review.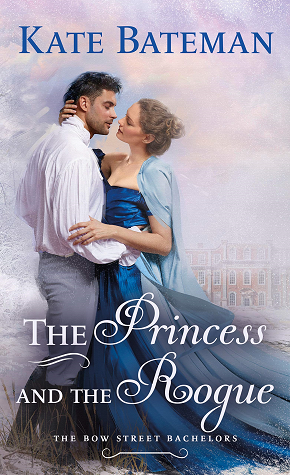 The Princess and the Rogue
by
Kate Bateman
Series:
Bow Street Bachelors #3
Published by
St. Martin's Press
on December 29, 2020
Genres:
Historical Romance
Pages:
304
Format:
eARC
Source:
NetGalley
Goodreads
Amazon
, 
Barnes & Noble
, 
Apple





Bow Street agent Sebastien Wolff, Earl of Mowbray, doesn't believe in love―until a passionate kiss with a beautiful stranger in a brothel forces him to reconsider. When the mysterious woman is linked to an intrigue involving a missing Russian princess, however, Seb realizes her air of innocence was too good to be true.

Princess Anastasia Denisova has been hiding in London as plain 'Anna Brown'. With a dangerous traitor hot on her trail, her best option is to accept Wolff's offer of protection―and accommodation―at his gambling hell. But living in such close quarters, and aiding Wolff in his Bow Street cases, fans the flames of their mutual attraction. If Anya's true identity is revealed, does their romance stand a chance? Could a princess ever marry a rogue?
The Princess and the Rogue is the third book in the Bow Street Bachelors series.  The men of the book are war veterans who started a gaming hell after returning from war.  Each so far has met their match when the right woman comes into their lives and now it is Seb's turn to be put through the ringer.
Princess Anastasia Denisova barely escaped with her life and her honor when she left Paris.  Her brother is dead and his frenemy looking to make her his wife to steal her money and power, Anastasia ran to London and moved in next to a brothel.  She was there to teach some of the girls to read, when Sebastien Wolff walked in, mistook her for one of the residents and gave her the most intoxicating kiss of her life.
Anastasia also is a paid companion Seb's aunt, who has figured out who the girl is and is delightedly decided to matchmake her favorite nephew with the lovely Anna Brown.  Sebastien never had a chance between the two women.  They have him all tangled up and Seb is determined to get Anna into his bed thinking that the cure for his obsession with her.  Little does he know she will probably make it into his heart before that ever happens, because the stubborn woman is smart, fun and can drink a sailor under the table.
I liked Anna, she is strong independent and not willing to budge on her values.  She would not become a pawn in someone else's power play and give up her home, her money and her body to someone she didn't love and who definitely didn't love her.  She was brave to run away to a new place and hide to start over.  Sebastien was a little harder to like, just because he is so dang male, and just makes some really silly plays.  But the love of a good woman can tie you all into knots and make sure you come out a better person after.
Overall a really fun historical romance that touches on some of the time after the Napoleonic Wars.
"Alex, do you have any idea why our friend is frowning at my fireplace as if he wants to tear it apart?  Benedict poured himself a glass of amber liquid. "Did someone disparage the cut of his coat? Malign his cravat?"

Alex snorted in amusement.  "It's even worse than that, I'm afraid.  The end of days is upon us. Seb's finally met a woman who could resist him."
Rating Breakdown
Plot
Writing
Characters
Dialogue
Overall:
Related Posts